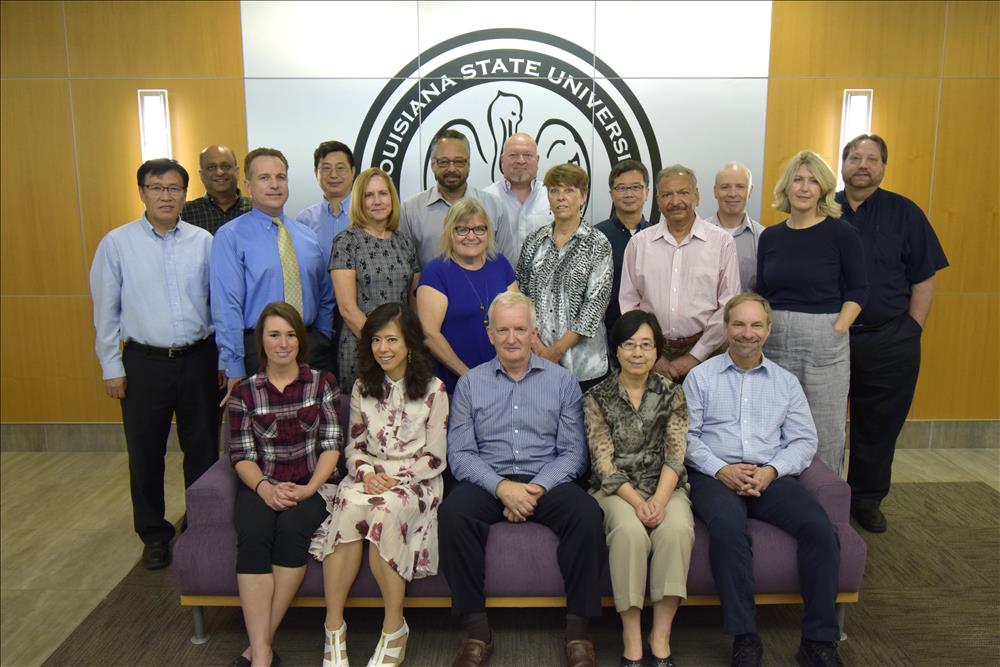 Amedee, Angela Martin, PhD
Pathogenesis and mother-to-infant transmission of human and simian immunodeficiency viruses (HIV and SIV); Effects of alcohol consumption and drug abuse on HIV transmission and pathogenesis.

Cameron, Jennifer, PhD
DNA tumor virus pathogenesis; Virus-host interactions; Viral co-infections and impact on human health; Development of diagnostic and prograstic cancer screening tests.

Foster, Timothy P., PhD
Virus-host interactions: Mechanisms of herpes virus subversion of host intrinsic anti-pathogen responses.
Hobden, Jeffery A., PhD
Molecular mechanisms of bacterial pathogenesis; antibiotic susceptibility testing; development of novel anti-infective therapies; immunology of traumatic brain injuries with concomitant infected burn wounds; novel therapies for treating infected wounds.

Johnston, Douglas, PhD
Identification of host endothelial cell responses to blood-borne infections caused by eukaryotic pathogens, including Candida spp and Trypanosoma cruzi.

Kelly, Ben, PhD
Molecular mechanisms required for parasite viability and virulence in leishmaniasis and Chagas' disease; identifying drug targets in Leishmania species and Trypanosoma cruzi.

Kozlowski, Pamela, PhD
HIV-1 and SARS CoV-2 vaccine development, functions of antiviral IgA antibodies, mucosal immunity to HIV-1 and SARS CoV-2.

Luo, Meng, PhD
Human and animal microbiomes using next generation sequencing platform 454 GS FLX+.

Quayle, Alison J., PhD
How Chlamydia trachomatis evades immune recognition and establishes long-term infections, modulation of genital immunity by the vaginal microbiota, and evaluation of novel preventative strategies for STIs and HIV.

Ramsay, Alistair J., PhD
Host: pathogen interactions in Mycobacterium tuberculosis infections; Vaccine development strategies against M. tuberculosis and other pulmonary intracellular pathogens.

Shen, Li, MD, PhD
Molecular biology and pathogenesis of Chlamydia; global gene regulatory mechanisms.
Sturtevant, Joy, PhD
Adaptation of pathogens in the host: rewiring of host innate immunity (Shigella) and rapid response of the pathogen to new environments (Candida albicans).

Taylor, Christopher, PhD
Bioinformatics and Computational Biology specifically related to applications of high throughput sequencing; The microbiome.
Wang, Guoshun, DVM, PhD
Dr. Wang's research has been focused on neutrophil biology in infection and inflammation, innate immune defect of cystic fibrosis, and gene- and stem cell-based therapy for diseases.
Wang, Ping PhD
The mucormycosis causal agent Rhizopus delemar is recalcitrant to genetic research. We are attempting to catapult its pathogenesis analysis by developing various genetic and genomic approaches.
Xin, Hong, MD, PhD
Development of novel synthetic vaccines and immunotherapeutics for invasive fungal infections. Protective mechanisms of monoclonal antibodies and vaccine induced immunity in high-risk immunocompromised populations.

Zea, Arnold H., PhD
T cell dysfunction in patients with tuberculosis and cancer, mechanisms regulating.
---
Joint Faculty
Del Valle, Luis, MD
Neurovirology, the relationship between brain tumors and the human polyoma virus JCV.
Fidel, Jr., Paul, PhD (Dental School)
Immunology, cellular and mucosal; Immunoregulation of recurrent vaginal or oral candidiasis.
Figueroa II, Julio, PhD
Azaftig, a novel protein derived from cancer and AIDS patients that induces weight loss and lipolysis.
Hagensee, Michael, MD, PhD
Immunology and structure of human papillomaviruses.

Martin, David H., MD
Sexually transmitted infections.
Nelson, Steve, MD
Chancellor, LSUHSC
Peruzzi, Francesca, PhD
Molecular mechanisms of neurobiological dysfunction caused by HIV-1, the role of microRNAs in tumor growth
Prakash, Om, PhD
Anti-cancer drugs.
Reiss, Krzysztof, PhD
DNA repair and mutagenesis in medulloblastoma, molecular pathways in neurological cancer
Rivera, Jessica, MD, PhD
Bacterial pathogenesis; biofilms and orthotics
Shellito, Judd E., MD
Host defense mechanisms against pulmonary infection; AIDS and alcohol consumption; Occupational/environmental medicine; Silicosis; Asbestosis; Malignant mesothelioma; Inhalation lung injury; Occupational asthma

Taylor, Stephanie N., MD
Senior Associate Dean, LSUHSC School of Medicine
Sexually transmitted infections; pathogenesis, molecular biology, and animal models of Haemophilus ducreyi infection; identification and detection of H. ducreyi and other pathogens using recombinant antibody techniques and mass spectrometry.
Welsh, David A., MD
HIV-associated lung disorders; Resident Microbial Communities and Human Health & Aging; Inflamm-aging and Immunosenescence; Assessment of Biological Age; Human Immunodeficiency Virus (HIV); Environmental Stressors and Maladaptive Behaviors (Alcohol Use Disorders)
Wen, Zezhang Tom, PhD (Dental School)
Molecular characterization of oral biofilms and regulation of Streptococcus mutans pathogenicity.
West, John T., PhD
Retroviral and herpetic infection, immune dysregulation, neoplastic growth. Wide interests in virology including viral evolution, vaccine design, regulation of RNA processing and translation, and viral pathogenesis. Focus on the immunobiology of KSHV and Kaposi's Sarcoma.
Wood, C., PhD
HIV and Kaposi's sarcoma associated human herpesvirus KSHV. A major focus is the transmission of KSHV in Zambia and the development of this work as a model for research infrastructure growth and collaborative studies between the US and Zambia.
---
Postdocs
Emeritus Faculty