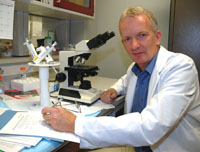 Alistair J. Ramsay, PhD
Department Head and G. John Buddingh Professor 
Microbiology, Immunology and Parasitology
BS Physiology - 1978
The University of Otago, New Zealand
BS Microbiology - 1979
The University of Otago, New Zealand
PhD Microbiology - 1986
The University of Otago, New Zealand
Dr Ramsay received his Bachelor of Science degrees from the University of Otago in Dunedin, New Zealand in 1978/79 and his PhD there in 1986. After postdoctoral training at the John Curtin School of Medical Research at the Australian National University in Canberra, Australia, he was promoted to Research Fellow there in 1992 and to Senior Research Fellow in 1997 before moving to the University of Newcastle in Australia in 1999 as a tenured Associate Professor. In 2001, he joined the LSU Health Sciences Center in New Orleans as a Professor in the Department of Medicine, where he also became Director of the Gene Therapy Program in 2005 and Director of the Louisiana Vaccine Center in 2007. Dr Ramsay accepted the position of Head of the Department of Microbiology, Immunology and Parasitology at LSUHSC in 2010 and was awarded the Garret John Buddingh Endowed Professorship in Microbiology in 2011.
Dr Ramsay's broad research interests concern the immunobiology of infections by viruses and other intracellular parasites. The aim is to develop improved vaccines against a variety of currently intractable diseases (eg. HIV/AIDS, TB), that continue to present major difficulties for conventional approaches to vaccination. He co-developed the "prime-boost" vaccination strategy that generates sustained, high-level immune responses against vaccine antigens. The outstanding potential of prime-boost vaccination has encouraged his group to establish projects to develop effective vaccines against a variety of infectious and non-infectious diseases.
Current research interests of the Ramsay lab are centered on immune biology of pulmonary infections by intracellular pathogens with a view to the development of new or improved vaccine strategies. A primary focus of the lab is investigating host:pathogen interactions in Mycobacterium tuberculosis infection, using immune assays, genomics and bioinformatics. Related to this, we are interested in finding improved TB immunization strategies, based largely on the development and evaluation of recombinant BCG and viral vectors expressing immunogenic vaccine targets in M. tuberculosis and engineered for enhanced immunogenicity. In response to the COVID-19 pandemic, we have also developed a pseudovirus-based assay for virus neutralizing antibody responses against SARS-CoV-2 and its variants as a tool to help with our characterization of functional immunity in both SARS-CoV-2 convalescents and vaccinees over time, as well as in a mouse model of SARS-CoV-2 infection.
Selected Publications
For a complete list of publications, click here.
Teaching Activities
Introduction to Microbial Pathogenesis
Advanced Microbial Pathogenesis
Advanced Bacteriology
Responsible Conduct of Research