EMERGENCY PREPAREDNESS
Online Giving
To support our Department, please select the Microbiology Discretionary designation after you press the button.

---
Special Announcements
Dr. Joy Sturtevant received the Faculty Assembly Outstanding Service to the Institution Award in May 2023. This award recognizes those individuals who have made major, enduring contributions to the development of the LSUHSC-SOM and who have advanced its mission.
Dr. Tim Foster was awarded a contract by 2A Biosciences through 2024 for his study: "Evaluation and Development of 5-HT2A Receptor Agonists as Anti-Inflammatory Therapeutics".
Drs. Jennifer Cameron and Mike Hagensee received a grant from Merck Sharp & Dohme through 2024 for their clinical study: "Prospective Observational Immunogenicity Trial of Gardasil-9 HPV Vaccine in Adults with Adequately Managed HIV".
Dr. Meng Luo is a recipient of the Chancellor's Excellence Award for 2022.
MIP won the Aesculapian Society Excellence in Teaching Department for 2022.
---
Interested in a PhD in MIP?
Welcome to the Department of Microbiology, Immunology & Parasitology.
It's an exciting time to be involved in studies of microorganisms and their interactions with human and animal hosts. Recent advances in microbiology, immunology, and molecular genomics have provided tantalizing glimpses into the biology of these "bugs", how they cause disease and the influence of our own microbiota on the disease process, how the immune system has evolved to deal with these threats, and how, in turn, microorganisms have evolved complex survival strategies in the face of host defenses. The devastation caused by the COVID-19 pandemic is a stark reminder of these issues. SARS-CoV-2, along with recent outbreaks of Zika virus in Brazil and Ebola virus in West Africa, the ongoing problems of influenza virus, methicillin-resistant 'superbugs' (MRSA), HIV/AIDS, drug-resistant TB, and serious fungal infections, among others, and the threat of monkeypox, are constant reminders of the dynamic nature of our field.
Faculty in the Department of Microbiology, Immunology and Parasitology (MIP) direct translational research programs in immunology, virology, bacteriology, mycology and parasitology, linking basic and clinical sciences within the Health Sciences Center and with researchers at other campuses. The Department provides a strongly interactive environment that has underpinned the development of several new interdisciplinary research and development programs with funding from the National Institutes of Health, Private Foundations and Industry. Our recent State-funded initiatives include the Louisiana Vaccine Center, established in collaboration with colleagues from Tulane and Xavier University with the aims of promoting vaccine-related research and the development of new vaccines and therapies for infectious disease and promoting linkages with biotechnology. Our faculty have also forged strong ties with related programs at the LSUHSC Stanley Scott Cancer Center, the School of Dentistry and the LSU School of Veterinary Medicine.
Each of these initiatives underpins a dynamic and integrated education program in MIP, that includes mentoring and career development of postgraduate students and postdoctoral trainees from Louisiana, across the United States, and around the globe. Students pursuing PhD or MD/PhD degrees in our graduate program are mentored by an accomplished and dedicated faculty and are supported by state-of-the-art research facilities and core laboratories in genomics, proteomics, bioinformatics, genetic vaccine development, flow cytometry, molecular interaction, and morphology and imaging.
Please contact us if you are interested in further information concerning any aspect of our research and education programs.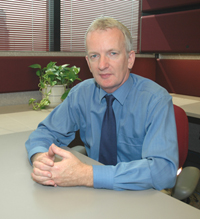 Alistair Ramsay, Ph.D.
G. John Buddingh Professor of Microbiology
Department Head, Microbiology, Immunology & Parasitology
Director, Louisiana Vaccine Center
---
Mission Statement
To conduct high-impact and innovative research and mentorship in microbiology and immunology and translate fundamental discoveries into preventives and treatments for infectious diseases and cancer for the benefit of the people of Louisiana and beyond.

To educate and mentor students in an inclusive and diverse environment to become future researchers and health professionals.
Contact Us
Department of Microbiology, Immunology, and Parasitology
LSU School of Medicine
533 Bolivar Street, CSRB
New Orleans, LA 70112
Students
Three MIP Students Graduate in May 2022:
Celeste Faia, PhD
Kourtni Goutierrez, MS
James Prusak, MS

Welcome to New MIP Graduate Student- Fall 2022:
John Lammons

MIP Faculty and Students
Win Awards at Graduate
Research Day: 2019 , 2020, 2021
Upcoming Events