Research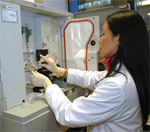 Research Capsules
As a basic science department in a medical school, researchers undertake both basic and translational approaches. Our investigators have substantial support from the National Institutes of Health, other federal agencies, the State of Louisiana and from industry. Details of our individual research projects, funding and publications can be found under the individual investigator links.
Immunology/Infectious Diseases/Cancer
The immunology research laboratories are predominantly focused on immunity and infection. There is a strong interest in the host response to sexually transmitted infections, including Chlamydia trachomatis, Human Immunodeficiency Virus (HIV), Human Papilloma Virus (HPV) and Simian Immunodeficiency Virus (SIV). The cellular immune response to Candida albicans, Toxoplasma gondii and Pneumocystis carinii are also under study. Additional studies focus on T cell dysfunction in patients with cancer and tuberculosis, and the development of novel antibody-based therapies, diagnostics and vaccine strategies.
Bacterial Pathogenesis
One major area of interest is the pathogenesis and the chemotherapy of eye infections. Other interests include: the study of the seaborne pathogen Vibrio vulnificus, and microbial ecology and population ecology.
Eukaryotic Pathogens
The molecular mycology and parasitology laboratories use molecular genetics, immunochemistry, biochemical techniques, animal models and molecular immunology to study the opportunistic fungal pathogens Candida albicans, Cryptococcus neoformans, and Aspergillus fumigatus as well as the protozoan parasites Trypanosoma cruzi, Leishmania major, and Leishmania mexicana.
Molecular Virology and Viral Pathogenesis
The molecular virology laboratories investigate several aspects of viral pathogenesis including mother-to-infant transmission of HIV and SIV, latency of Epstein-Barr virus, and Herpesvirus infections. Studies also focus on mechanisms of viral entry, the development of anti-virals, vaccines, and techniques for viral detection.