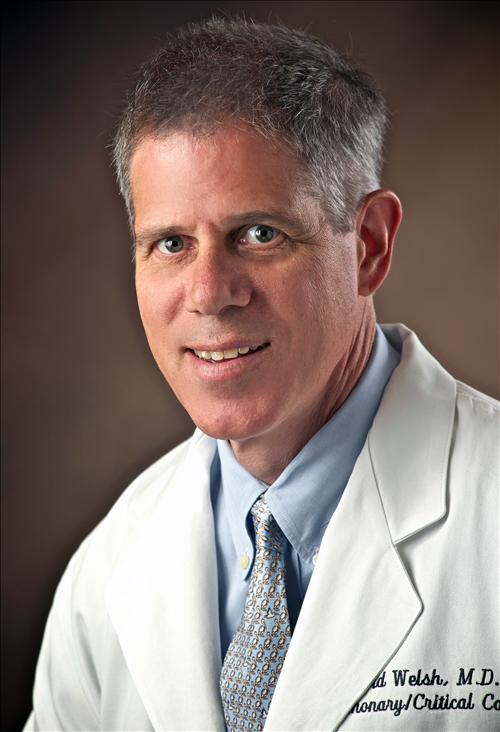 David A. Welsh, MD
Howard A. Buechner Professor of Medicine Professor of Microbiology, Immunology and Parasitology Professor, Alcohol and Drug Abuse Center
1901 Perdido Street,
MEB, Suite 3205

New Orleans, LA  70112


504.568.4634 [voice]

504.568.4295 [fax]


BA - Brandeis University, Waltham, MA
MD - University of Washington School of Medicine, Seattle, WA
Dr. Welsh received training in Internal Medicine at Vanderbilt University Medical Center before completing a fellowship in Pulmonary and Critical Care at LSU.  He oversees the HIV Chest Clinic and provides pulmonary care for the Louisiana Department of Corrections as well as inpatient clinical care at LSU affiliated facilities.
HIV-Associated Lung Disorders
Lung Health during Incarceration
Microbiota - Host Interactions
Maladaptive Health Behaviors (Alcohol, Tobacco, Substance Use)
Human Immunodeficiency Virus (HIV)
Lung Host Defense
Biological Age & Geriatric Syndrome Pathogenesis
Inflamm-aging and Immunosenescence
Recent Publications
Samuelson DR, Gu M, Shellito JE, Molina PE, Taylor CM, Luo M, Welsh DA. Pulmonary immune cell trafficking promotes host defense against alcohol-associated Klebsiella pneumonia. Communications Biology. In Press 2021. 
Maffei VJ, Siggins RW, Luo M, Brashear MM, Mercante DE, Taylor CM, Molina P, Welsh DA. Alcohol Use Is Associated With Intestinal Dysbiosis and Dysfunctional CD8+ T-Cell Phenotypes in Persons With Human Immunodeficiency Virus. J Infect Dis. 2021 Mar 29;223(6):1029-1039. doi: 10.1093/infdis/jiaa461. PubMed PMID: 32725203; PubMed Central PMCID: PMC8006423.
Gu M, Samuelson DR, Taylor CM, Molina PE, Luo M, Siggins RW, Shellito JE, Welsh DA. Alcohol-associated intestinal dysbiosis alters mucosal-associated invariant T-cell phenotype and function. Alcohol Clin Exp Res. 2021 May;45(5):934-947. doi: 10.1111/acer.14589. Epub 2021 Apr 3. PubMed PMID: 33704802; PubMed Central PMCID: PMC8283808.
McTernan PM, Katz PS, Porretta C, Welsh DA, Siggins RW. A Novel FACS-Based Workflow for Simultaneous Assessment of RedOx Status, Cellular Phenotype, and Mitochondrial Genome Stability. BioChem. 2021 April; 1(1):1-18.
Kim S, Fuselier J, Welsh DA, Cherry KE, Myers L, Jazwinski SM. Feature Selection Algorithms Enhance the Accuracy of Frailty Indexes as Measures of Biological Age. J Gerontol A Biol Sci Med Sci. 2021 Jul 13;76(8):1347-1355. doi: 10.1093/gerona/glab018. PubMed PMID: 33471059; PubMed Central PMCID: PMC8277082.
Hahn JA, Murnane PM, Vittinghoff E, Muyindike WR, Emenyonu NI, Fatch R, Chamie G, Haberer JE, Francis JM, Kapiga S, Jacobson K, Myers B, Couture MC, DiClemente RJ, Brown JL, So-Armah K, Sulkowski M, Marcus GM, Woolf-King S, Cook RL, Richards VL, Molina P, Ferguson T, Welsh D, Piano MR, Phillips SA, Stewart S, Afshar M, Page K, McGinnis K, Fiellin DA, Justice AC, Bryant K, Saitz R. Factors associated with phosphatidylethanol (PEth) sensitivity for detecting unhealthy alcohol use: An individual patient data meta-analysis. Alcohol Clin Exp Res. 2021 Jun;45(6):1166-1187. doi: 10.1111/acer.14611. Epub 2021 May 7. PubMed PMID: 33837975; PubMed Central PMCID: PMC8254773.
Walker EM, Slisarenko N, Gerrets GL, Grasperge BF, Mattison JA, Kissinger PJ, Welsh DA, Veazey RS, Jazwinski SM, Rout N. Dysregulation of IL-17/IL-22 Effector Functions in Blood and Gut Mucosal Gamma Delta T Cells Correlates With Increase in Circulating Leaky Gut and Inflammatory Markers During cART-Treated Chronic SIV Infection in Macaques. Front Immunol. 2021;12:647398. doi: 10.3389/fimmu.2021.647398. eCollection 2021. PubMed PMID: 33717202; PubMed Central PMCID: PMC7946846.