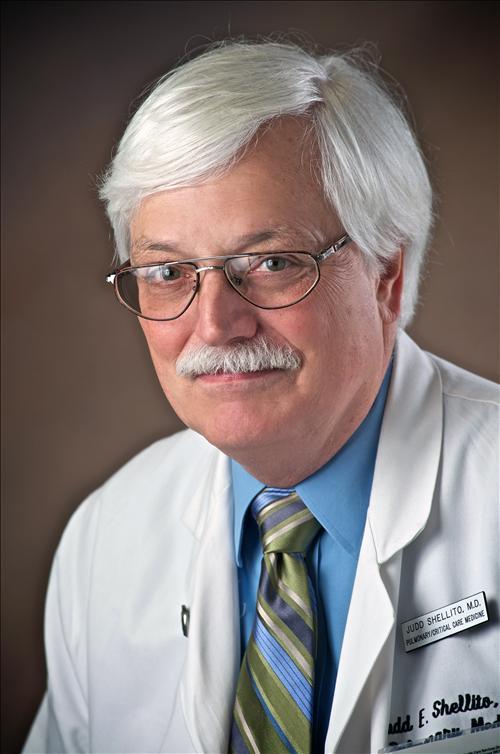 Judd E. Shellito, MD
Lowenstein Professor of Medicine
Professor of Microbiology, Immunology and Parasitology
LSU Healthcare Network Clinic
200 West Esplanade, Suite 701
Kenner, LA 70065
Phone: (504) 412-1705
Fax: (504) 412-1702

Academic Office

LSU Health Sciences Center
Pulmonary/Critical Care & Allergy/Immunology
1901 Perdido Street, Suite 3205
New Orleans, LA 70112
Phone: (504) 568-4634
Fax: (504) 568-4295

jshell@lsuhsc.edu
BA - 1970
Johns Hopkins University
MD - 1974
Tulane University School of Medicine
Dr. Shellito maintains an active research program in host defenses of the lungs and is the author of more than 100 scientific articles and book chapters. NIH-funded research projects investigate the role of T lymphocyte recruitment to the lung in host defense against Pneumocystis carinii infection and the effects of alcohol consumption on host defenses against pulmonary infection. He is Principal Investigator for a program project grant investigating novel approaches to restore immune function for HIV infected persons. He is on the editorial board of numerous journals. Dr. Shellito has extensive clinical experience and expertise in occupational pulmonary disease and medical/legal aspects of lung disease.
Host defense mechanisms against pulmonary infection
AIDS and alcohol consumption
Occupational/environmental medicine
Silicosis
Asbestosis
Malignant mesothelioma
Inhalation lung injury
Occupational asthma

Rudner XL, Happel KI, Young EA, Shellito JE. The IL-23/IL-17 Cytokine Axis in Murine Pneumocystis Infection. Infect Immun. 2007 Apr 2.

Happel KI, Odden AR, Zhang P, Shellito JE, Bagby GJ, Nelson S. Acute alcohol intoxication suppresses the IL-23 response to Klebsiella pneumoniae infection. Alcohol Clin Exp Res. 2006 Jul;30(7).

Happel KI, Dubin PJ, Zhen M, Ghilardi N, Lockhart C, Quinton LJ, Odden AR, Shellito JE, Bagby GJ, Nelson S, Kolls JK, Divergent roles of IL-23 and IL-12 in host defense against Klebsiella pneumoniae, J Exp Med 202:761-769, 2005.

Ruan S, Young E, Luce MJ, Reiser J, Kolls JK, Shellito JE, Conditional Expression of interferon-gamma to enhance host responses to pulmonary bacterial infection, Pulmonary Pharmacology and Therapeutics 19:251-257, 2005.