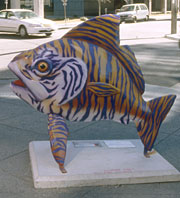 Visiting Student Information
All visiting rotations must be processed through the VSLO website. The catalog for the 2023/2024 Academic Year will be posted and opened on VSLO on March 6, 2023. Both in-person and virtual rotations will be listed at that time. To see rotations that were offered in the past, see below. It is possible that not all rotations listed below will be offered.
Procedures for Applying as a Visiting Student
All visiting students must apply through the VSLO system. We do not accept international students for visiting rotations.
A student in good standing at any AAMC approved medical school, including Canadian schools, may be accepted for an elective listed in the LSUHSC elective catalog. To be eligible, the student must have had training equivalent to that of LSU students who have completed the third-year clinical clerkships: Obstetrics & Gynecology, Pediatrics, Medicine, Surgery, Family Medicine, Psychiatry, and Neurology (if part of your third year curriculum).
Visiting students may be accepted for no more than two rotations (8 total weeks of electives). LSU will give no credit to visiting students. An evaluation of the student's performance will be forwarded to the student's medical school on complet­ion of the elective. Unless otherwise requested, the evaluation will be the same as that used by the department at LSU and will indicate a recommended grade of Honors, High-Pass, Pass, or Fail.
All students accepted are required to have professional liability insurance coverage of at least $1,000,000/$3,000,000. If this is not provided by the student's medical school, a supplemental policy must be obtained and proof of coverage is required before beginning the elective.
The student will need to make arrangements for housing and meals.
Students accepted for electives to New Orleans sites will most likely need a temporary I.D. card. Please contact the department that you are doing the elective approximately two weeks before the rotation begins to provide information needed to begin the process of obtaining this temporary I.D. When visiting student arrives they will be able to get their I.D.

Visiting Student Elective Catalog by Department
The descriptions of electives appearing in this catalog were prepared by the faculty of the department offering the elective. Any questions regarding descriptive material of a particular elective should be directed to the department offering that elective.

Virtual Experiences Offered:
Pediatrics - Virtual Diversity rotation, Perspectives in Medicine: Preparing for Your Transition to Residency



In-Person Experiences Offered: