In July 2019, Ciera Singleton spent 2 weeks at NIH taking a summer course in Clinical and Translational Research. Click here to read about her experience.
In February 2019, Ciera Singleton was awarded the Minority Scholar in Cancer Research Award by the American Association for Cancer Research (AACR) to present her research at the AACR annual meeting in Atlanta, GA on March 29-April 3, 2019.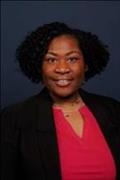 ---
In August 2018, Jorge Peñas was awarded the Mentored Poster/Platform Presenter Travel Award by the Federation of American Societies for Experimental Biology (FASEB) and National Institute of General Medical Sciences (NIGMS) to present his research at the American Society of Human Genetics (ASHG) national meeting. The title of his poster for ASHG was "Molecular Cytogenetic Characterization of Rh30 and Rh4 Alveolar Rhabdomyosarcoma (ARMS) Cell Lines".