2020 Medical Student Research Virtual Poster Symposium
This program started in 2003 to provide research opportunities for medical students. The directors Dr. Fern Tsien and Dr. Paula Gregory match students with mentors to conduct research at LSUHSC, Children's Hospital, University Medical Center, Pennington Biomedical Research Center, and clinics throughout the state. However, due to this year's challenges, students persevered and many of them worked on a variety of projects, which included innovative virtual research investigations. During the program, students conducted their own small research project or worked on a part of an on-going project. Although the research environment has been very different this year, each of these students did an excellent job adapting to the current situation and we are proud of their achievements.

Drs. Tsien and Gregory would like to extend their special appreciation to all mentors and poster session judges who helped make Medical Student Research Virtual Poster Symposium a success! The Directors would also like to thank the supporters of this program: the School of Medicine at the LSU Health Sciences Center, the Stanley S. Scott Cancer Center, and the National Institutes of Health's National Cancer Institute (NCI) and the National Institute on Alcohol Abuse and Alcoholism (NIAAA).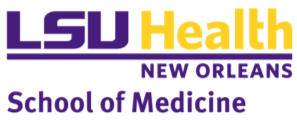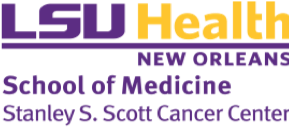 Medical students are listed alphabetically by last name. To view their Abstracts, Posters, and Zoom PowerPoint presentations describing their posters, please click on the corresponding links under their individual project title.
---
1. Olivia Abadie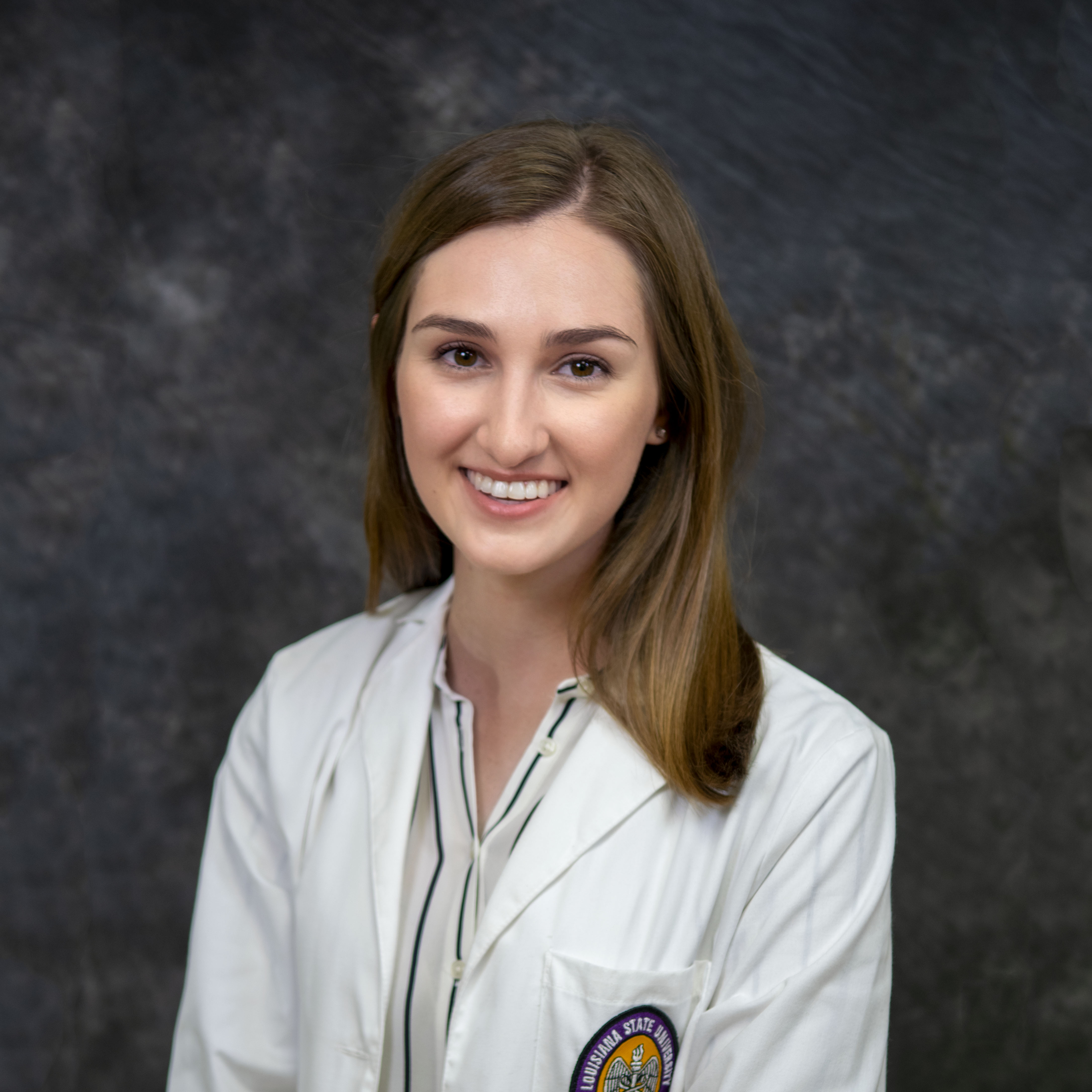 L2

Mentor: Kathleen Crapanzano, MD, MACM
LSU-OLOL Psychiatry Residency Program, Director

"The impact of health insurance coverage, race, and prenatal diagnosis on pediatric cardiac surgical outcomes"

Abstract
Poster
Presentation


---
2. Katherine Adler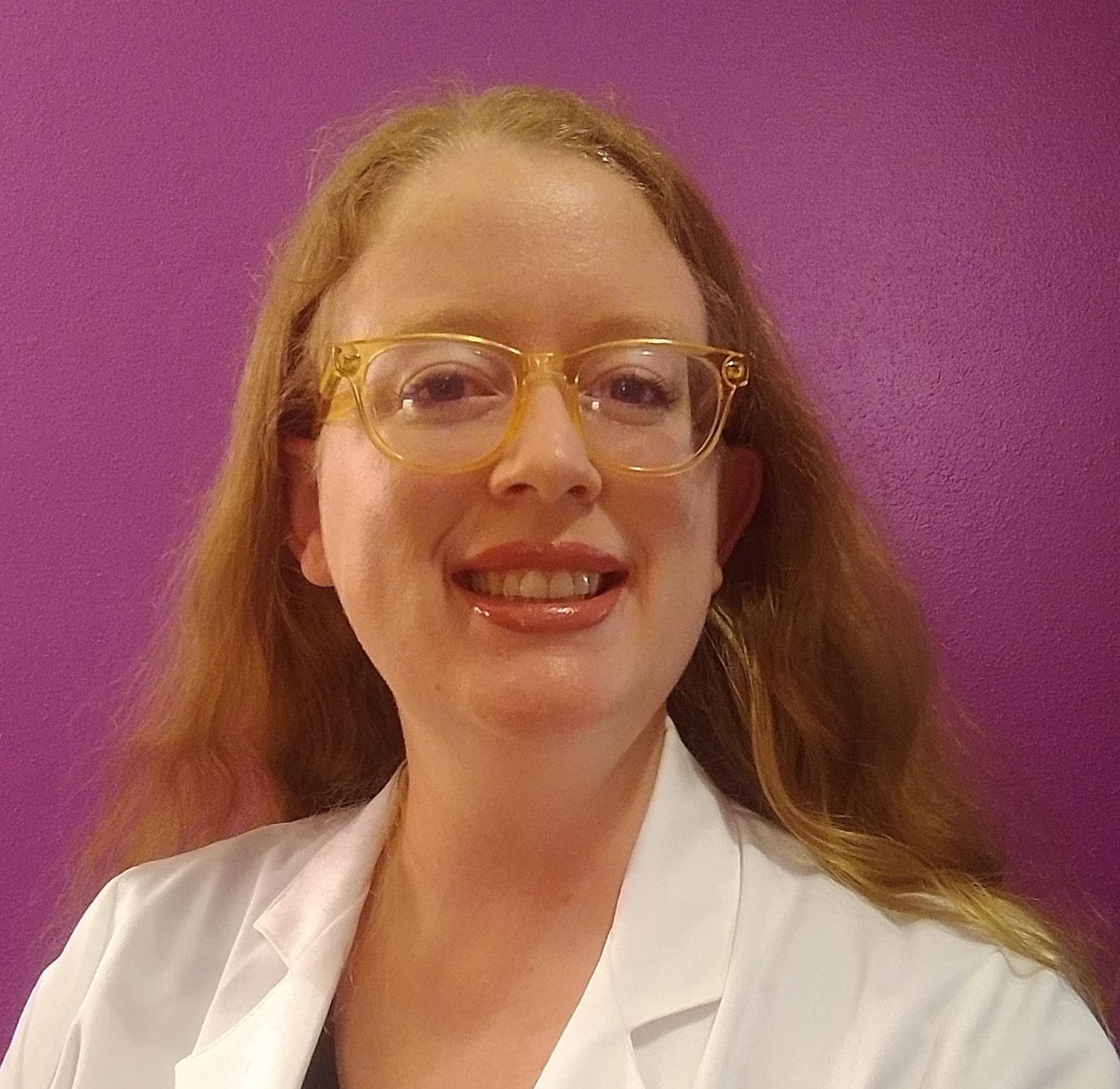 L2

Mentor: Dr. Liz Simon
Department of Physiology

"Circulating myomiR levels as a clinical indicator of alcohol-induced skeletal muscle dysfunction in PLWH"

Abstract
Poster
Presentation (Passcode: $$57I8mv)


---
3. Shees Ahmed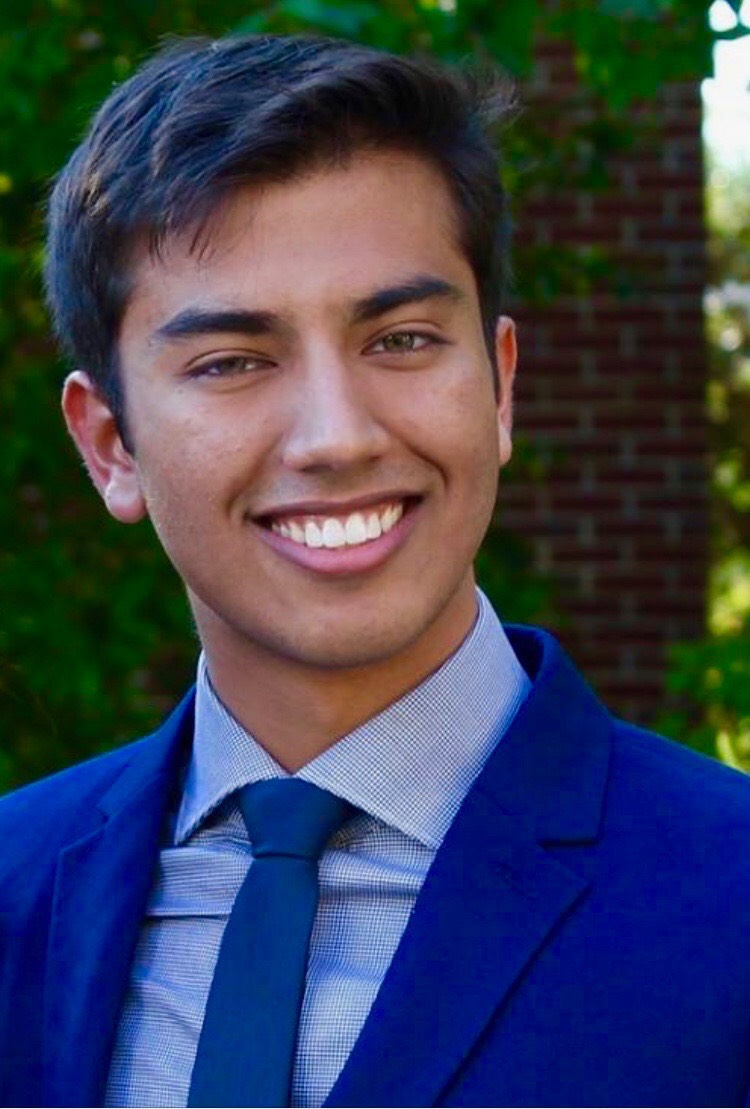 L2

Mentor: Dr. Luke A. Wall
Department of Pediatrics, Section of Allergy Immunology

"Psychological Changes, Maladaptive Behaviors, Dysmorphology and Immunodeficiency in a Case of 3p14.1 - 3p12.3 Deletion, Including FOXP1 Functional Analysis"

Abstract
Poster
Presentation


---
4. Andrew Amedee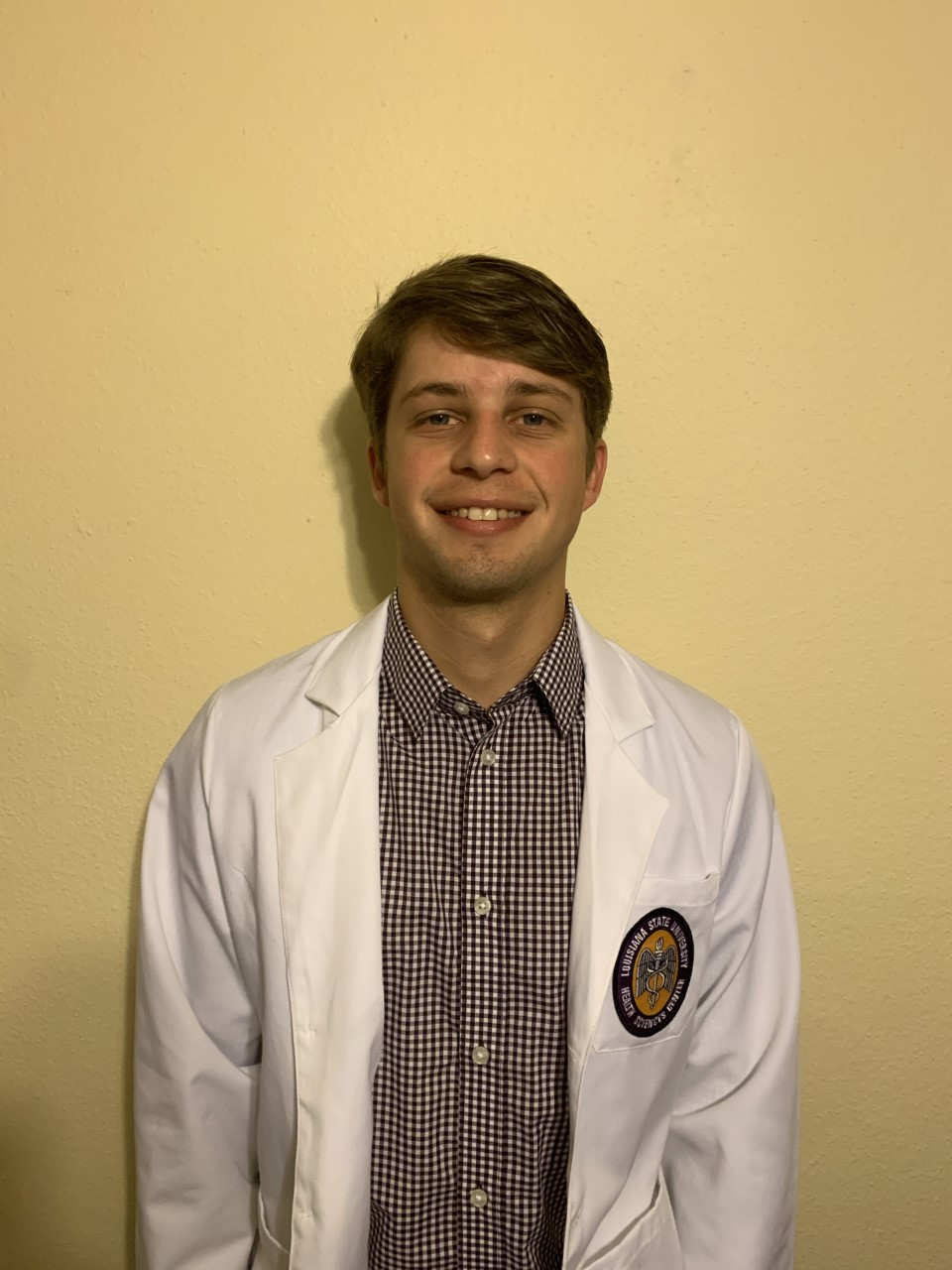 L2

Mentor: Deidre J. Devier, PhD
Department of Neurology

"The Symbol Digit Modalities Test and Cognition in Parkinson's Disease"

Abstract
Poster
Presentation


---
5. Gregory Benes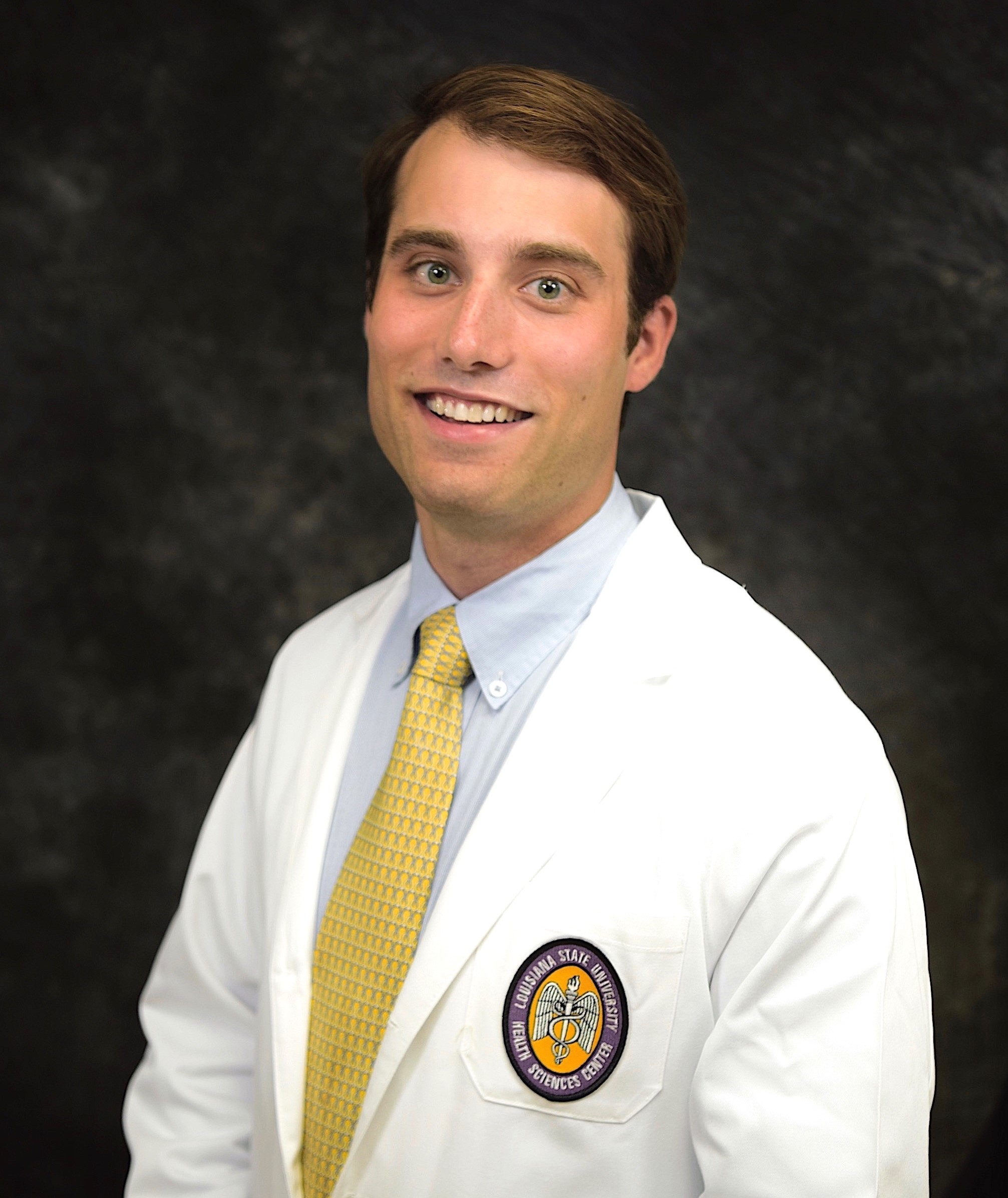 L2

Mentor: Dr. Alex Betech
Department of Orthopaedics

"Exploring Disparities in Screening and Treatment for Osteoporosis in Patients with Hip Fractures"

Abstract
Poster
Presentation


---
6. Matthew Bennett - 1st Place Winner (L1/L2 Category)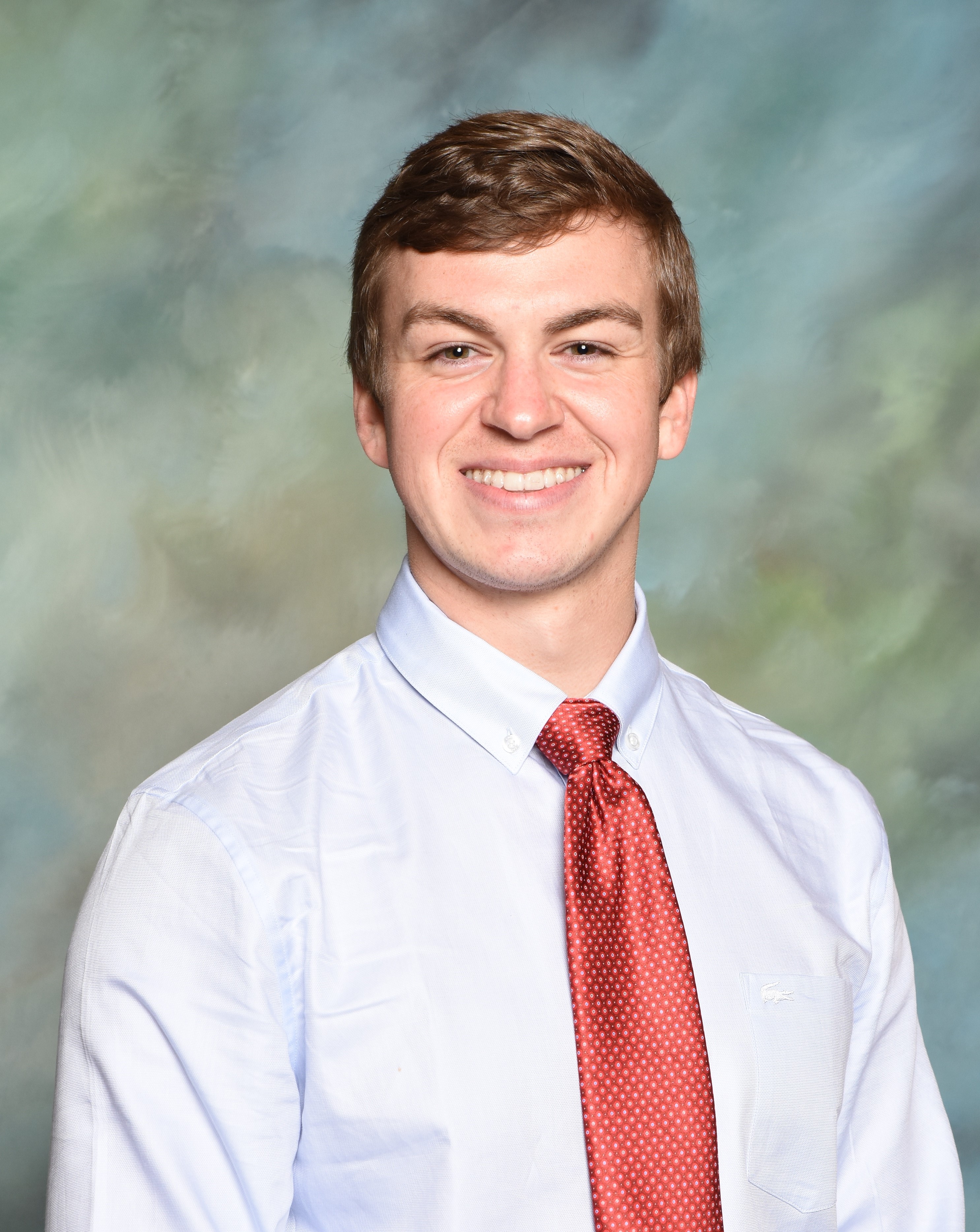 L2

Mentor: Casey A. Murphy, M.D.
VA Staff Physician, Pain Management Section;
LSUHSC Pain Management Fellowship Program Director

"10-Year Review of Efficacy and Safety of Spinal Cord Stimulators (SCS) in Military Veterans"

Abstract
Poster
Presentation


---
7. Sydney Boudreaux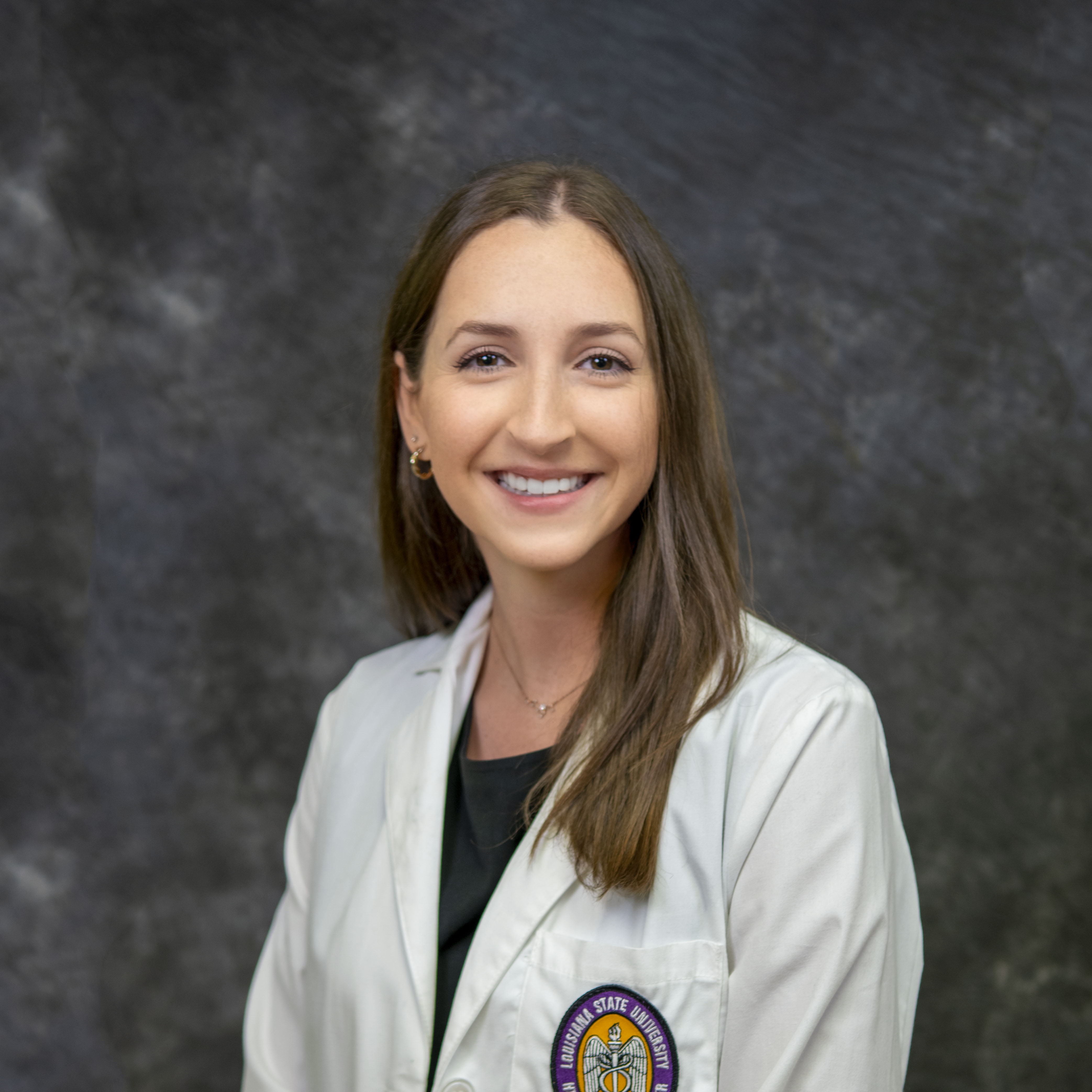 L2

Mentor: John Lyons, M.D.
Our Lady of the Lake-Mary Bird Perkins Cancer Center, Baton Rouge, LA;
LSUHSC Department of Surgery

"Outcomes of a high-risk pancreas cancer screening program in a community cancer center"

Abstract
Poster
Presentation


---
8. Michael Brands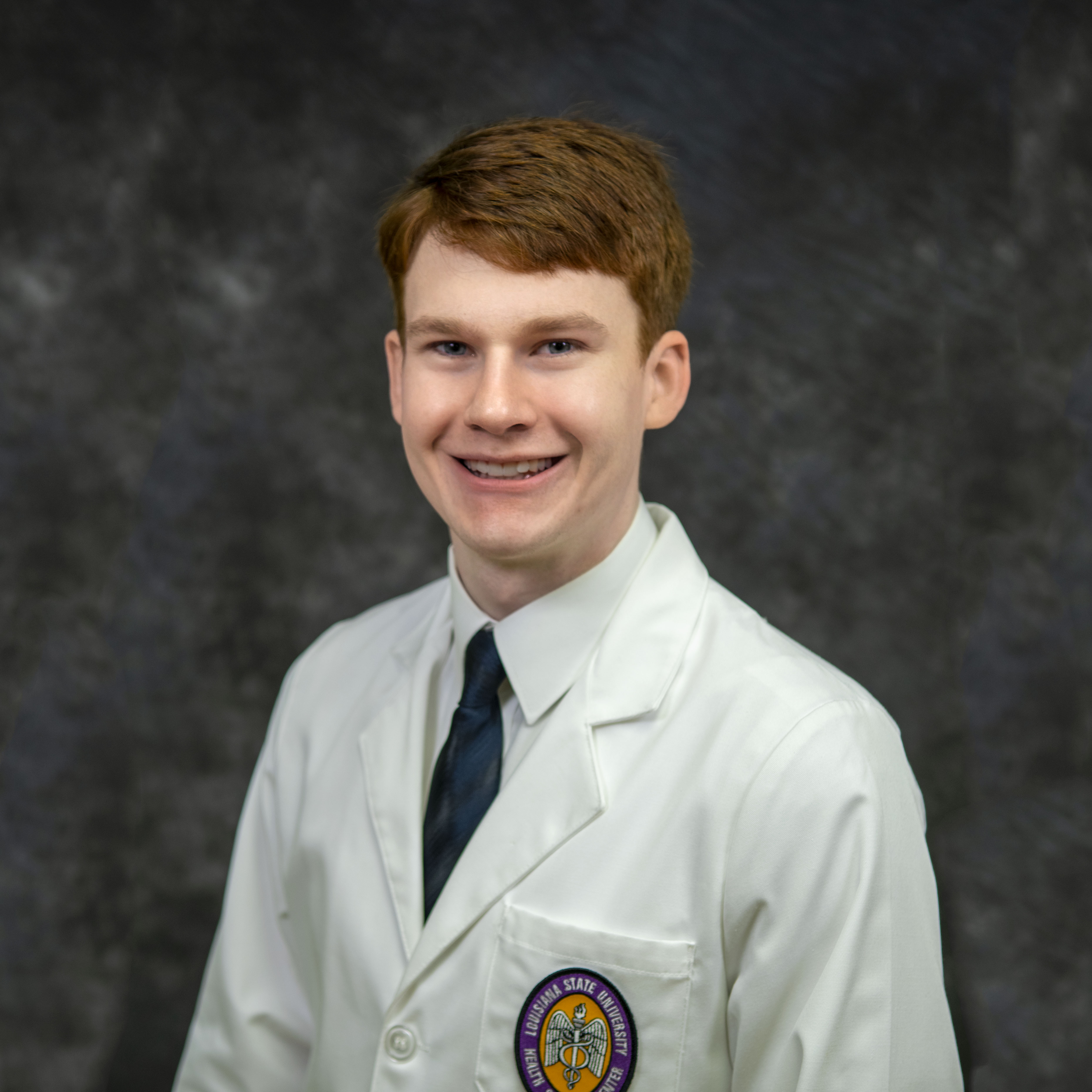 L2

Mentor: Jeffrey S. Barton, MD, FACS, FASCRS
Department of Surgery

"Emergent colon surgery at a Disproportionate Share Hospital: An underappreciated vulnerable population"

Abstract
Poster
Presentation


---
9. Margaret Carey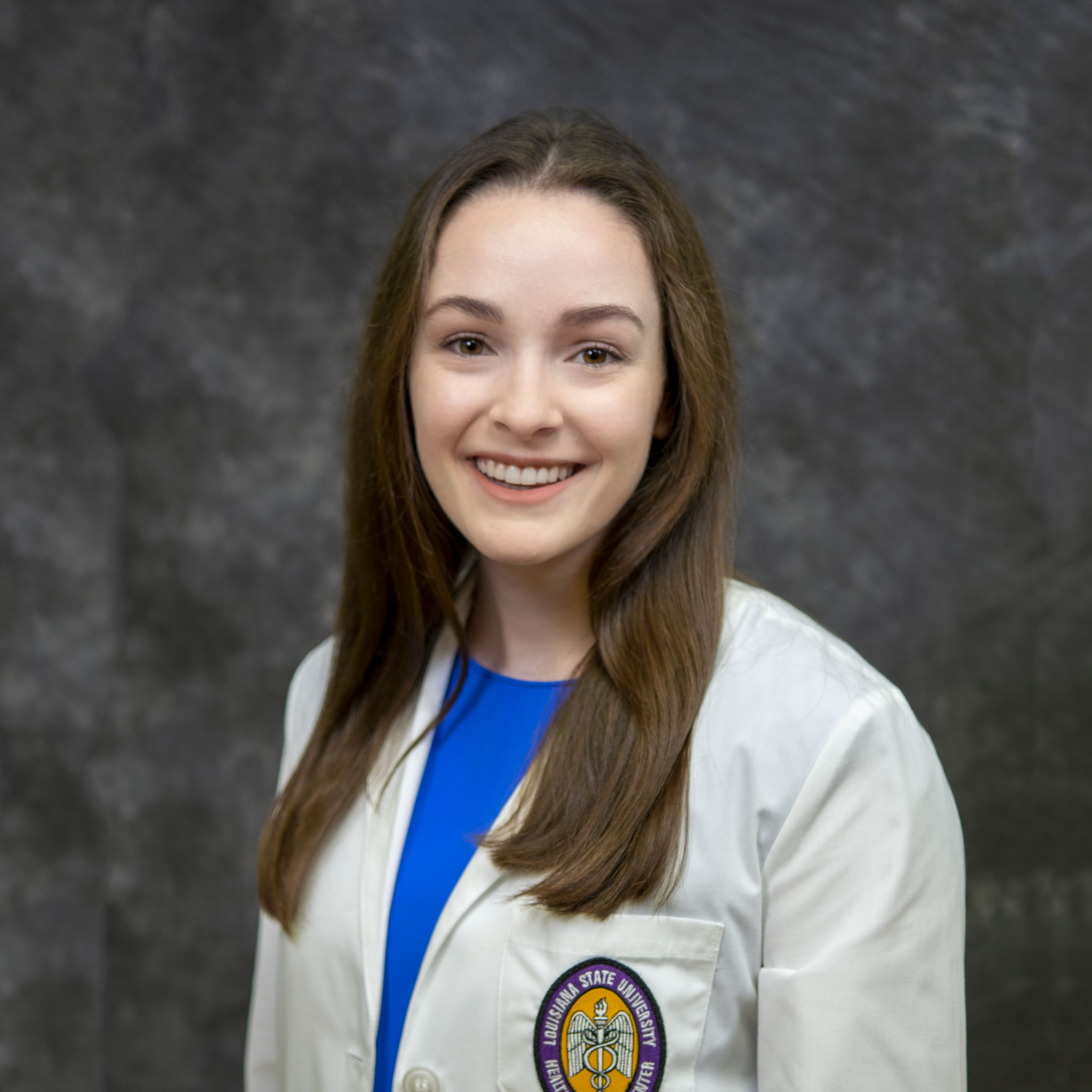 L2

Mentor: Stacey A. Scheib, M.D.
Department of Obstetrics and Gynecology

"Elective Appendectomy at Time of Scheduled Gynecologic Surgery"

Abstract
Poster
Presentation


---
10. Nicolas Chanes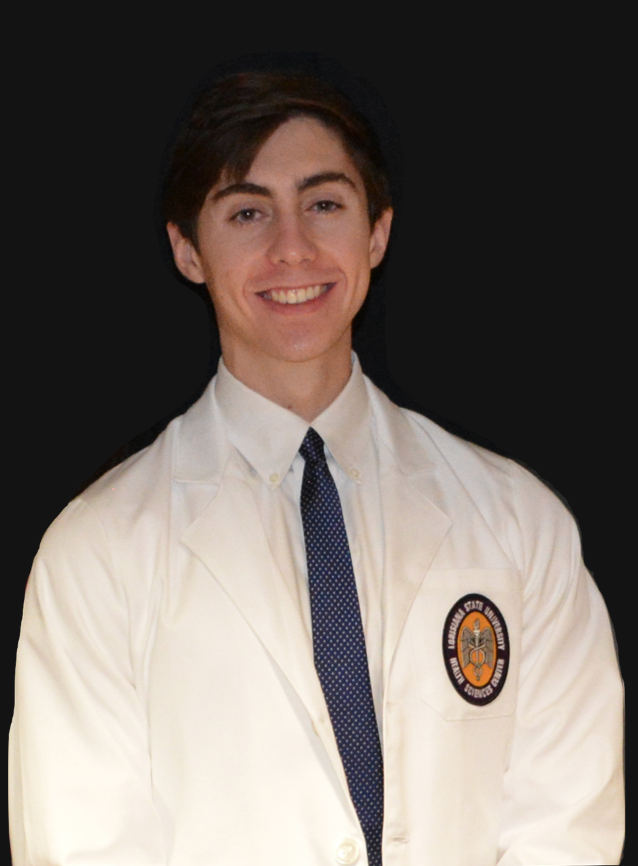 L2

Mentor: Malachi Sheahan III, MD
Department of Surgery

"Evaluating Outcomes in COVID-19 Patients with New Onset Renal Failure Requiring Urgent Hemodialysis"

Abstract
Poster
Presentation


---
11. Lily Chen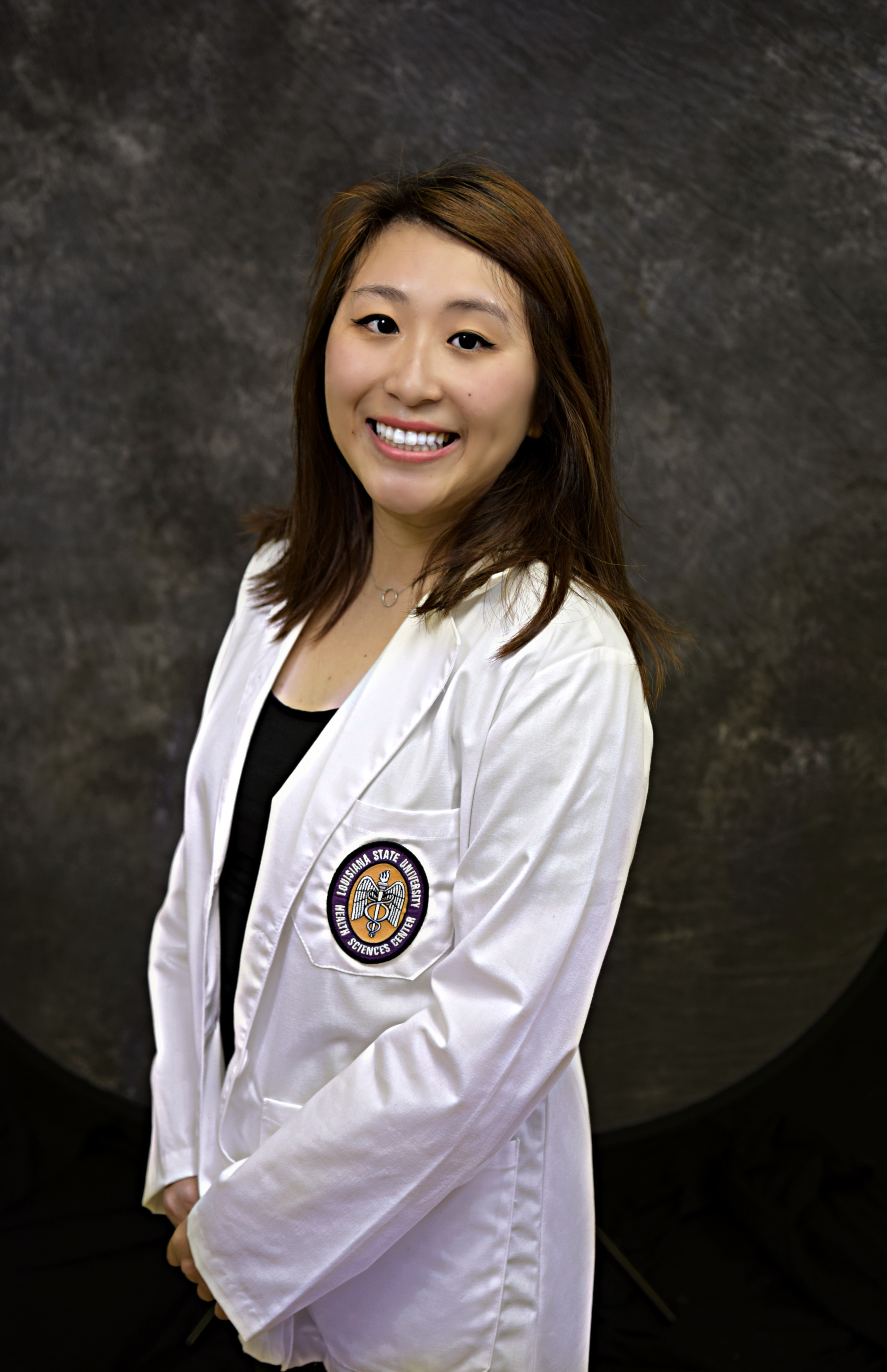 L2

Mentor: Tiffany Wills, PhD
Department of Cell Biology and Anatomy

"Effects of Adolescent Alcohol Exposure on Glutamatergic Transmissions in Male and Female Mice"

Abstract
Poster
Presentation


---
12. Mallory Crawford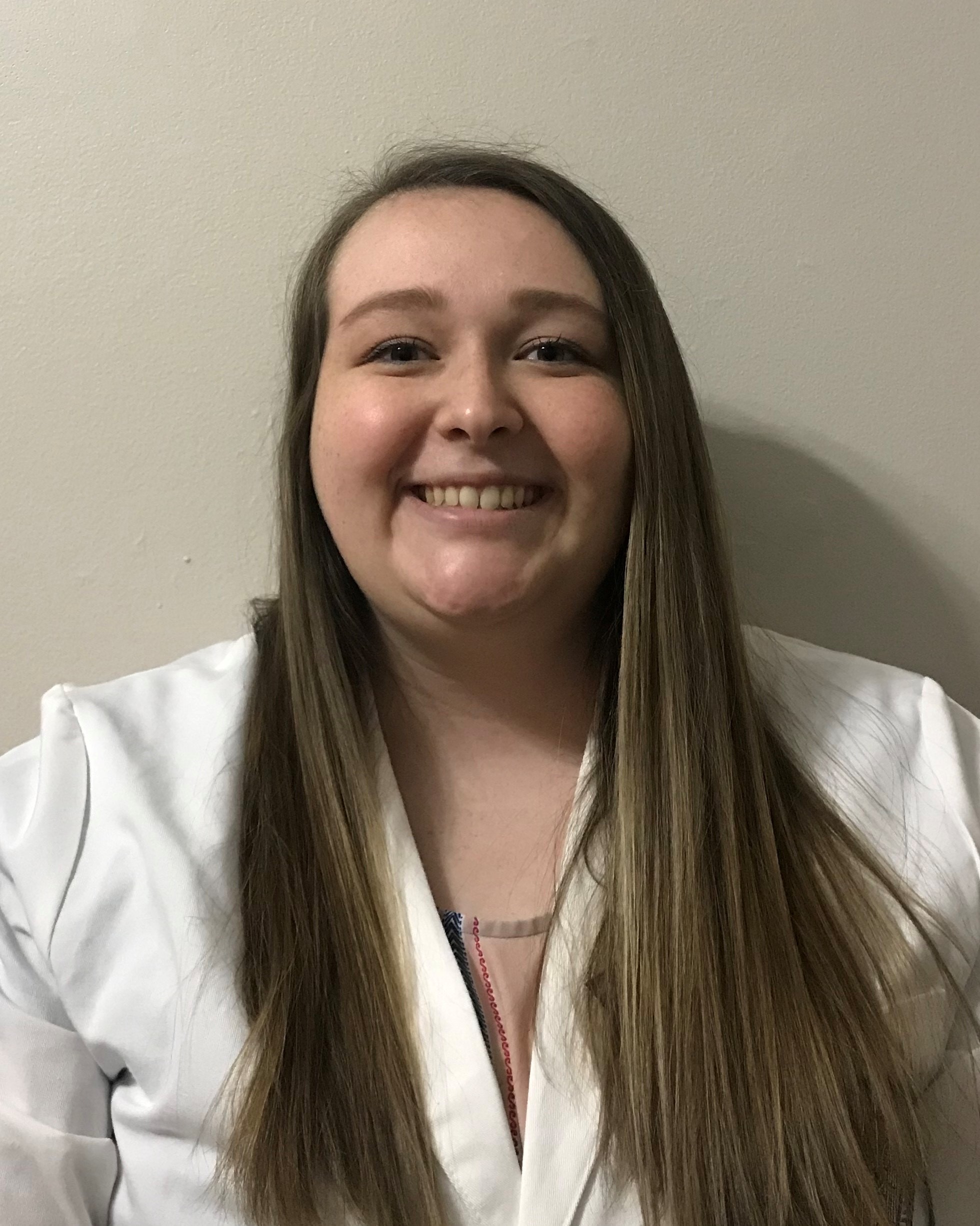 L2

Mentor: Luis Marrero, PhD
Department of Orthopaedics, Morphology and Imaging Core

"Using the Articularis Genu to Test Peri-Articular Muscle Health During Knee Osteoarthritis"

Abstract
Poster
Presentation


---
13. Cody Crnkovic - 2nd Place Winner (L3/L4 Category)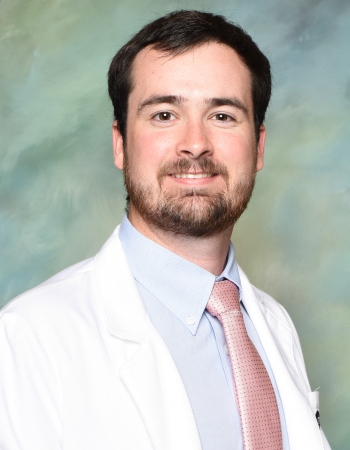 L3

Mentors: Vinod Dasa, MD
Department of Orthopedic Surgery

Andrew Chapple, PhD
Department of Biostatistics

"Ethnicity, race and socioeconomic status are underreported in top orthopedic journals"

Abstract
Poster
Presentation (Passcode: @dp5+3fh)

---
14. Harrison Daste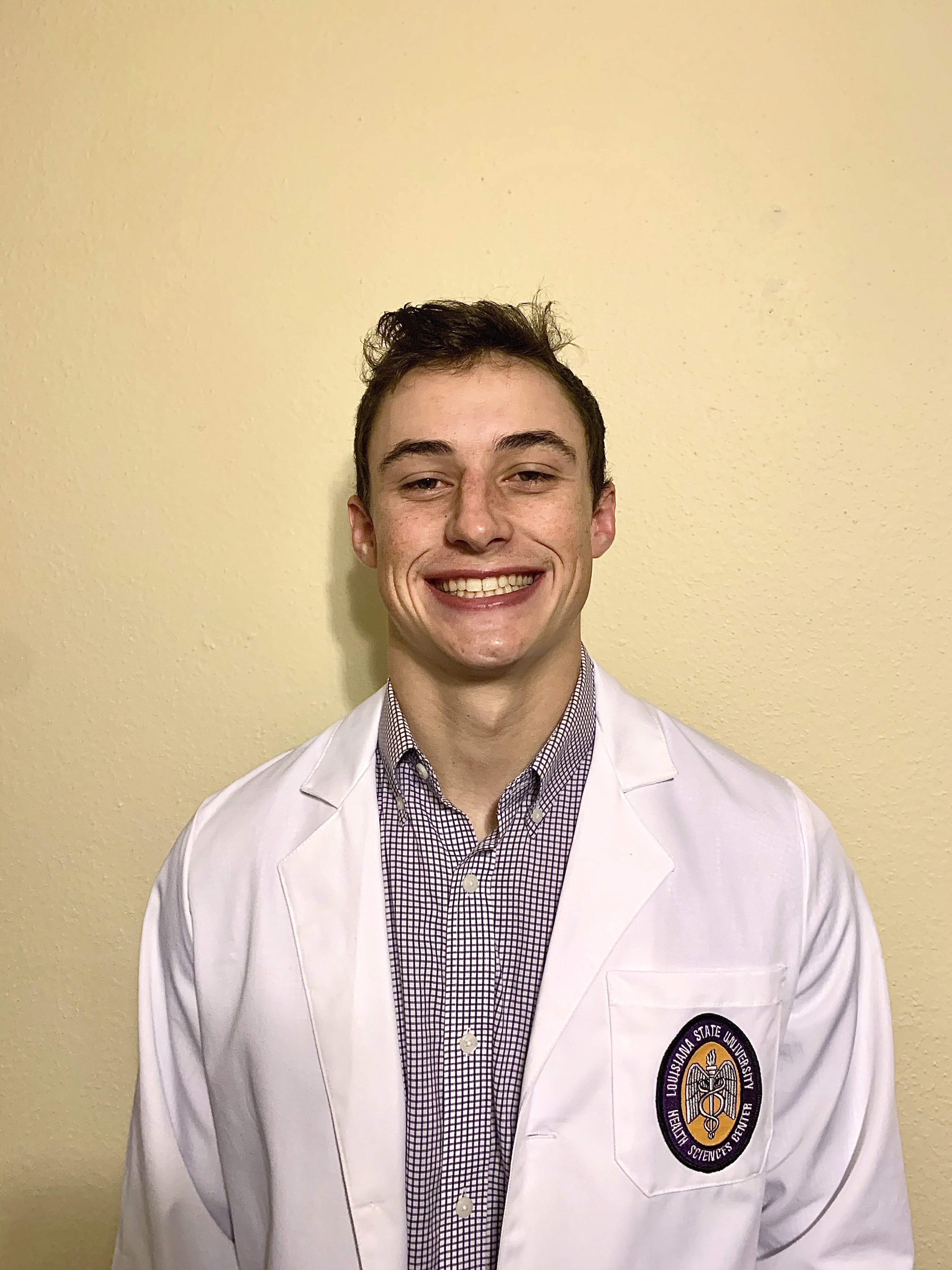 L2

Mentor: Angela Amedee, PhD
Department of Microbiology, Immunology, and Parasitology

"Effects of Alcohol on SIV Levels within the CNS of Rhesus Macaques"

Abstract
Poster
Presentation (Passcode: 8ZjzN9&u)
---
15. Justin David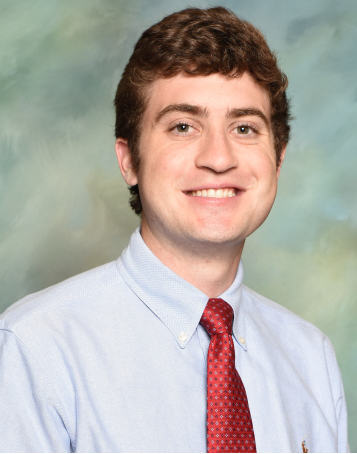 L1

Mentor: Fokhrul Hossain, Ph.D.
Department of Genetics

"Obesity Modulates Gut Microbiome in Triple Negative Breast Cancer"

Abstract
Poster
Presentation


---
16. Kelly Dille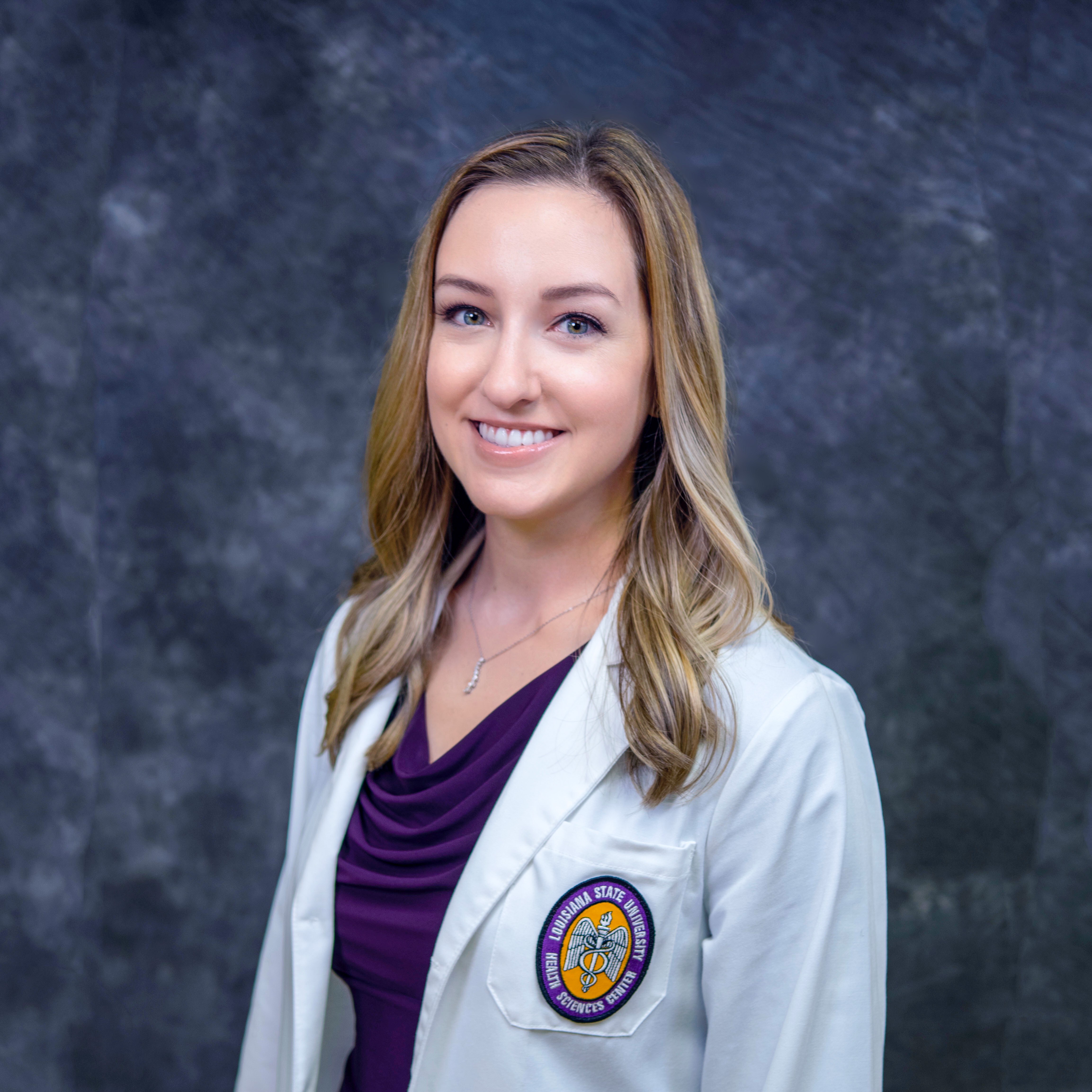 L2

Mentor: Krisztian Stadler, PhD
Pennington Biomedical Research Center

"Proximal Tubular Cell-Specific Heterozygous Ablation of Carnitine Acetyltransferase Causes Cellular and Respiratory Remodeling as a Component of Tubular Disease"

Abstract
Poster
Presentation (Passcode: 8t5OW@$F)


---
17. Tyler Dillon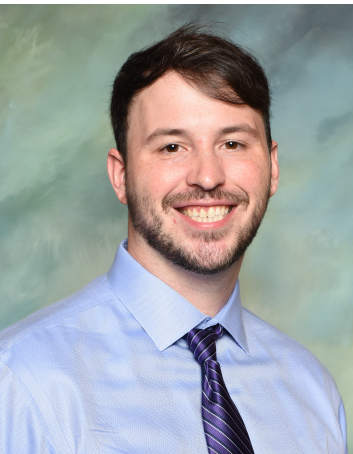 L2

Mentor: Flavia M. Souza-Smith, PhD
Department of Physiology

"Role of Vascular Endothelial Growth Factors on Ethanol-Induced Lymphatic Endothelial Cell Hyperpermeability"

Abstract
Poster
Presentation


---
18. Jake Doiron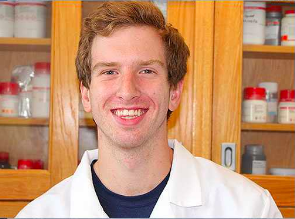 L2

Mentor: David J. Lefer, PhD
Department of Pharmacology

"Effects of H2S Therapy on the Pathogenesis of Heart Failure with Preserved Ejection Fraction"

Abstract
Poster
Presentation


---
19. Joel Epling - 2nd Place Winner (L1/L2 Category)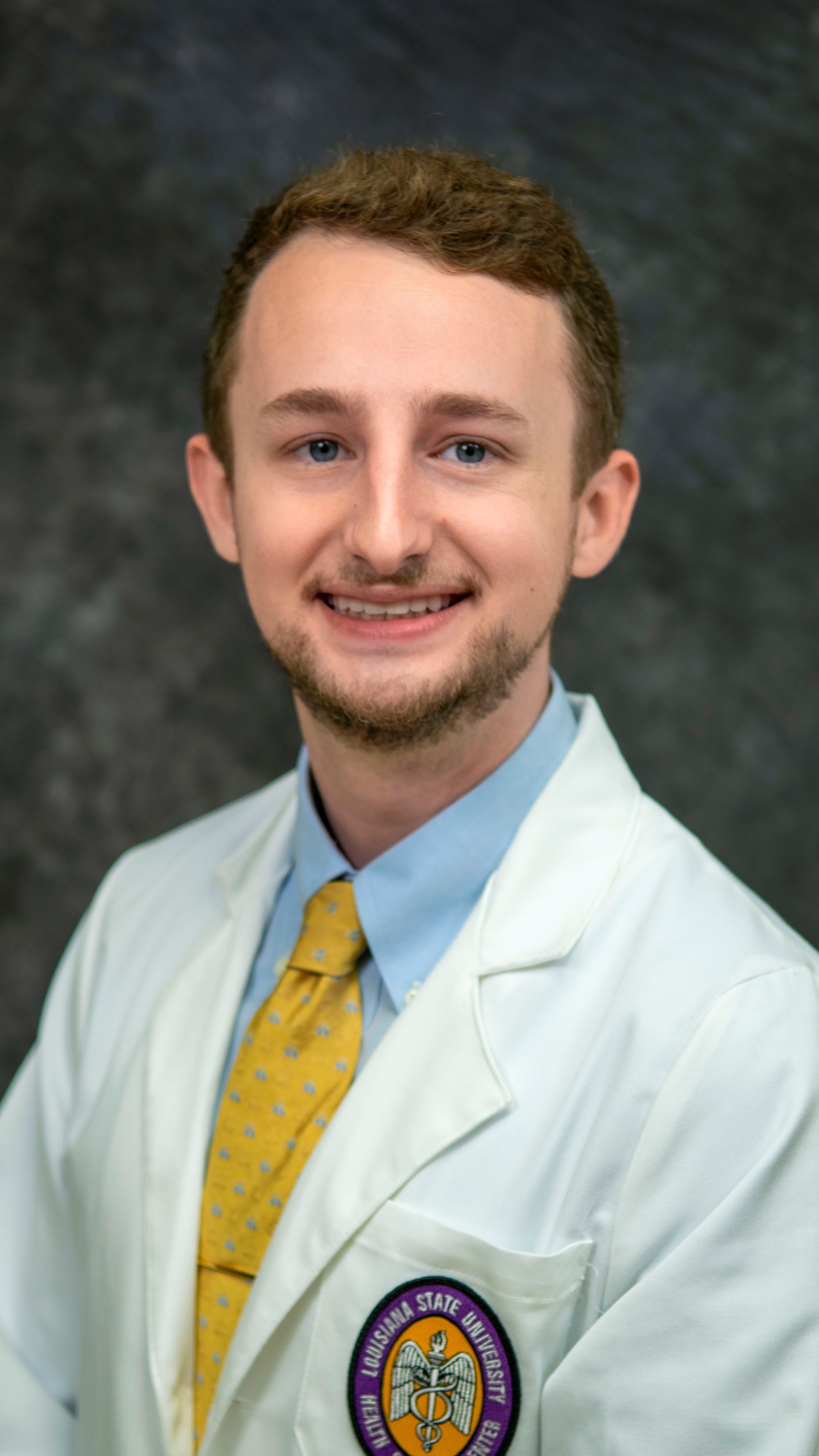 L2

Mentor: James David, MD
Department of Ophthalmology, Vitreoretinal Surgery Fellow

"Two Year Outcomes of iStent vs Kahook Dual Blade Goniotomy When Combined with Cataract Surgery in Patients with Mild to Moderate Stage Glaucoma"

Abstract
Poster
Presentation


---
20. Abigail Erwin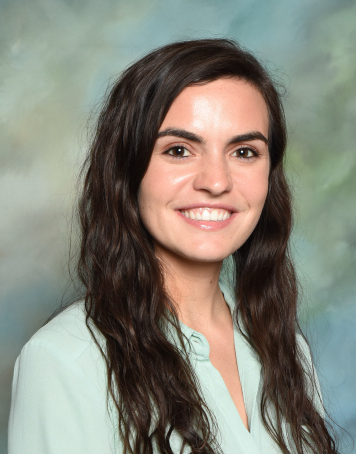 L2

Mentor: Xinping Yue, M.D., Ph.D.
Department of Physiology

"Nicotine and Vascular Dysfunction"

Abstract
Poster
Presentation


---
21.Harrison Folse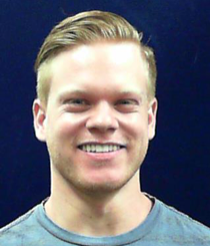 L2

Mentor: Regina Zambrano, M.D.
Children's Hospital, Department of Genetics

"Distribution of Craniofacial Anomalies at Children's Hospital Craniofacial Clinic and Plans for Genetic Roadmaps for Management"

Abstract
Poster
Presentation


---
22. Mima Fondong - 3rd Place Winner (L1/L2 Category)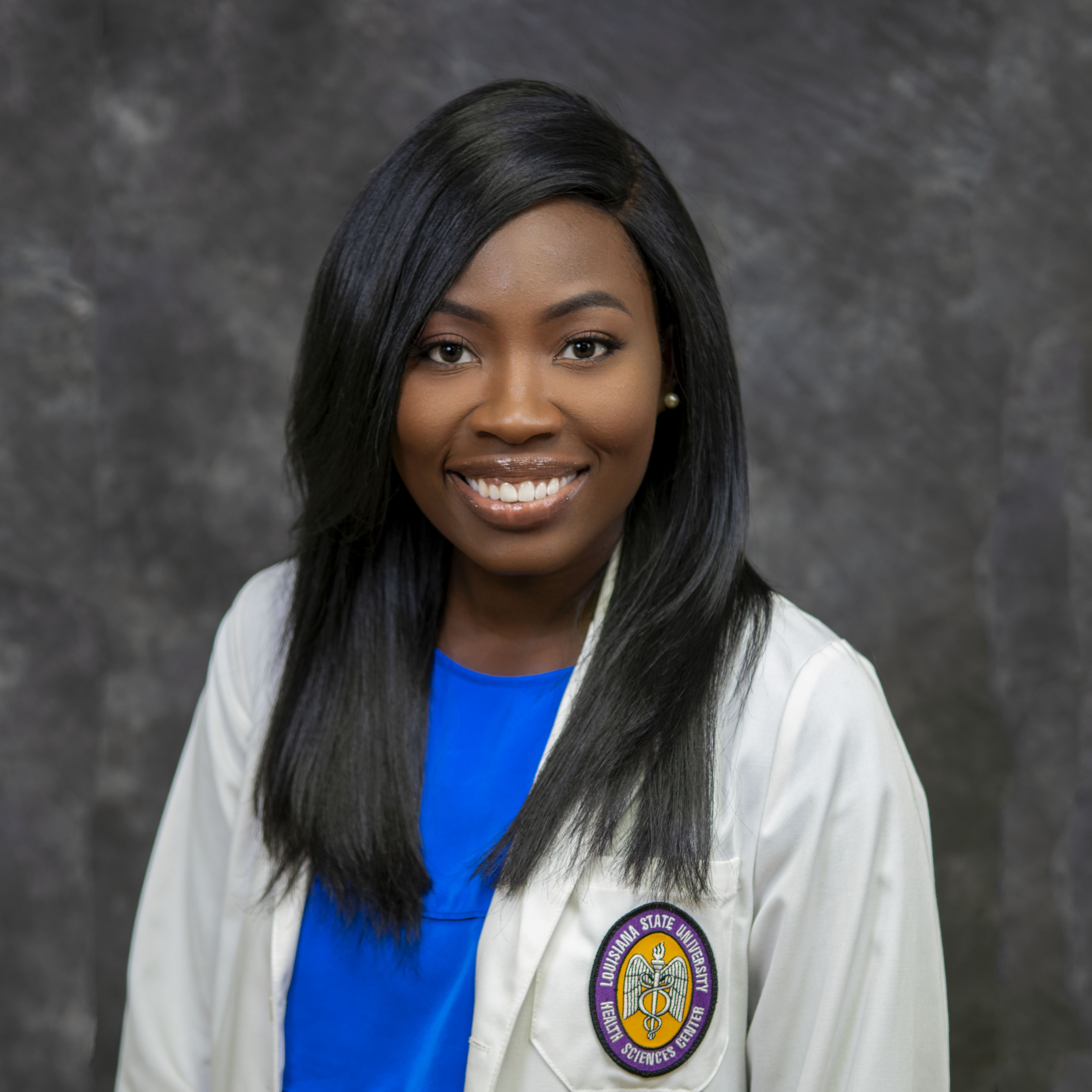 L2

Mentor: Lisa Moreno-Walton, MD, MS, MSCR, FAAEM
Department of Medicine, Section of Emergency Medicine; UMCNO-ED

"Demographic, epidemiological, and clinical factors of presumptive positive COVID-19 patients admitted from an urban emergency department"

Abstract
Poster
Presentation (Passcode: K7xKc+1h)


---
23. Eden Gallegos - 3rd Place Winner (L1/L2 Category)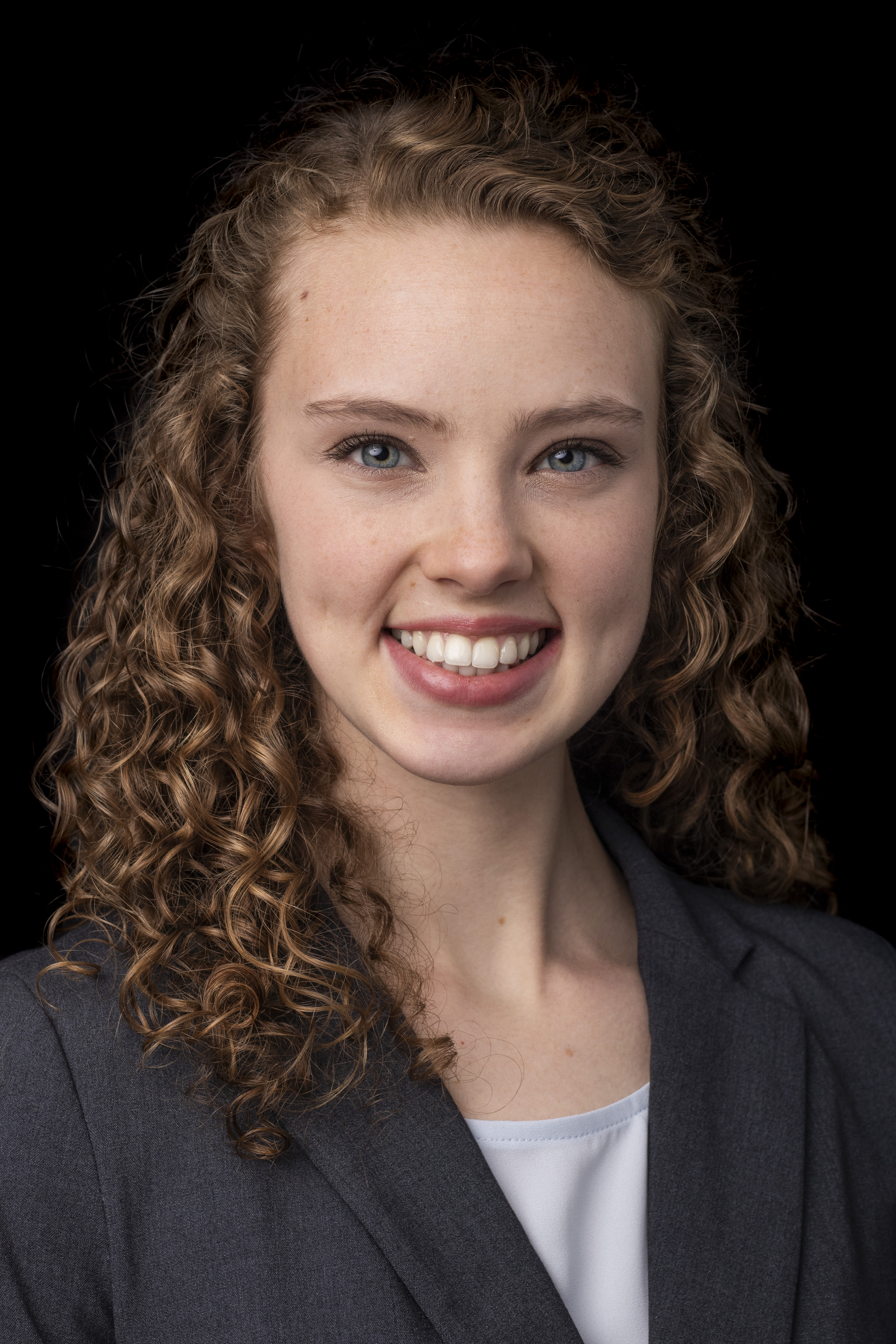 L1

Mentor: Patricia Molina, MD, PhD
Department of Physiology;
Director Alcohol and Drug Abuse Center of Excellence

"HIV and Lifestyle: Investigating Physiological Signals of Metabolic Dysregulation in Persons Living with HIV"

Abstract
Poster
Presentation


---
24. Twila Gaston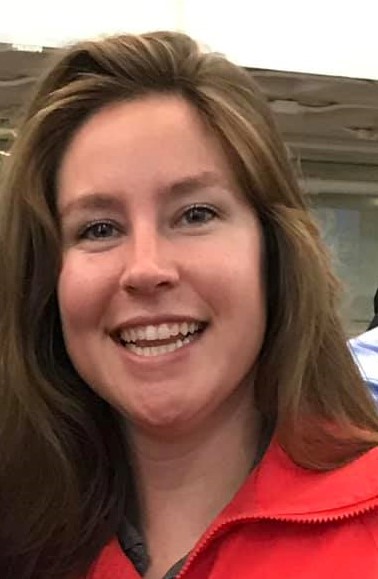 L2

Mentor: Hamilton Farris, PhD
Department of Cell Biology and Anatomy

"Sexual dimorphism in retinal function: endocrine modulation of sensitivity to light"

Abstract
Poster
Presentation


---
25. William Gibson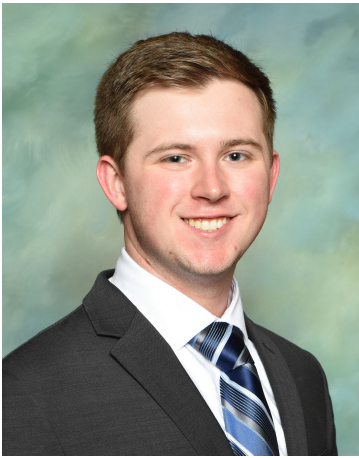 L2

Mentor: Arnold H. Zea, PhD
Department of Microbiology, Immunology, and Parasitology

"Decreased L-Arginine Availability Blocks the Induction of NO Synthesis in Renal Cell Carcinoma Cells (Renca) as a Mechanism of Defense in Response to Interferon Gamma"

Abstract
Poster
Presentation


---
26. Shreya Gunda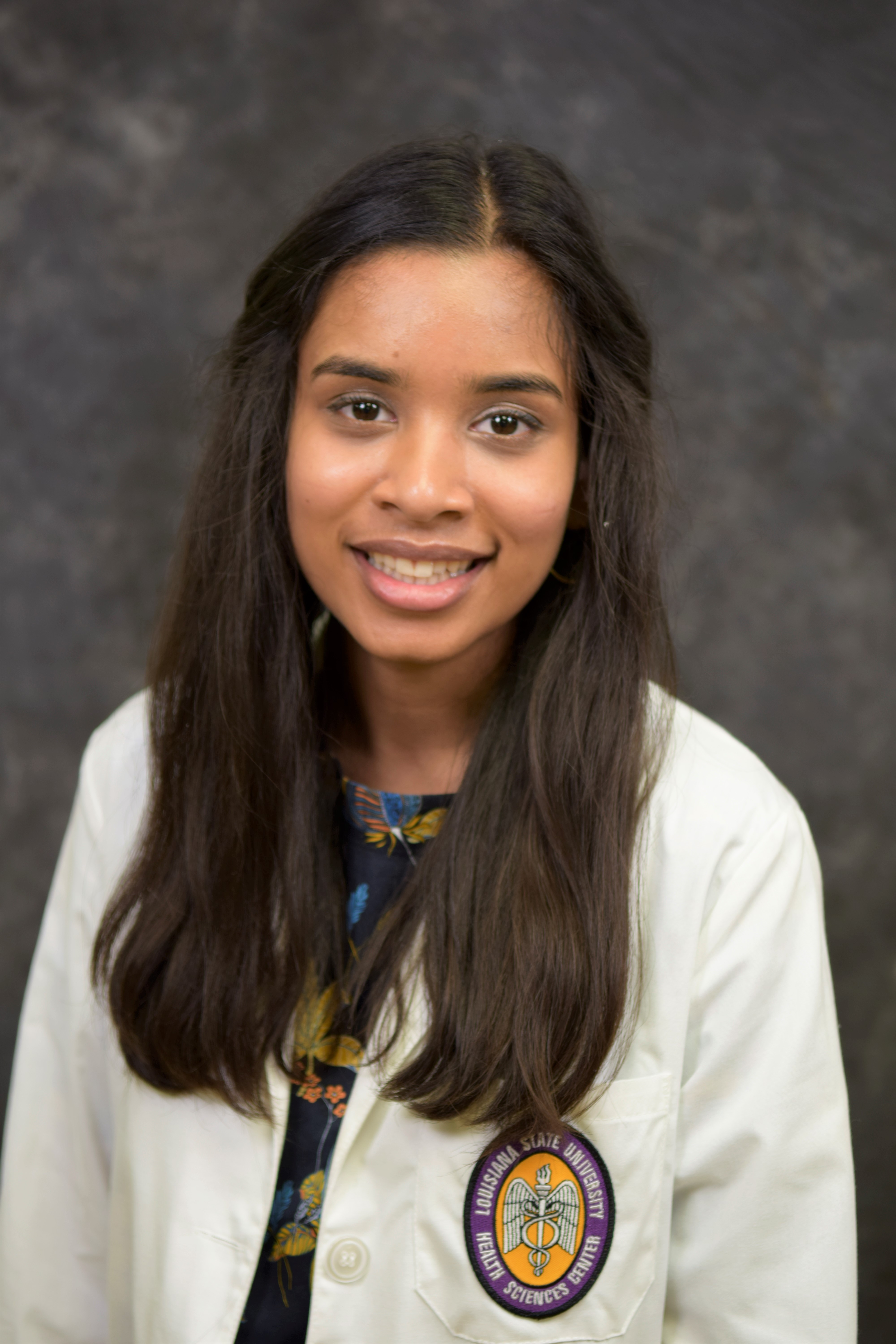 L2

Mentor: Dr. David Welsh
Department of Internal medicine, Section of Pulmonary, Critical Care Medicine and Allergy, Immunology

Postdoctoral Mentor: Min Gu, PhD

"Alcohol-associated impact of sIgA-coated intestinal bacteria on pulmonary host defense during S. pneumoniae pneumonia"

Abstract
Poster
Presentation


---
27. Shakira Harding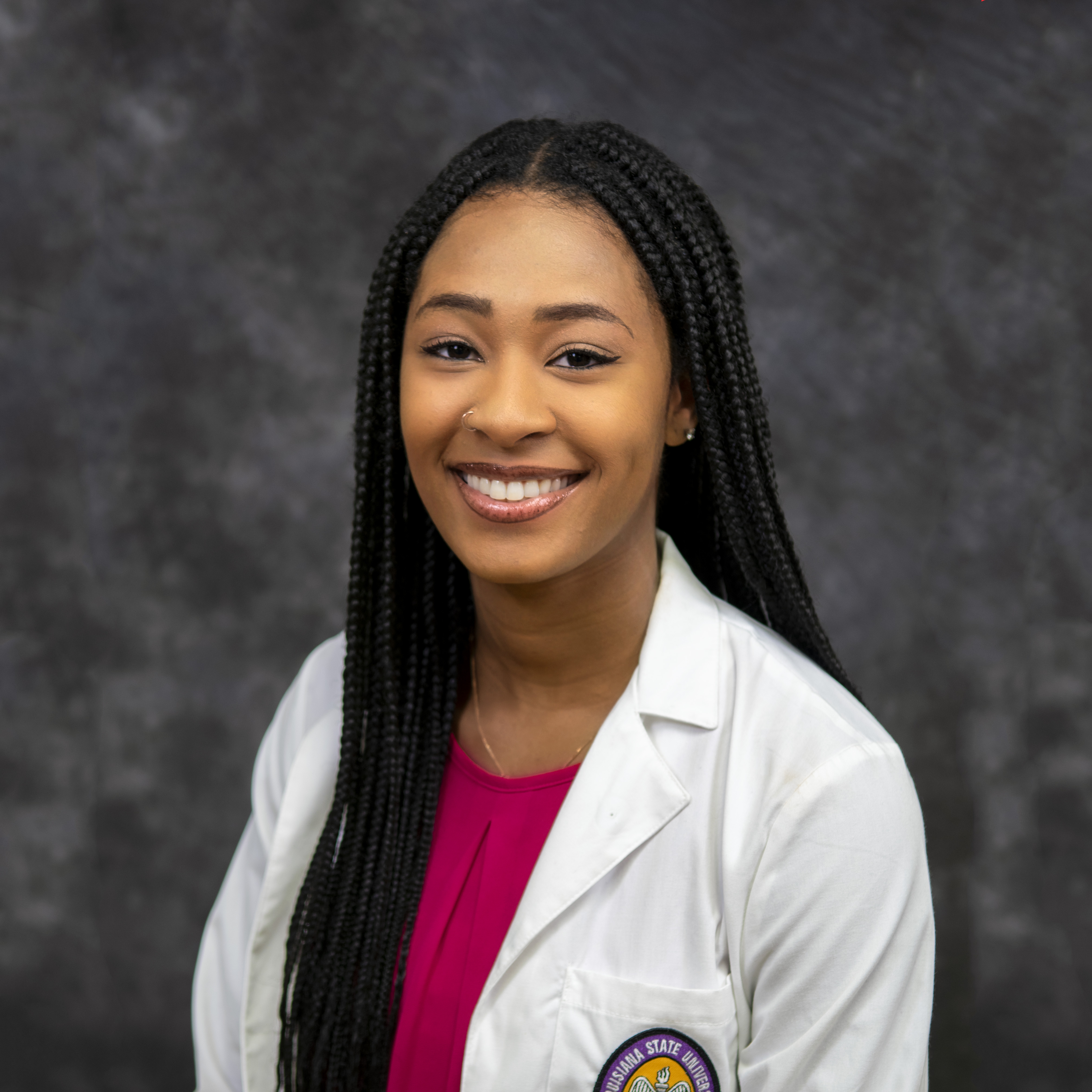 L2

Mentor: Amelia Jernigan, M.D.
Department of Obstetrics and Gynecology

"Views of Reproductive-Aged Female Cancer Patients on Oncofertility Care"

Abstract
Poster
Presentation


---
28. Katherine Henry - 1st Place Winner (L1/L2 Category)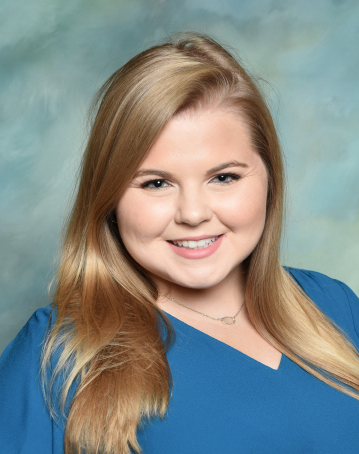 L2

Mentor: Deidre J. Devier, PhD
Department of Neurology

"Applicability of the King-Devick Test for Cognitive Impairment Detection in Patients with Multiple Sclerosis"

Abstract
Poster
Presentation (Passcode: Research2020@LSU)


---
29. Michael Hirezi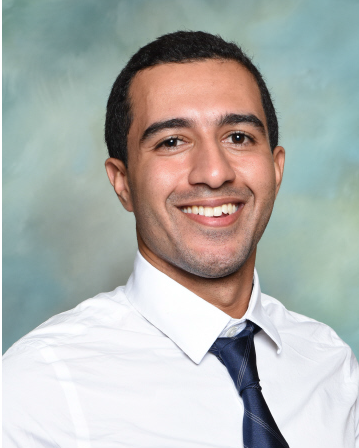 L2

Mentor: Chindo Hicks, PhD
Department of Genetics

"A Machine Learning Approach for Biomarker Discovery using Hepatocellular Carcinoma Transcriptome Data"

Abstract
Poster
Presentation


---
30. Ryan Hoffman - 3rd Place Winner (L1/L2 Category)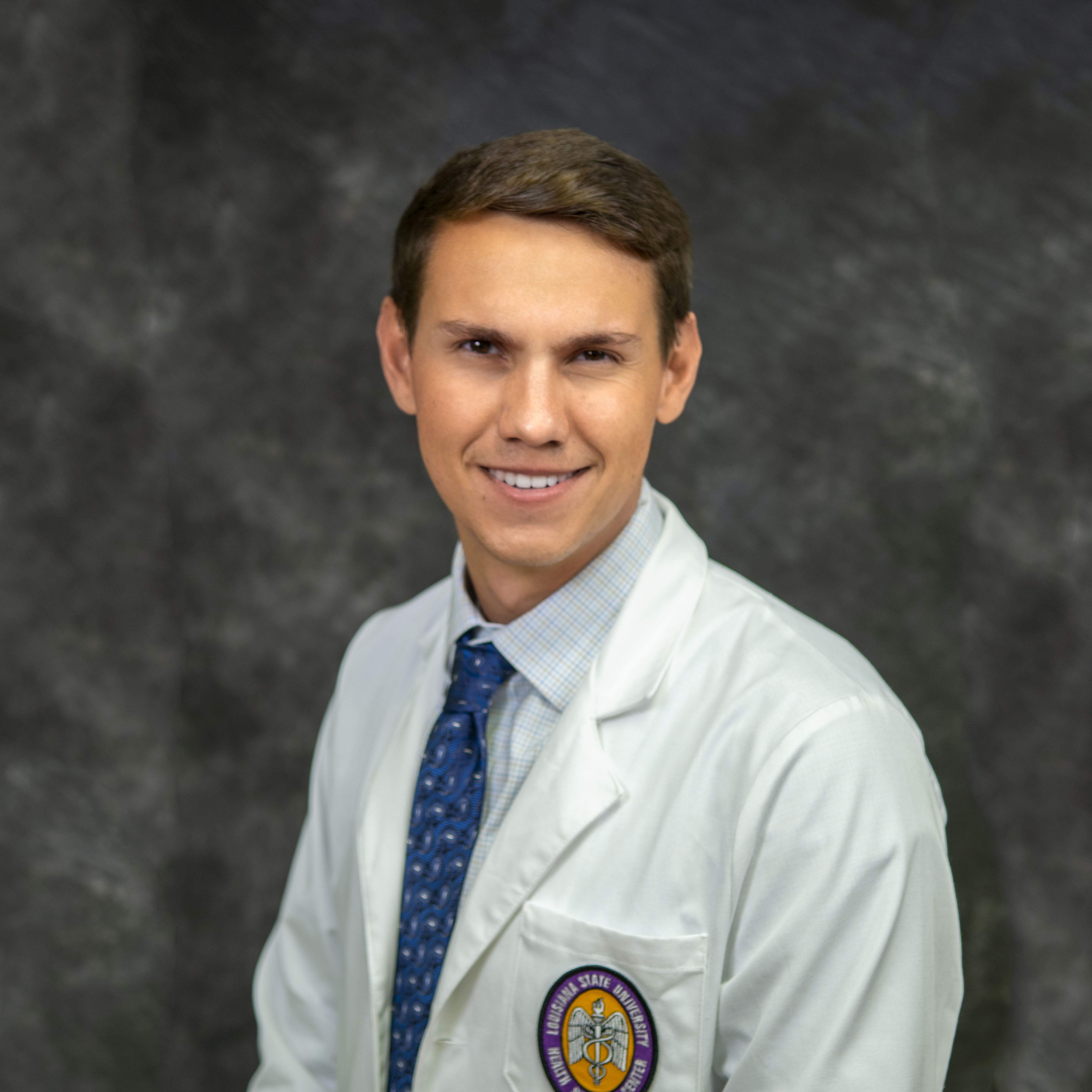 L2

Mentor: Dr. Frank Lau
Department of Plastic and Reconstructive Surgery

"National Disparities in Incisional Hernia Repair Outcomes: An analysis of HCUP-NIS 2012-2014"

Abstract
Poster
Presentation


---
31. Brandon Kent - 3rd Place Winner (L3/L4 Category)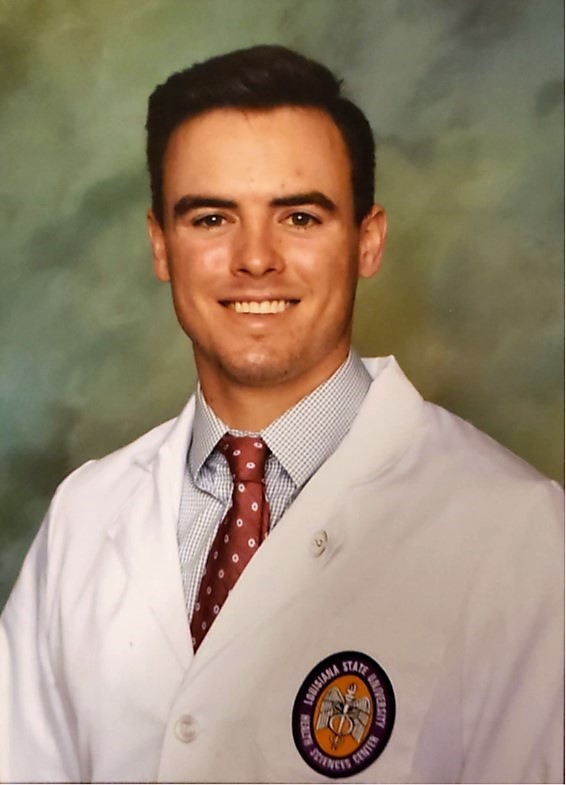 L4

Mentor: Vinod Dasa, MD
Department of Orthopaedic Surgery;
Director of Research

"Does Race Improve the Accuracy of Models Predicting the Size of TKA Femoral Components?"

Abstract
Poster
Presentation


---
32. Zohaib Lakhani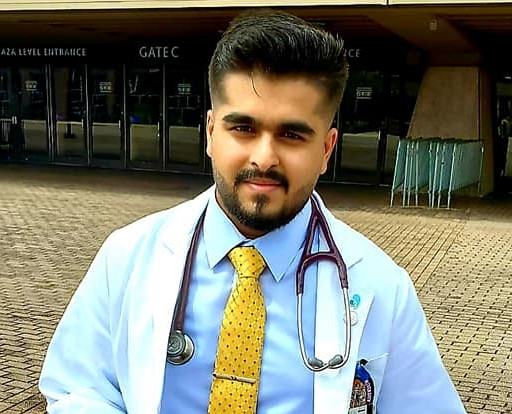 L2

Mentor: Dr. Jennifer Simkin
Department of Orthopaedics

"Patient-Specific decrease in circulating level of TGFα is associated with lower pain after Total Knee Arthroplasty"

Abstract
Poster
Presentation


---
33. Madison Lanza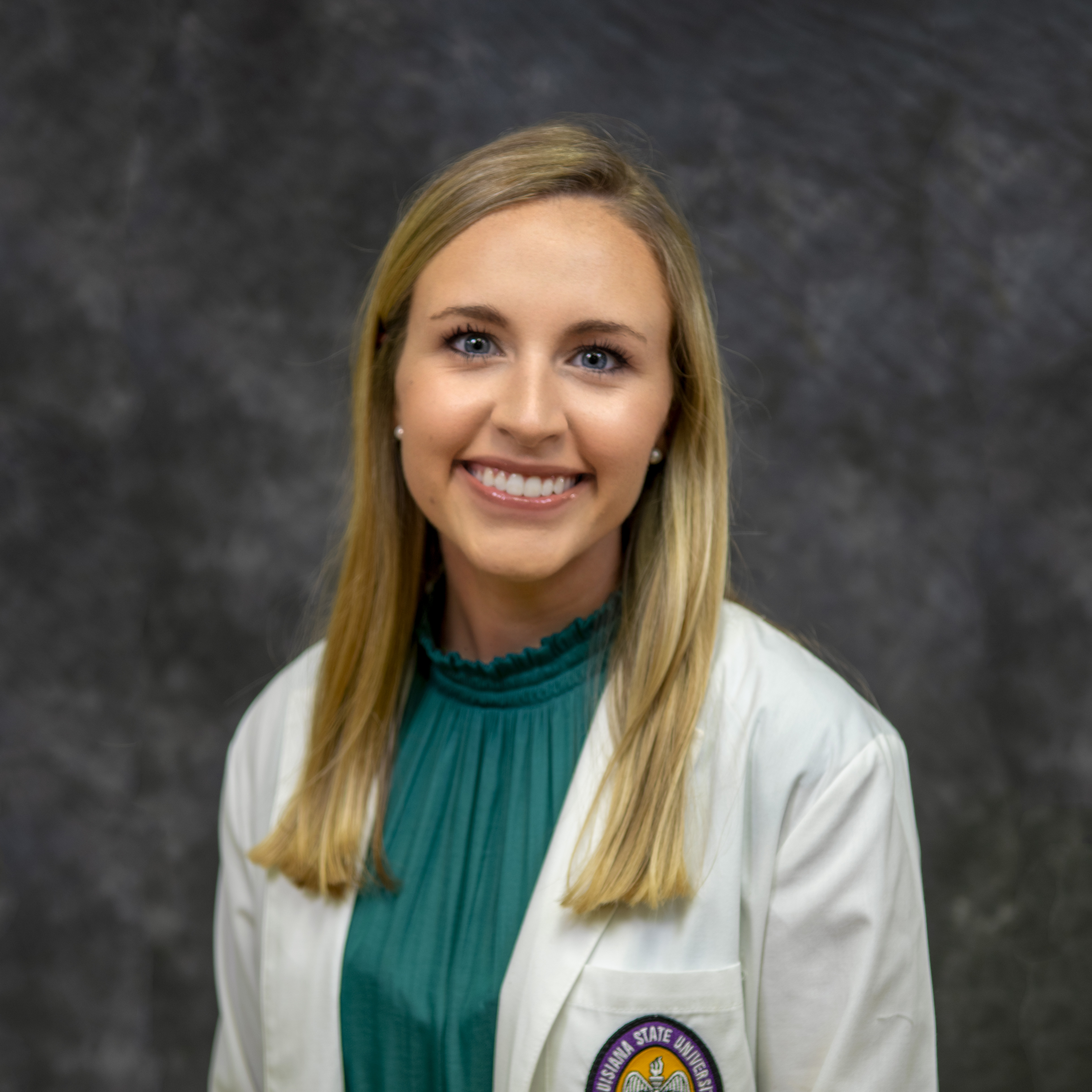 L2

Mentor: Stacey Holman, MD
Department of Obstetrics and Gynecology

"Compliance with Postpartum Follow-up in LSU OB/GYN Resident Continuity Clinics"

Abstract
Poster
Presentation


---
34. Shay LaPorte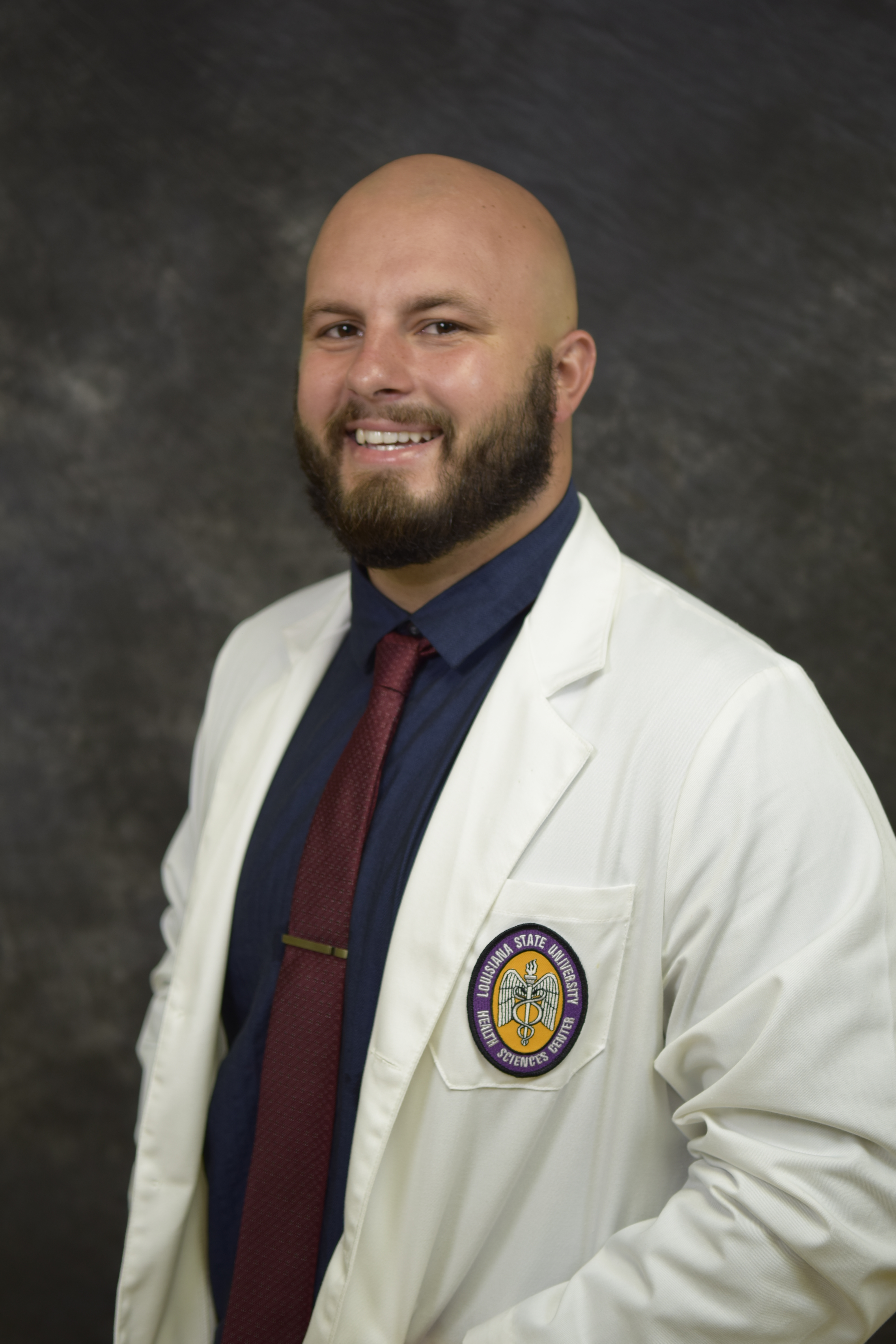 L2

Mentor: Dr. Mihran Naljayan
Department of Medicine, Section of Nephrology and Hypertension

"An Analysis of Patients who Developed AKI upon Admission to an Academic Tertiary Care Center during the First Month of the Acceleration Phase of COVID-19 in New Orleans, LA"

Abstract
Poster
Presentation


---
35. Viet Le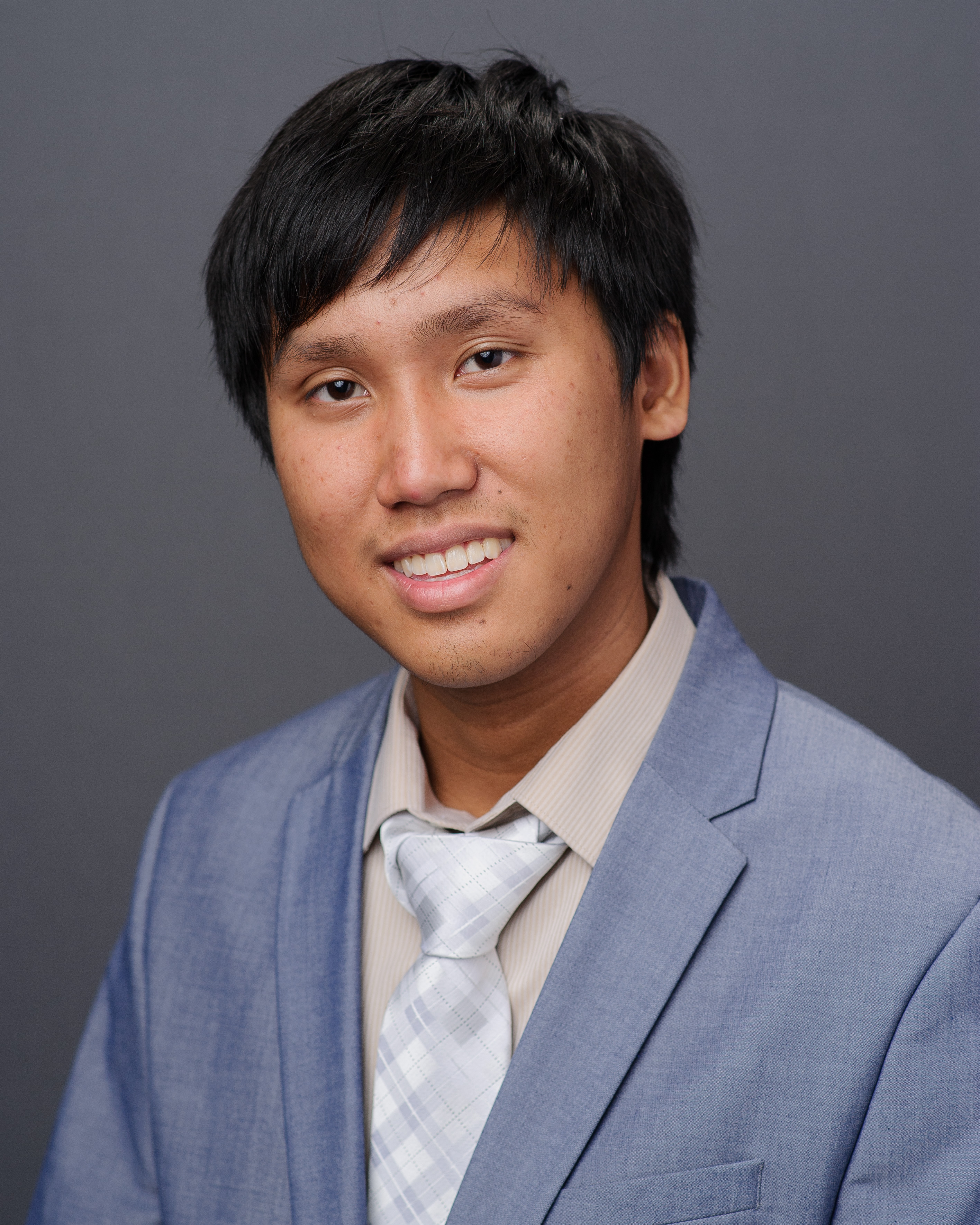 L1

Mentor: Dr. Rajani Maiya
Department of Physiology

"Dissecting the molecular mechanisms by which Lim-Only 4 regulates alcohol consumption and reward"

Abstract
Poster
Presentation


---
36. Nicholas LeBlanc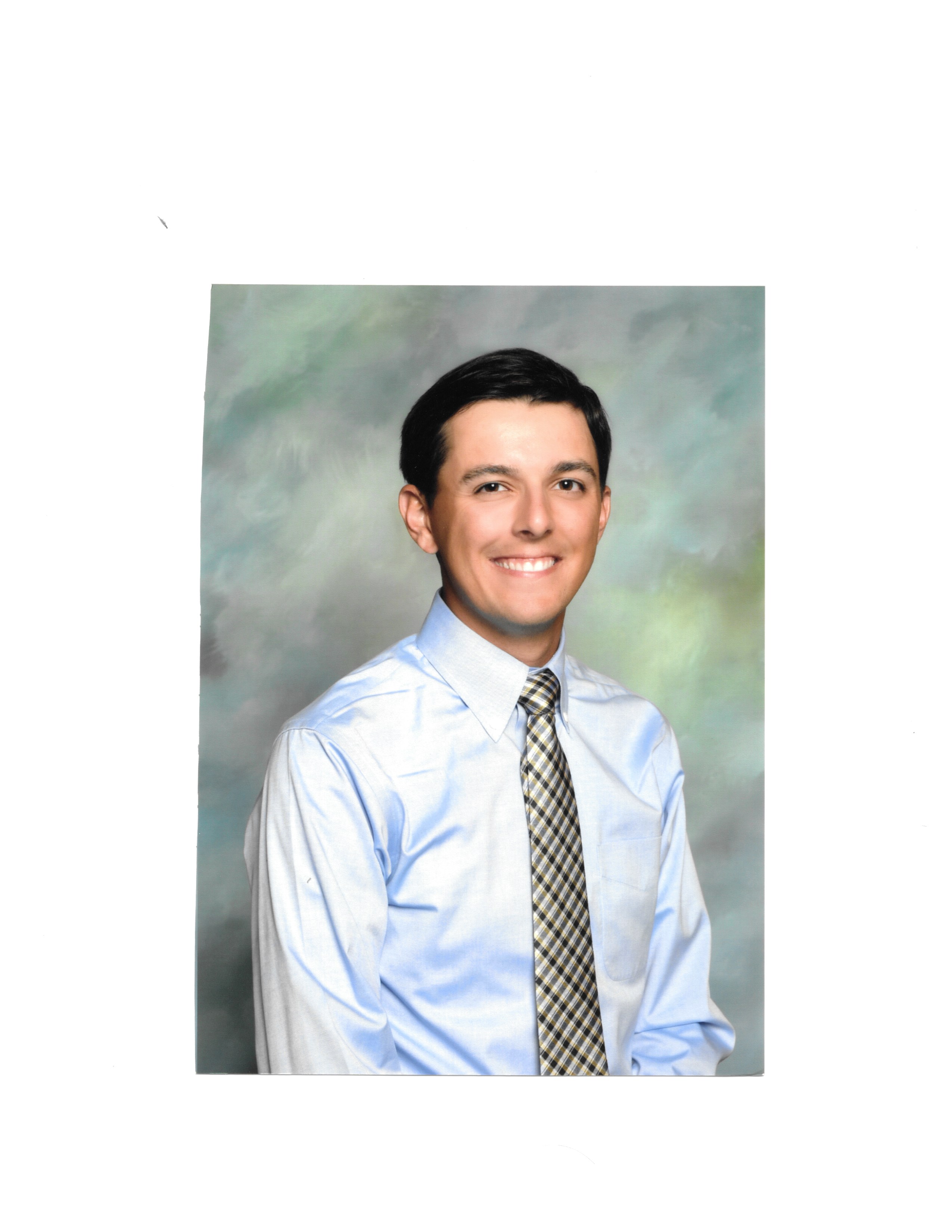 L2

Mentor: Jennifer Simkin, Ph.D
Department of Orthopedic Surgery

"Are Markers of High Bone Turnover, Representing Poor Bone Quality, Associated with Pain After Total Knee Arthroplasty?"

Abstract
Poster
Presentation (Passcode: %EX!iKM4)


---
37. Olivia Leonovicz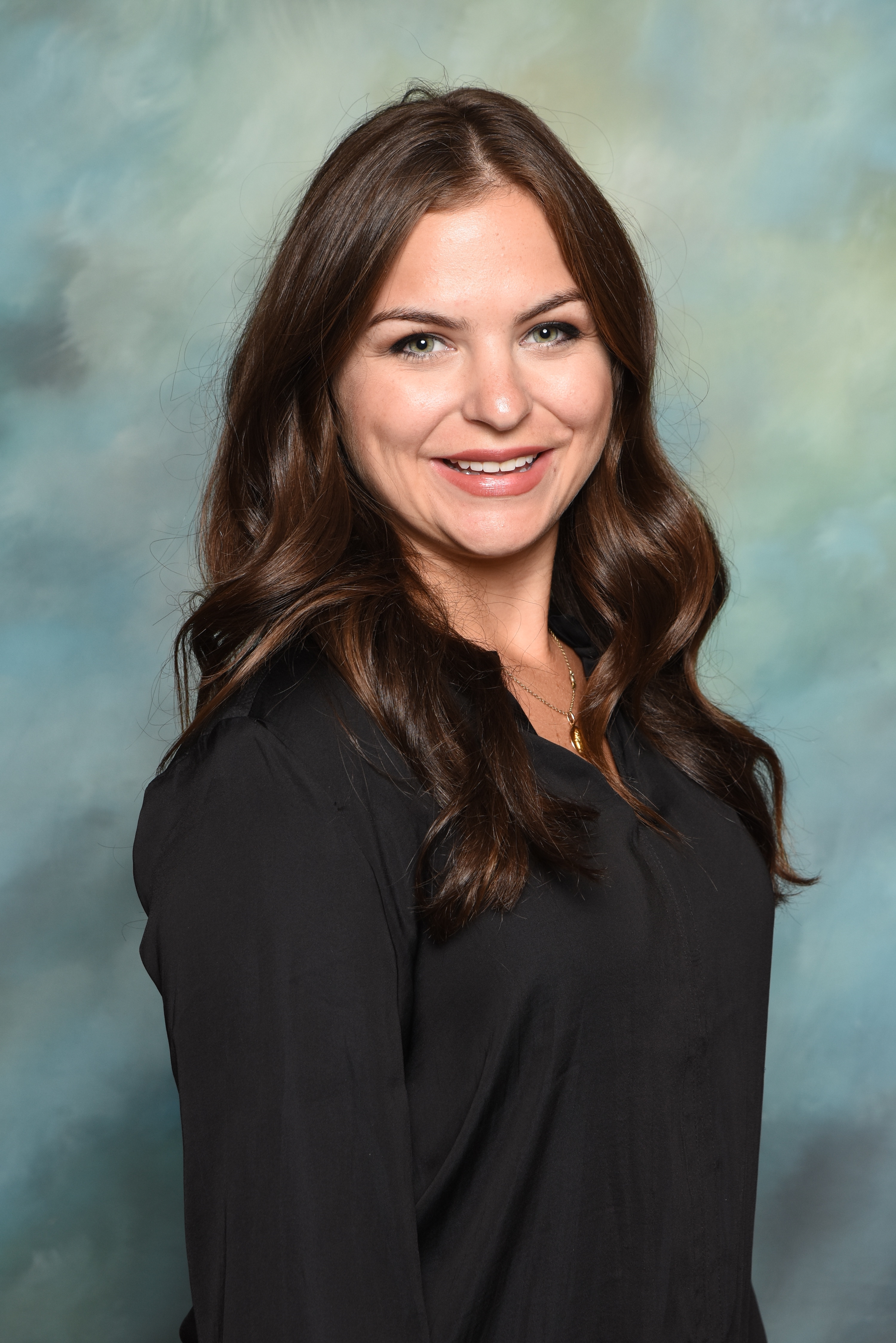 L2

Mentor: Anna Cohen-Rosenblum, M.D.
Department of Orthopaedics

"Musculoskeletal Occupational Injuries among Female Adult Reconstruction Surgeons"

Abstract
Poster
Presentation


---
38. Molly Lieux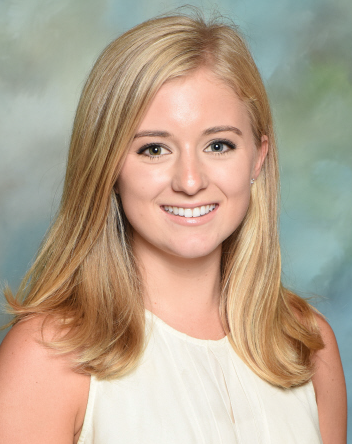 L2

Mentor: Dr. Bradley Spieler
Department of Radiology, University Medical Center

"Online Conferencing Software in Radiology: Recent Trends and Utility"

Abstract
Poster
Presentation


---
39. Brock Lingle


L2

Mentor: Dr. Christine Bojanowski
Department of Pulmonology

"The Impact of Handheld Wireless Home Spirometry on Mental Health and Health Literacy in Patients with Cystic Fibrosis"

Abstract
Poster
Presentation


---
40. Jeffrey Mauras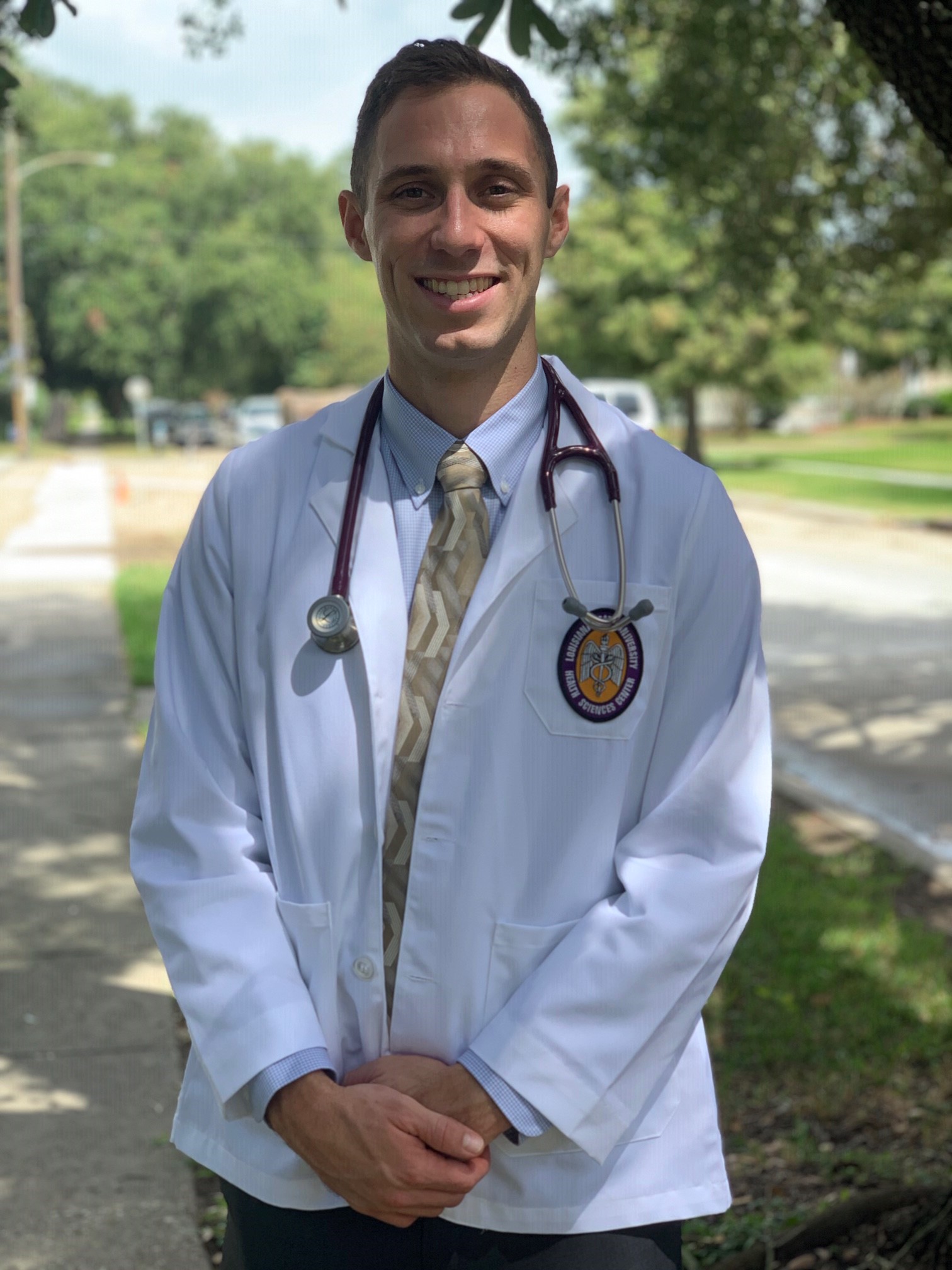 L2

Mentor: Vinod Dasa, MD
Director of Clinical Orthopaedics, Director of Research

"Opioid Use after TKA in Patients Receiving Cryoneurolysis Alone Versus Cryoneurolysis Plus Liposomal Bupivacaine"

Abstract
Poster
Presentation


---
41. Christopher Moroz - 2nd Place Winner (L1/L2 Category)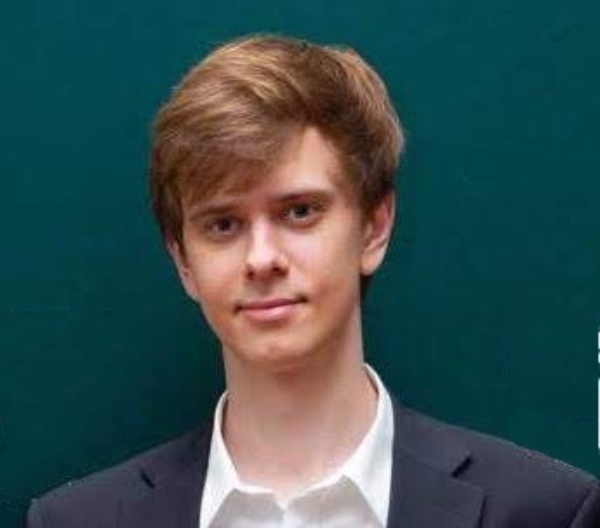 L2

Mentor: Dr. Carmen Canavier
Department of Cell Biology and Anatomy

"Simulated Mechanisms of Gamma Oscillations"

Abstract
Poster
Presentation


---
42. Adeem Nachabe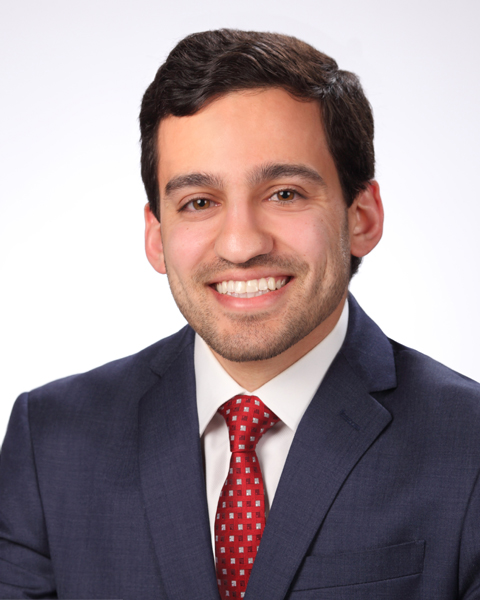 L4

Mentor: Hana Safah, MD
Tulane University School of Medicine
Department of Internal Medicine, Section of Hematology and Oncology

"The Prognostic Implications of Tetraploidy/Near-Tetraploidy in Acute Myeloid Leukemia: A Case Series and Systematic Review of the Literature"

Abstract
Poster
Presentation


---
43. Adeem Nachabe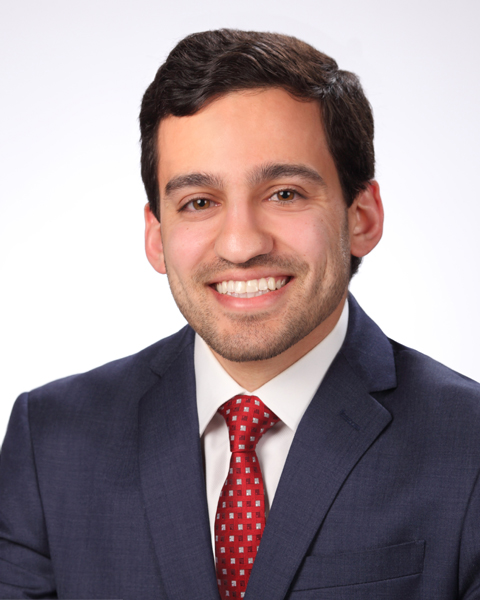 L4

Mentor: Mark Stalder, MD
Department of Surgery, Division of Plastic and Reconstructive Surgery

"Maximizing the Potential of the Free Fibula Flap: Multiple Reconstructive Options from a Single Donor Site"

Abstract
Poster
Presentation


---
44. Adeem Nachabe - 1st Place Winner (L3/L4 Category)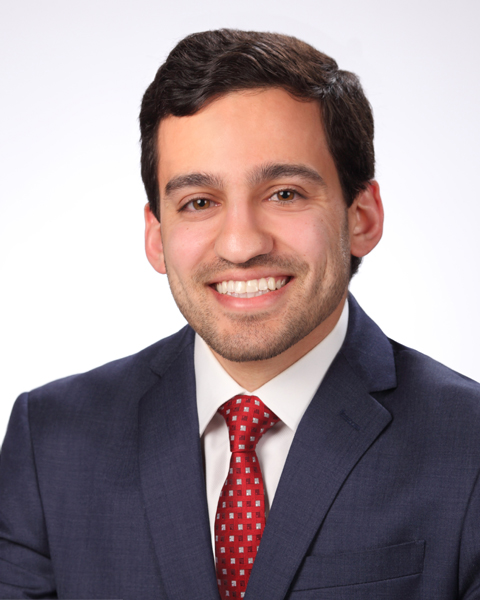 L4

Mentor: Mark Stalder, MD
Department of Surgery, Division of Plastic and Reconstructive Surgery

"Equivalent Incidence of Fat Necrosis in Stacked Versus Single Free Flap Breast Reconstructions: A Multivariate Analysis of 460 Flaps in 212 Patients"

Abstract
Poster
Presentation


---
45. Casey Norlin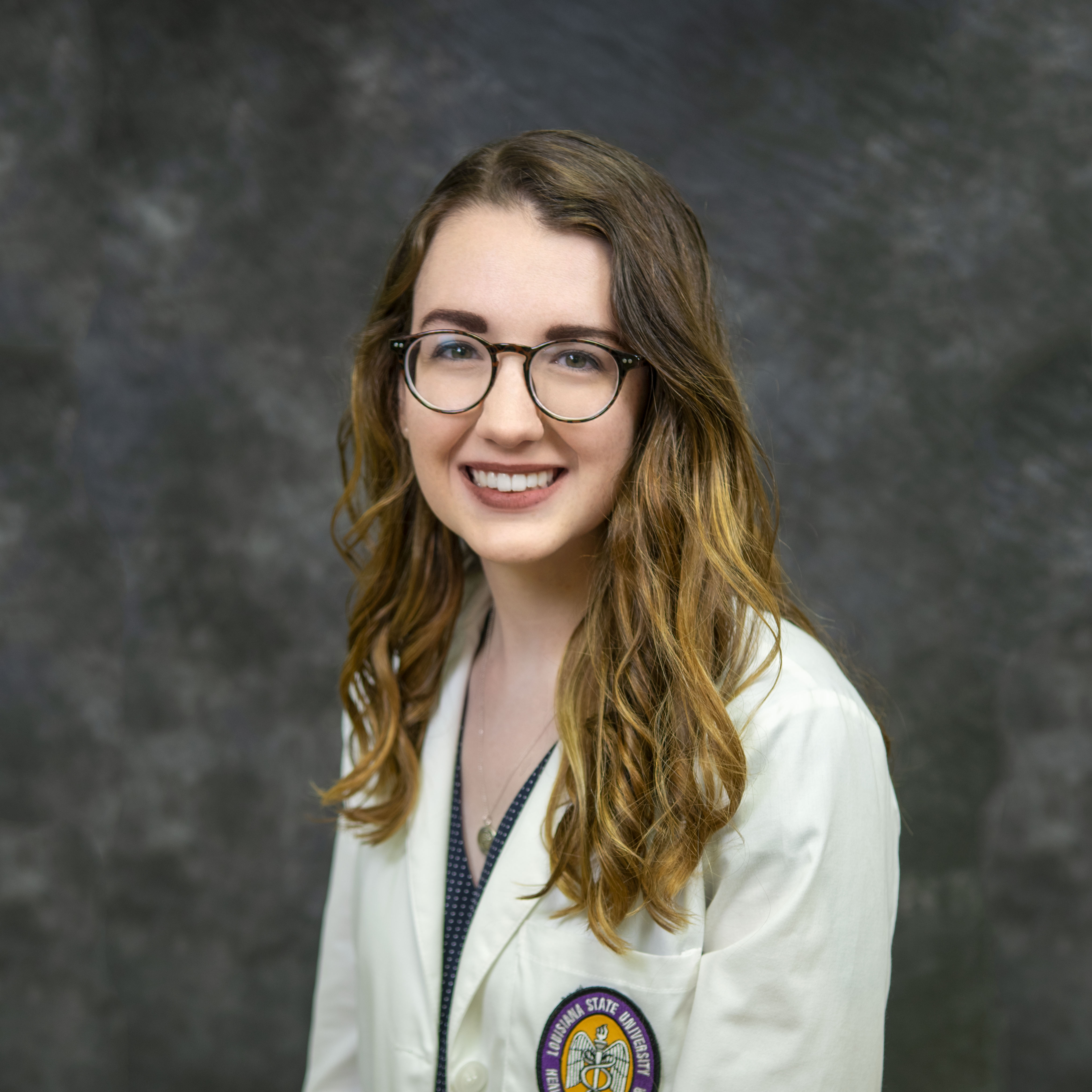 L2

Mentor: Dr. Kurt Piggott
Children's Hospital New Orleans

"Nucleated Red Blood Cells as a Predictor of Extracorporeal Membrane Oxygenation Survival and Survival to Discharge Among Pediatric Patients"

Abstract
Poster
Presentation


---
46. Rebecca Nuss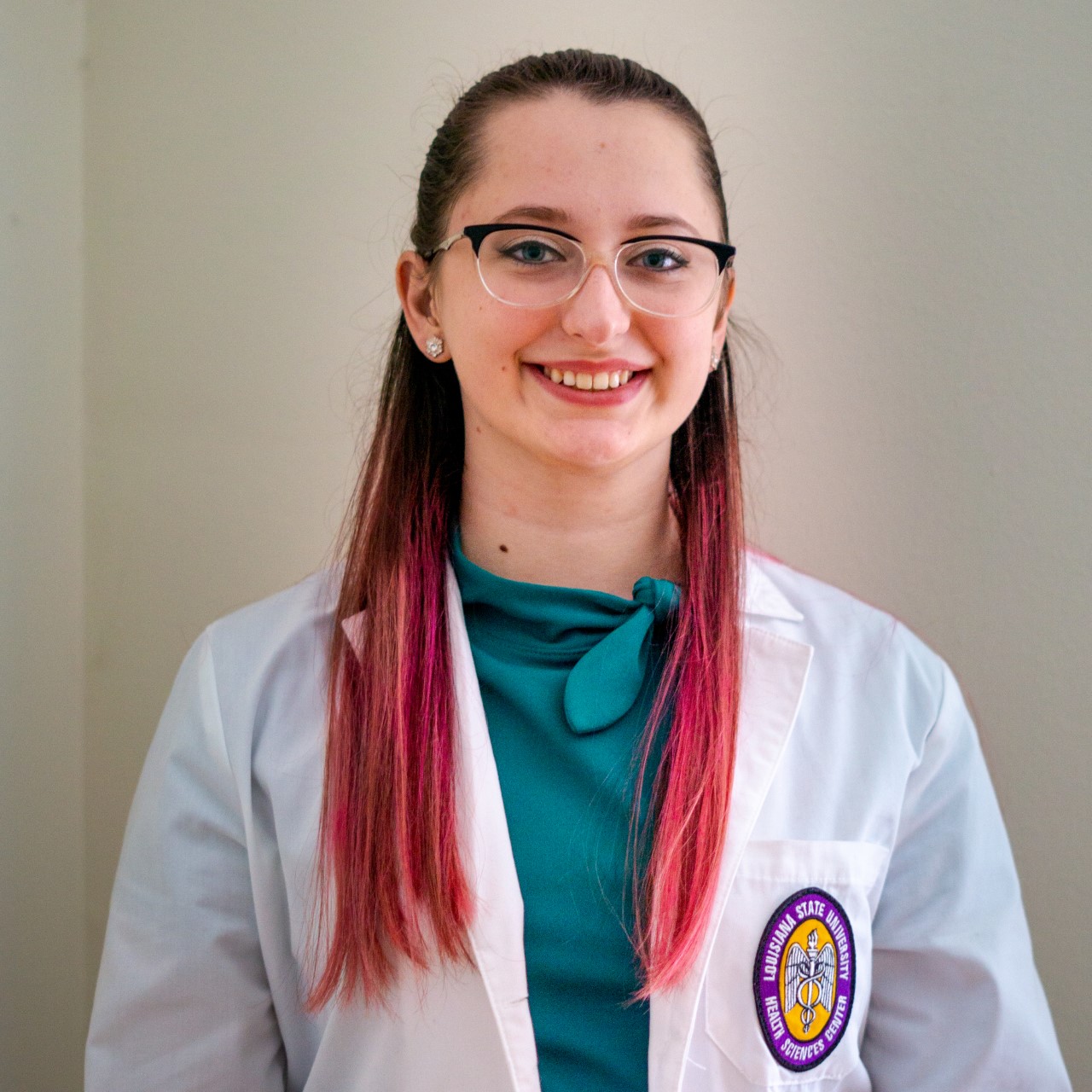 L2

Mentors: 1Caleb Ardizzone; 2Rebecca Lillis; 1Alison Quayle
1Department of Microbiology, Immunology, and Parasitology
2Department of Medicine, Section of Infectious Disease

"Longitudinal study of multi-site [cervical, rectal, pharyngeal] Chlamydia trachomatis infections in young, high-risk women"

Abstract
Poster
Presentation


---
47. Robert Power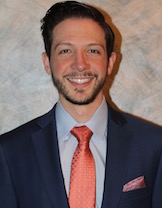 L2

Mentor: Gerhard Mundinger, M.D.
Director of the Craniofacial Center;
Division Chief of Pediatric Plastic Surgery at Children's Hospital

"Non-Self-Inflicted Vs. Self-Inflicted Facial Gunshot Wounds: A Comparison of Insurance Status and Race with Mortality and Cost at UMCNO"

Abstract
Poster
Presentation


---
48. Robert Quiring - 2nd Place Winner (L3/L4 Category)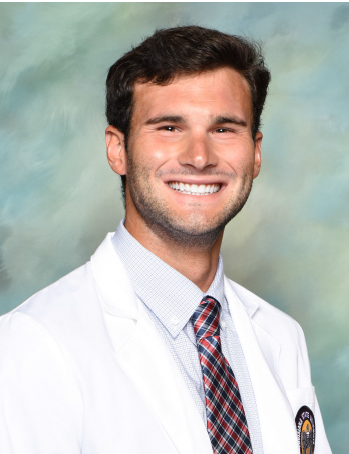 L3

Mentors: Vinod Dasa, MD;
Department of Orthopedic Surgery

Andrew Chapple, PhD
Department of Biostatistics

"Race, Ethnicity, and Social Economic Status are Underreported in Top Orthopedic Journals"

Abstract
Poster
Presentation


---
49. Nancy Ren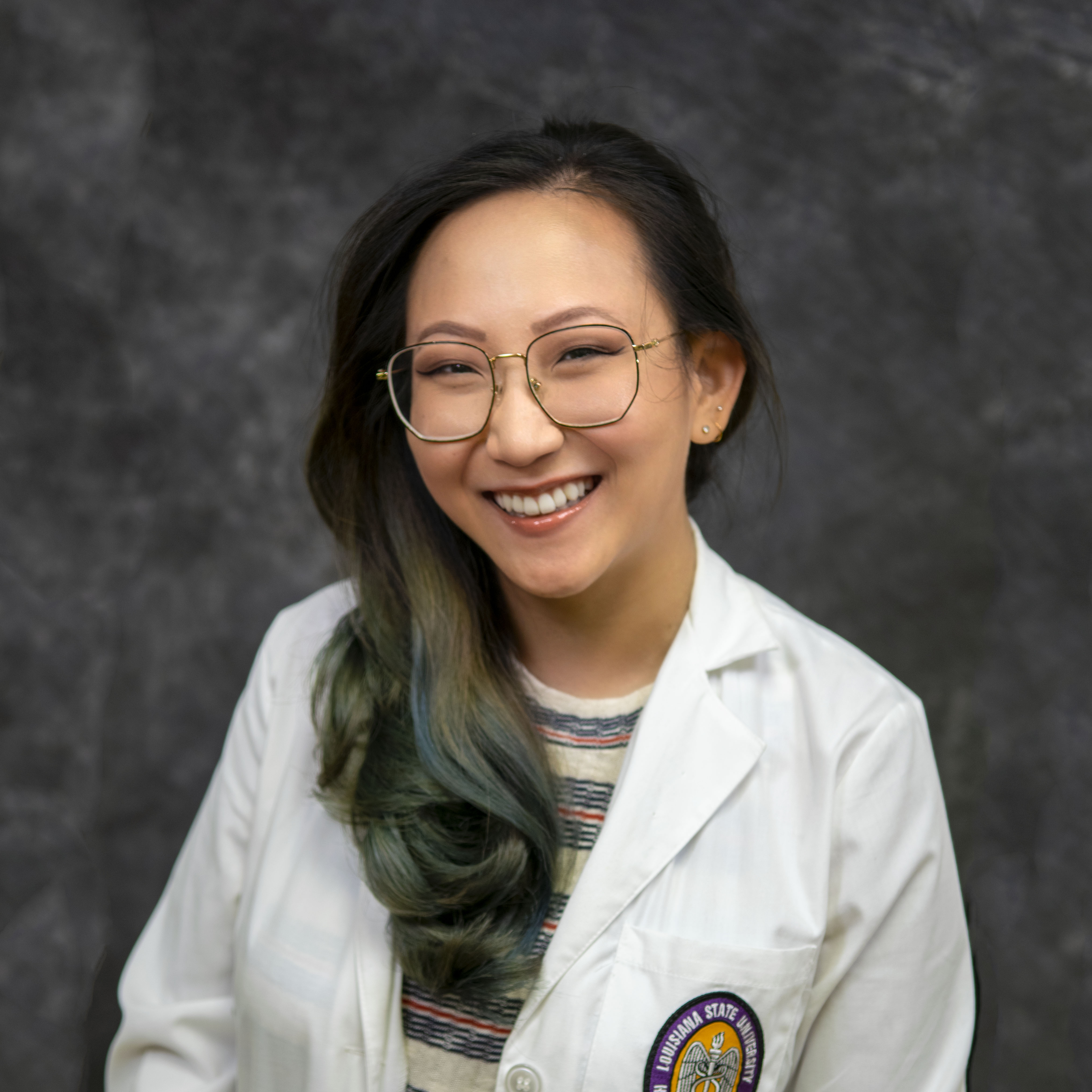 L2

Mentor: Michael E. Hagensee, MD, PHD
Department of Medicine and Microbiology

"IgG Serum Antibody Responses against SARS-CoV-2 in Patients and Healthcare Workers"

Abstract
Poster
Presentation


---
50. Sarah Rimmer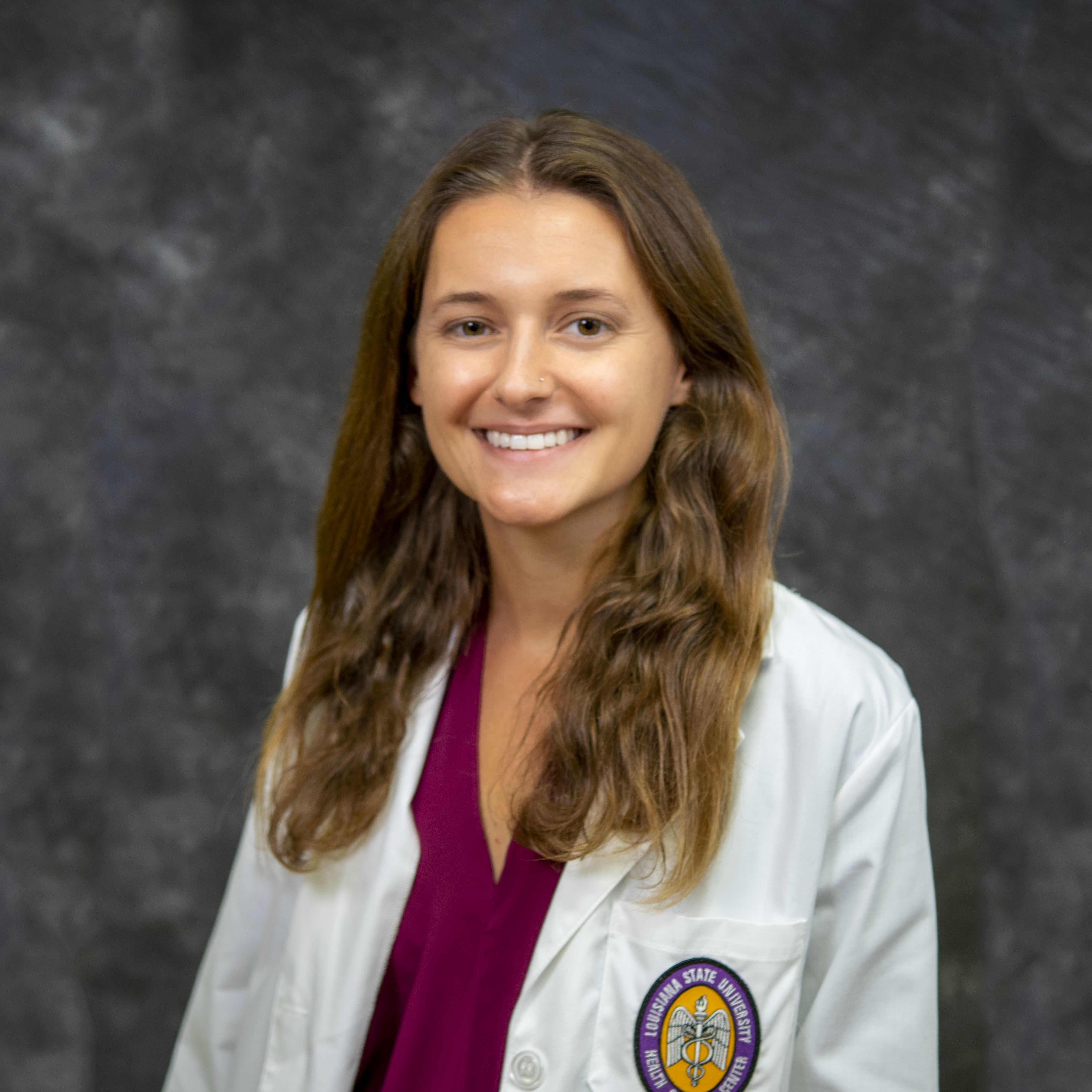 L2

Mentors: Dr. Kyle Fulton;
Dr. Gerhard Mundinger
Department of Craniofacial Pediatrics and Plastic Surgery

"Pilot Assessment of Cleft Lip and Palate Patients at Children's Hospital in New Orleans"

Abstract
Poster
Presentation


---
51. Lauren Rodriguez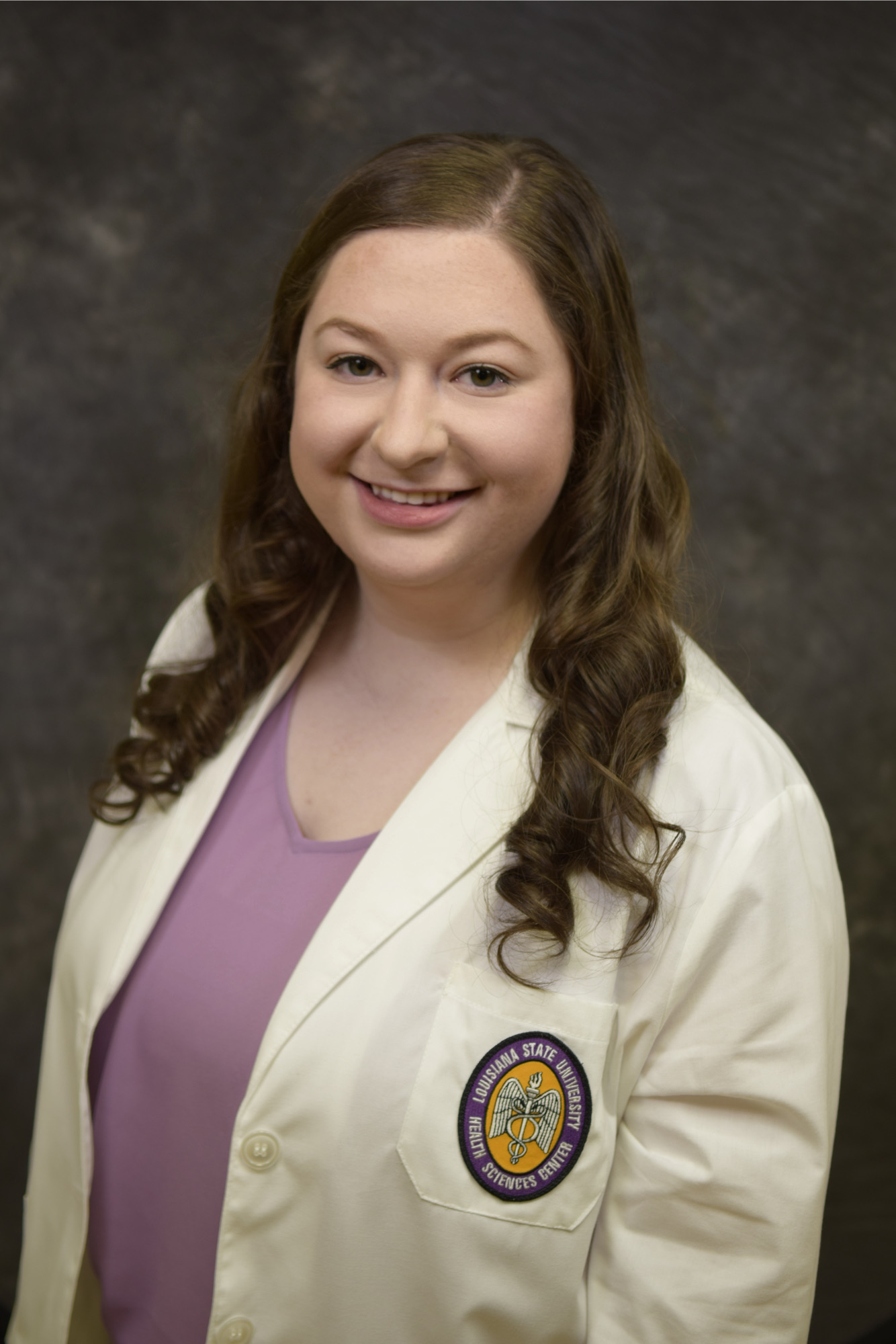 L2

Mentor: Dr. Lisa Moreno-Walton
Department of Emergency Medicine

"Assessment of Post-Traumatic Stress Disorder Among Emergency Medical Services Workers: A Survey Study Within An Urban Emergency Medical Service"

Abstract
Poster
Presentation


---
52. Jimmy (Ari) Saravia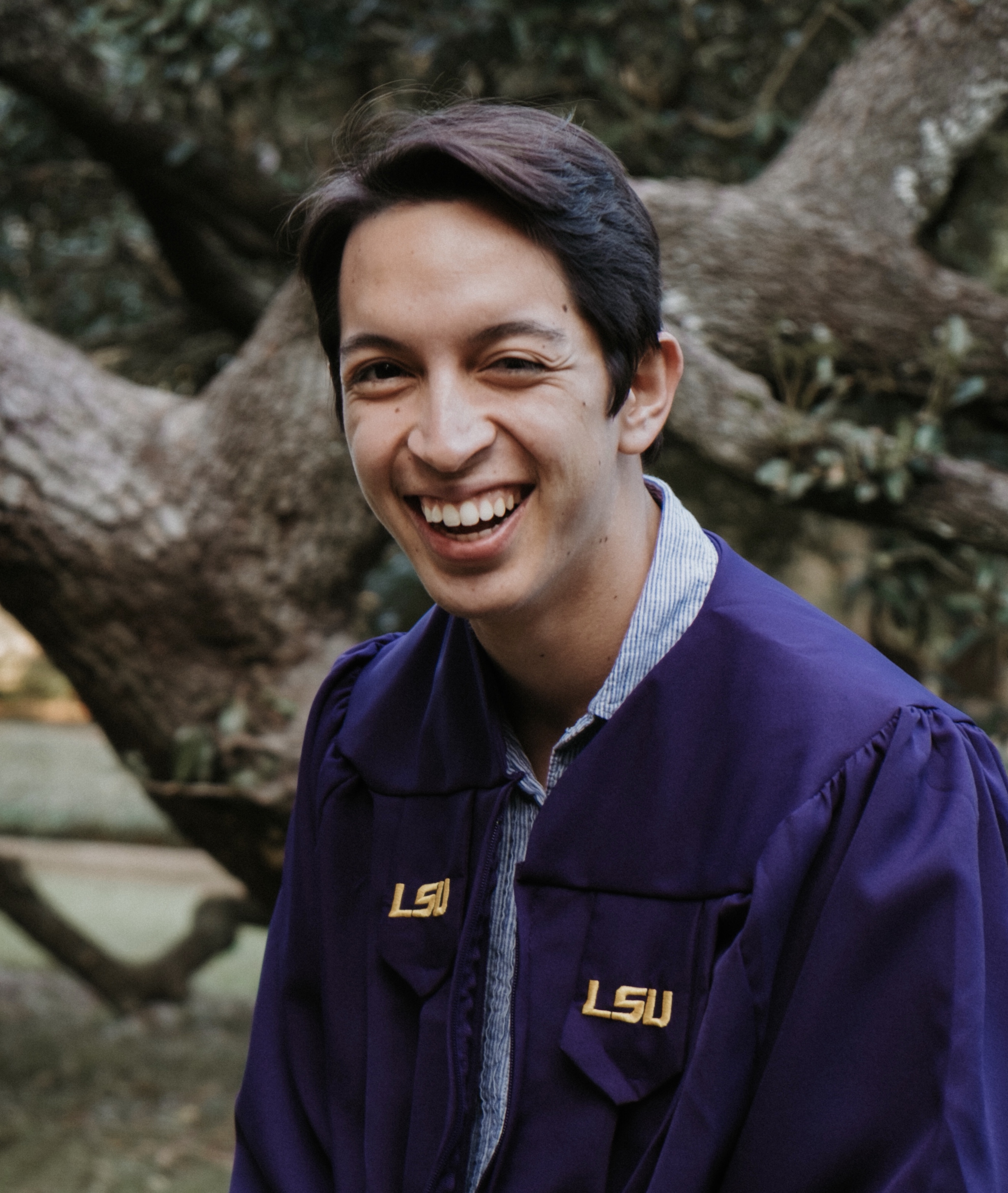 L2

Mentor: Liz Simon, PhD
Department of Physiology

"Chronic binge alcohol and gonadal hormonal loss impair glucose-insulin dynamics in SIV-infected female rhesus macaques"

Abstract
Poster
Presentation


---
53. Harel Schwartzberg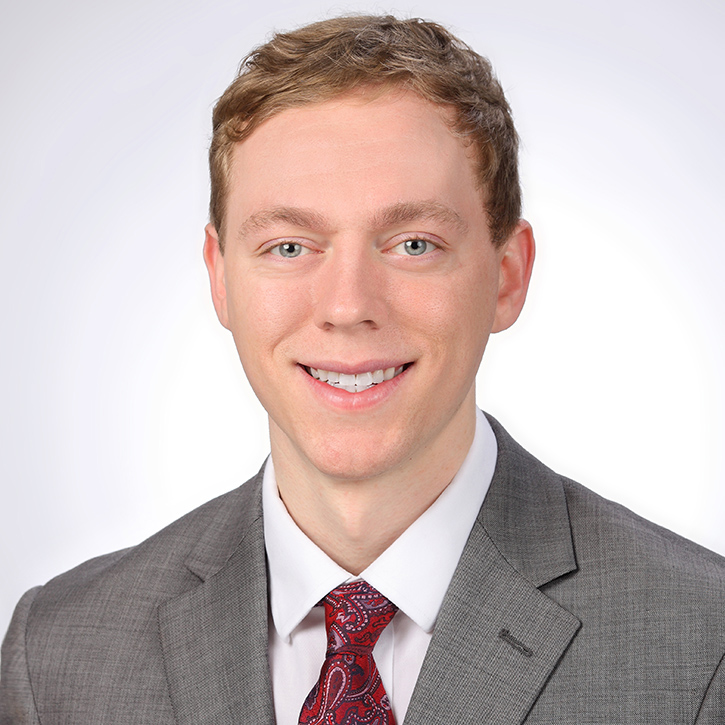 L4

Mentor: Charles Patterson, MD
Department of Plastic and Reconstructive Surgery

"DIEP flap monitoring in ICU and Ward Settings"

Abstract
Poster
Presentation


---
54. Harel Schwartzberg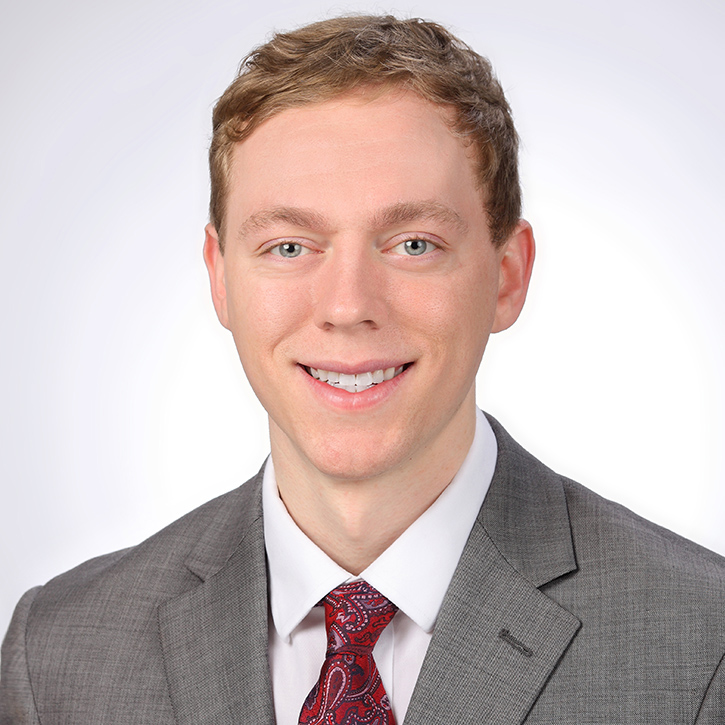 L4

Mentor: Alexandra Bourgeois, MD
Department of Dermatology

"Nodular Cutaneous Amyloidosis in a Female patient"

Abstract
Poster
Presentation


---
55. Harel Schwartzberg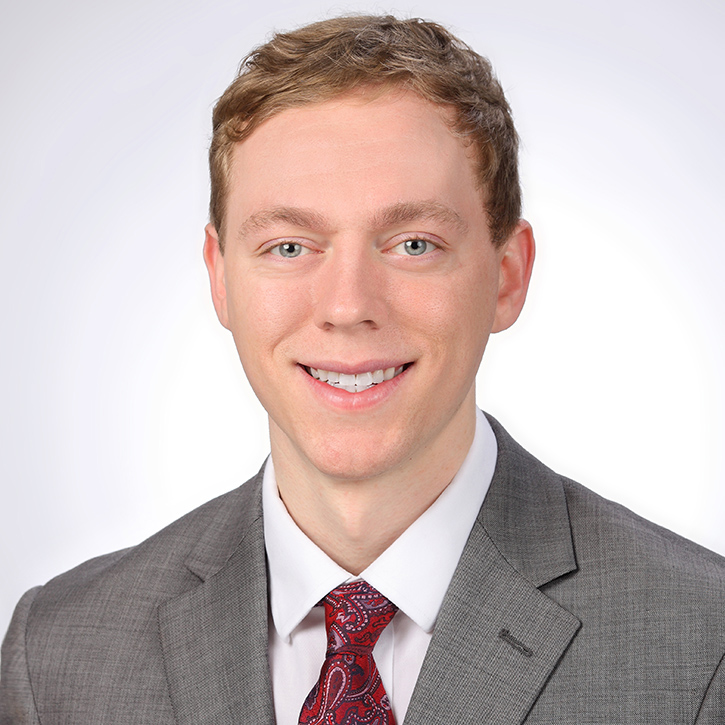 L4

Mentor: Vinod Dasa, MD
Department of Orthopaedics

"Patient Characteristics Associated with Knee Osteoarthritis (OA) Symptom Severity at Initial Orthopedic Consultation"

Abstract
Poster
Presentation


---
56. Jacob Seicshnaydre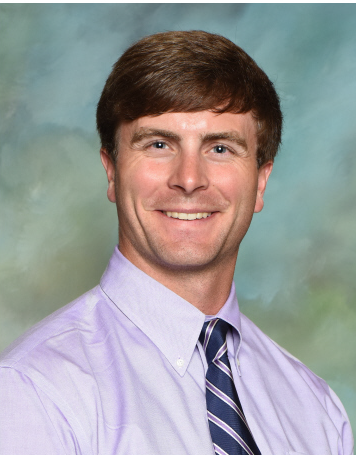 L2

Mentor: Moises A. Arriaga, MD, MBA, FACS
Department of Otolaryngology

"Post-traumatic temporal bone pneumatocele presenting after aggressive Valsalva"

Abstract
Poster
Presentation

---
57. Matthew Shields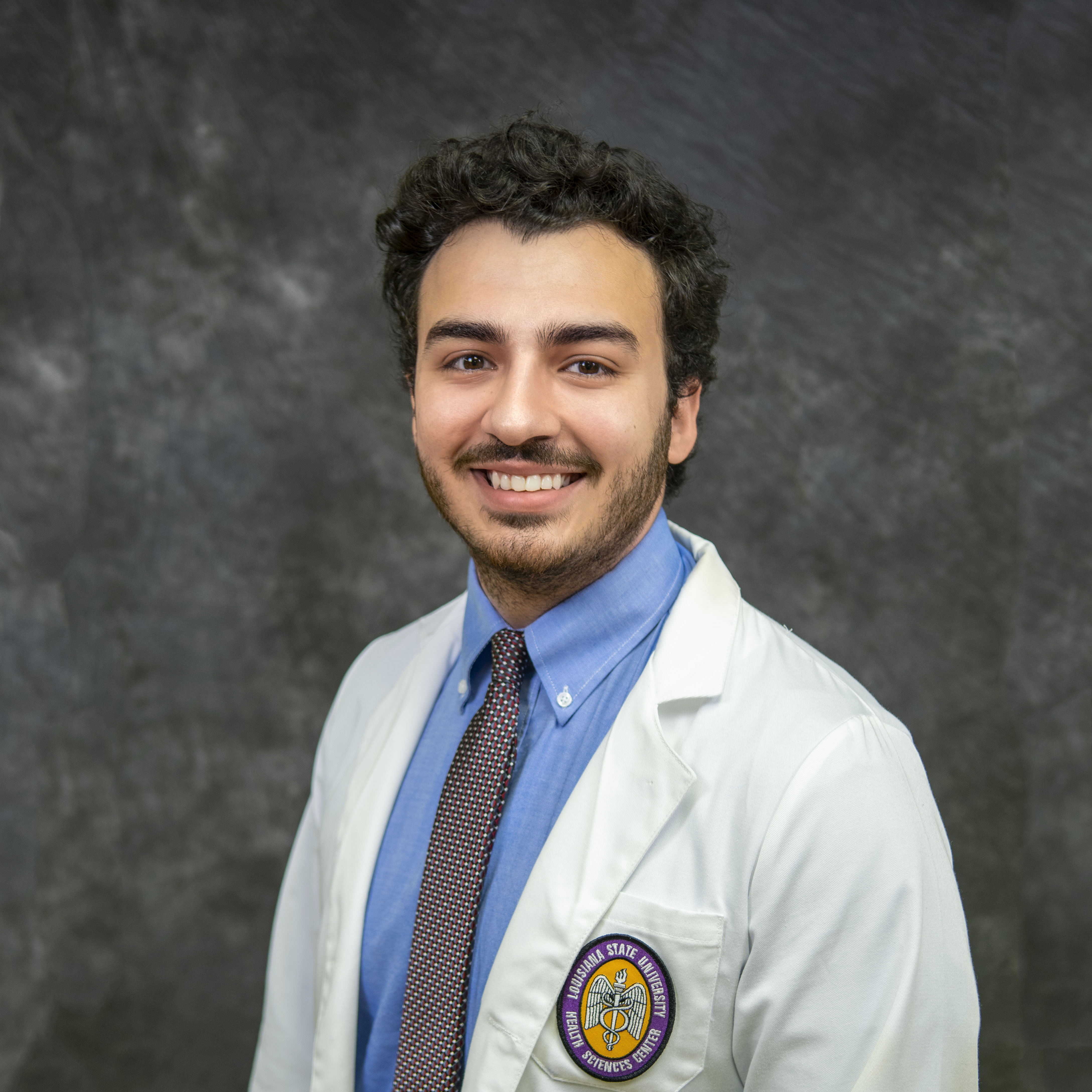 L2

Mentor: David J. Lefer, PhD.
Director Cardiovascular Center of Excellence

"Obesity, Hypercholesterolemia and Hypertension Drive Pathophysiological Remodeling in a Novel Minipig Model of Heart Failure with Preserved Ejection Fraction"

Abstract
Poster
Presentation


---
58. Manjot Singh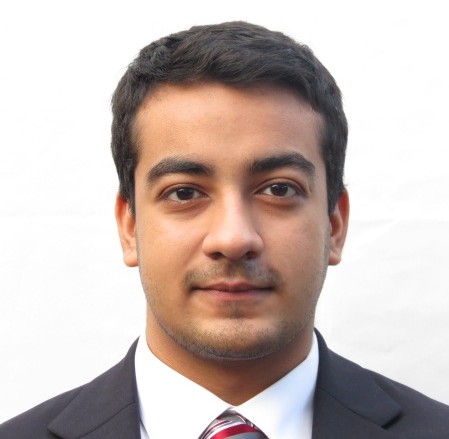 L2

Mentor: Dr. Jameel Ahmed
Department of Clinical Medicine, Section of Cardiology

"ECG Analysis of Patients Presenting with COVID-19"

Abstract
Poster
Presentation


---
59. Sierra Sossamon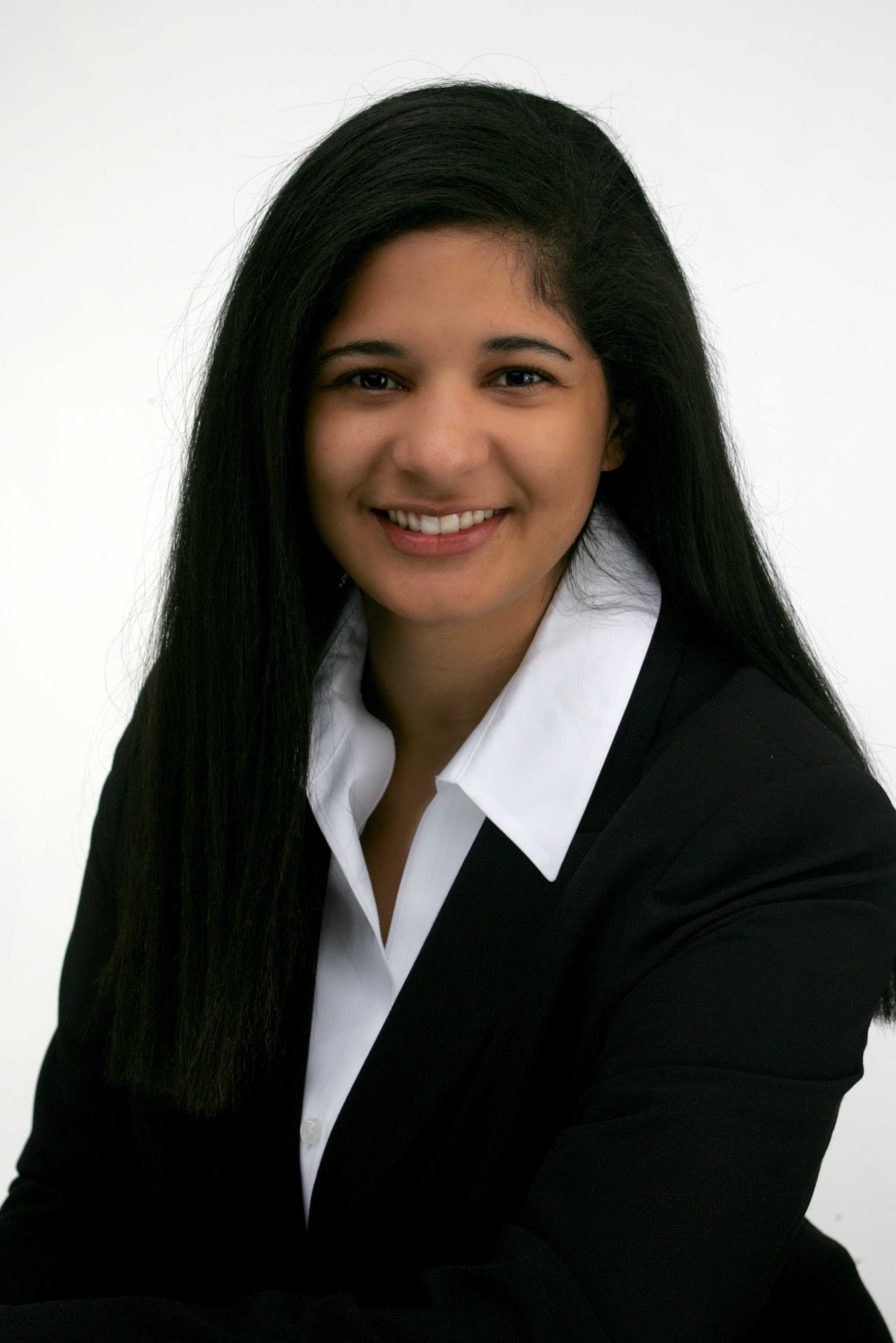 L2

Mentor: Lisa Moreno-Walton, MD, MS, MSCR, FAAEM
Department of Medicine, Section of Emergency Medicine;
UMCNO Department of Emergency Medicine

"Delays in Hepatitis C Fibrosis Staging on Liver Function"

Abstract
Poster
Presentation


---
60. Sydney Sudderth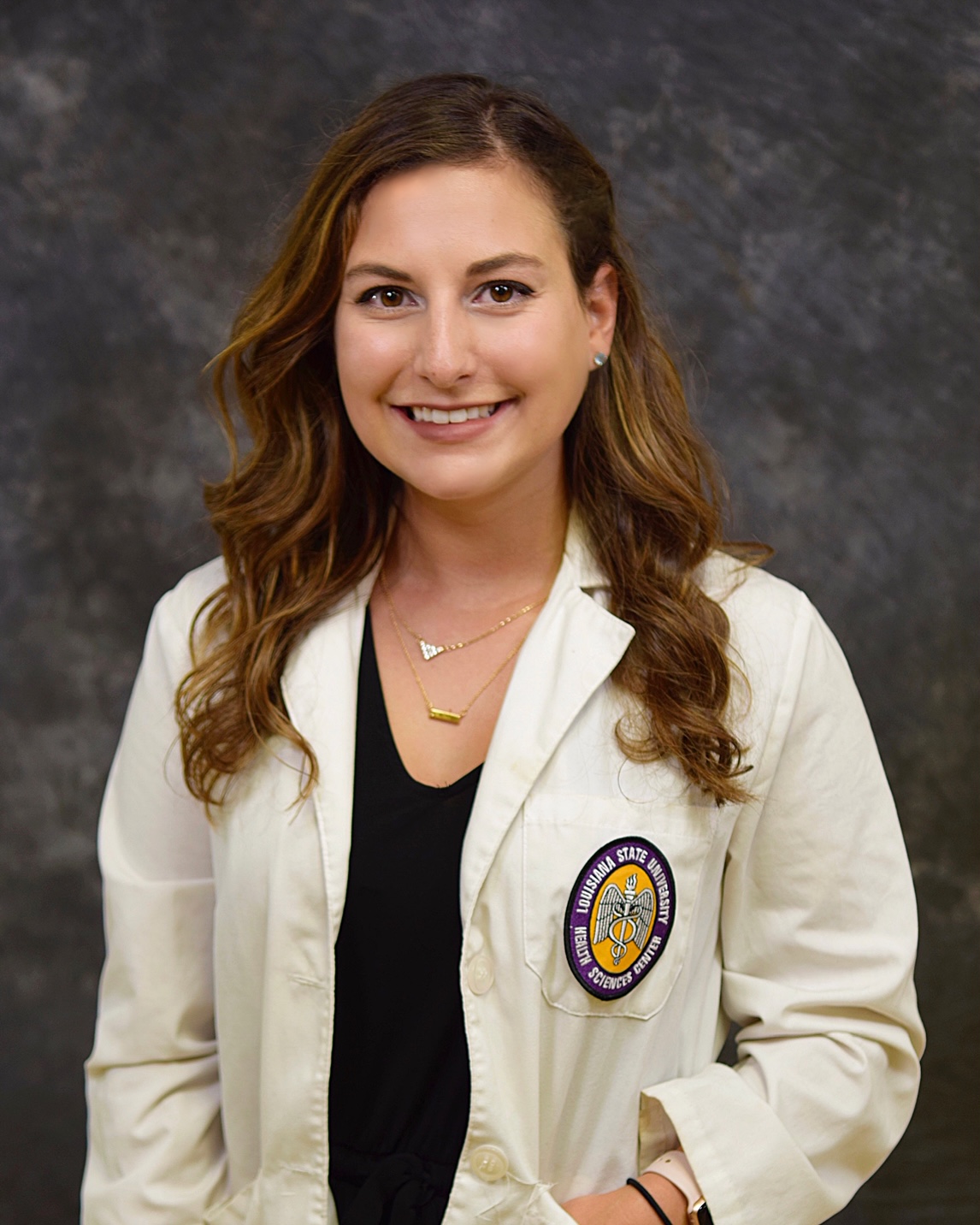 L3

Mentor: Jennifer Simkin Ph.D.
Department of Orthopaedic Surgery

"The Effectiveness of Corticosteroid injections in the time leading up to a Total Knee Arthroplasty"

Abstract
Poster
Presentation


---
61. Brandi Sun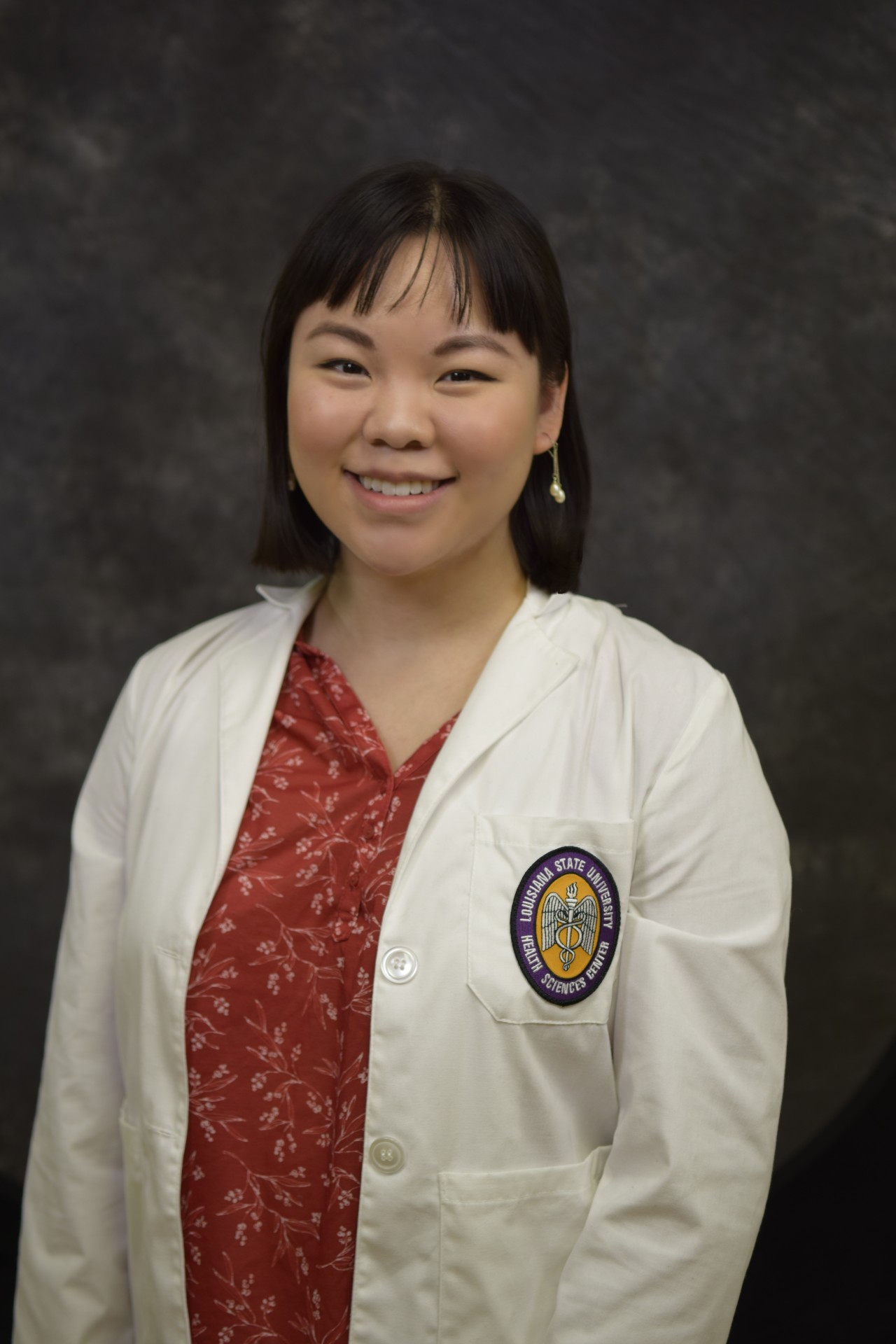 L2

Mentor: Dr. Amelia Jernigan
Department of Obstetrics and Gynecology

"Views of Reproductive-Aged Female Cancer Patients on Oncofertility Care"

Abstract
Poster
Presentation


---
62. Caroline Trammell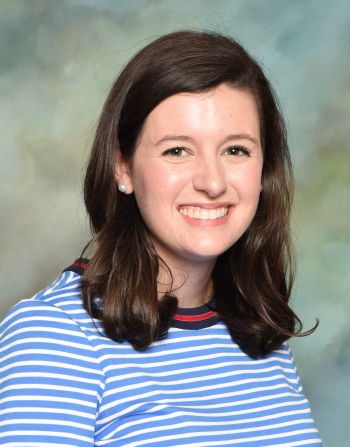 L2

Mentor: Andrew Abreo, MD
Department of Pediatrics, Division of Allergy and Immunology
Children's Hospital New Orleans, Pediatric Allergy and Immunology

"Designing a Food Allergy Research Database"

Abstract
Poster
Presentation


---
63. Ada Tusa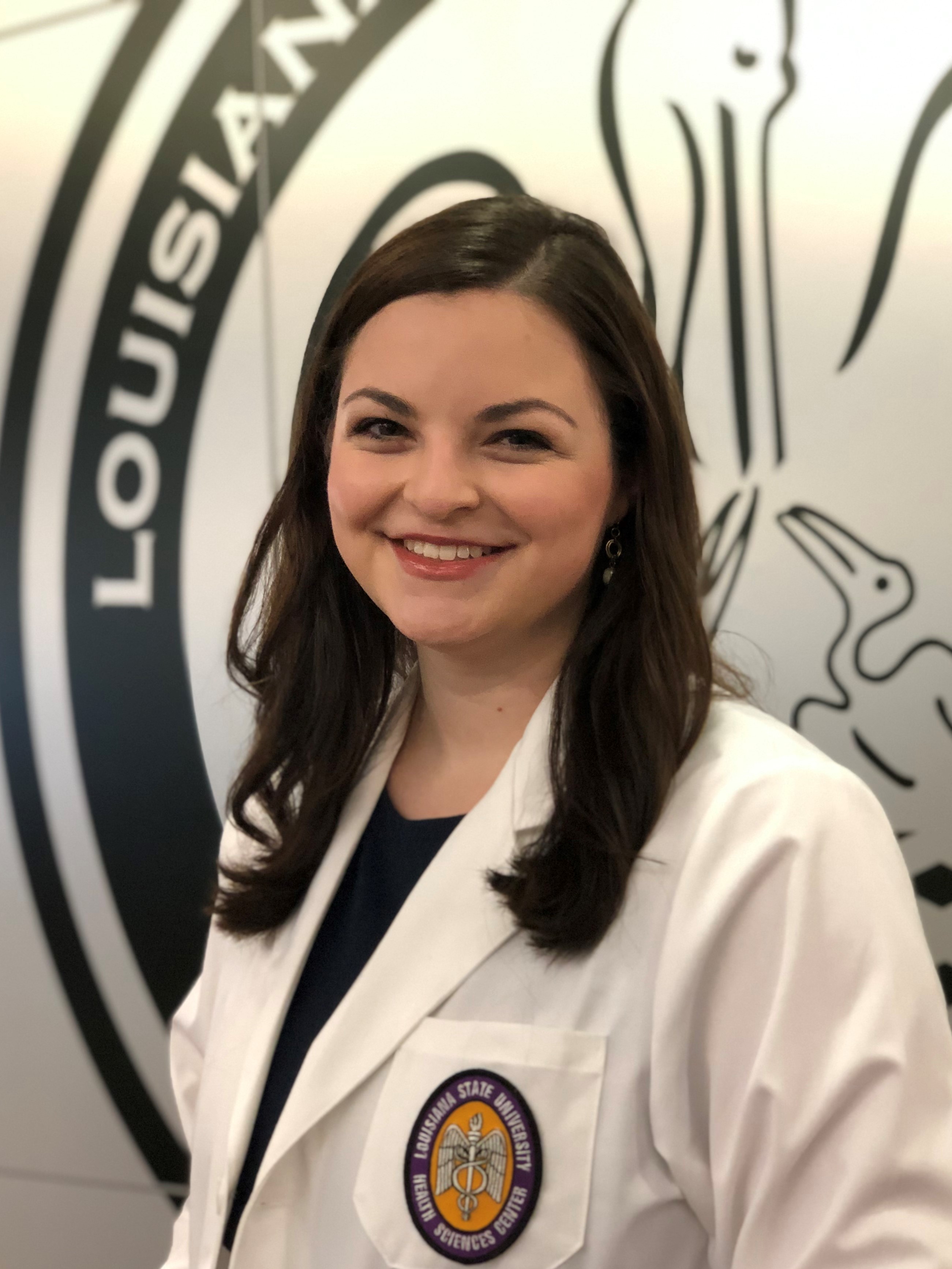 L2

Mentor: Lisa Moreno-Walton, MD, MS, MSCR, FAAEM
Department of Medicine, Section of Emergency Medicine;
UMCNO Department of Emergency Medicine

"Demographic, epidemiological, and clinical factors of presumptive positive COVID-19 patients admitted from an urban emergency department"

Abstract
Poster
Presentation


---
64. Kourtney Weaver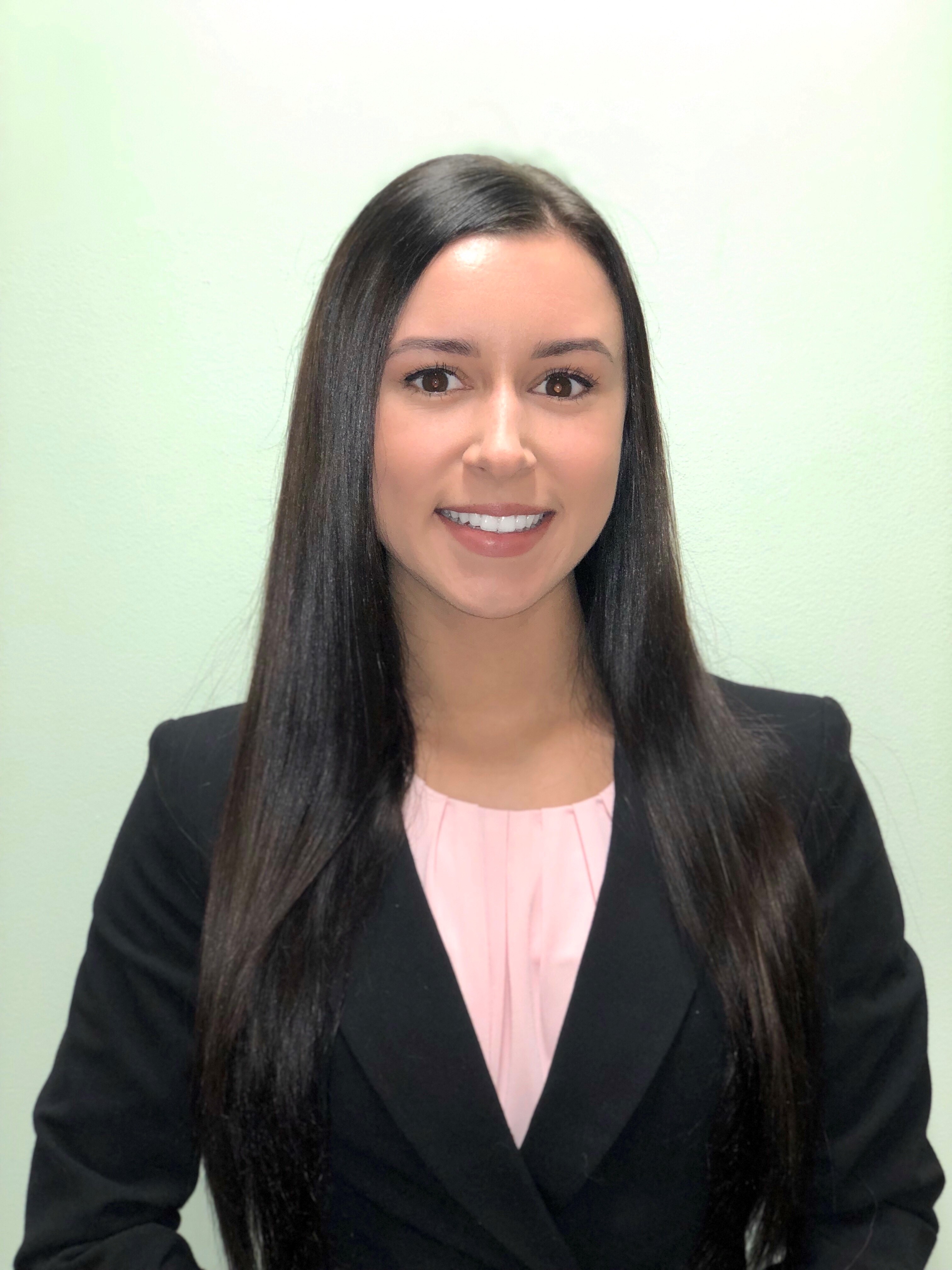 L1

Mentor: Dr. Pamela Kozlowski
Department of Microbiology, Immunology, and Parasitology

"Early Antibody Responses to SARS CoV-2 Infection in Non-Human Primates"

Abstract
Poster
Presentation


---
65. Brock Williams - 2nd Place Winner (L1/L2 Category)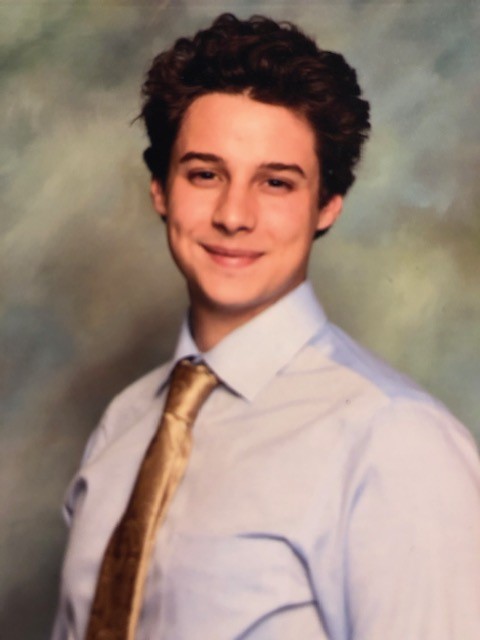 L2

Mentor: Jennifer Cameron, Ph.D.
Department of Microbiology, Immunology, and Parasitology

"Optimizing Unbiased Degenerate PCR Primers for Comprehensive Detection of Human Papillomavirus Genotypes"

Abstract
Poster
Presentation


---
66. Jeanette Zavala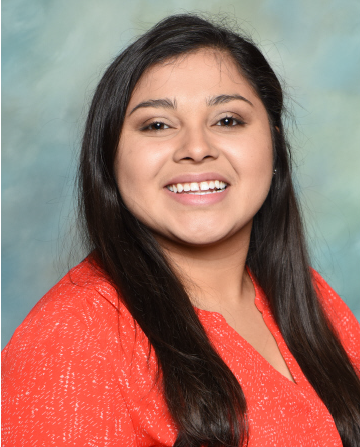 L2

Mentor: Patricia E. Molina, MD, PhD
Department of Physiology; Comprehensive Alcohol-HIV/AIDS Research Center;
Alcohol and Drug Abuse Center of Excellence

"At-Risk Alcohol Use and Impaired Glucose Tolerance Decrease Skeletal Muscle Mitochondrial Turnover in People Living with HIV"

Abstract
Poster
Presentation