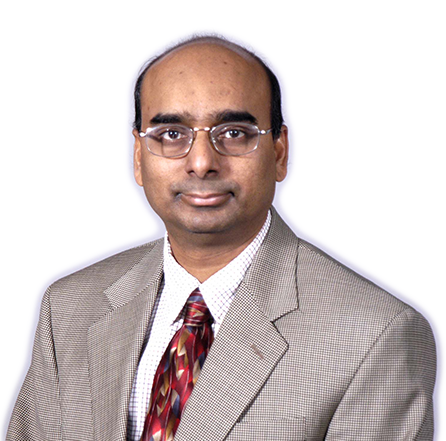 Department of Biochemistry & Molecular Biology
Clinical Sciences Research Building • Room 406
533 Bolivar Street
New Orleans, LA 70112
Phone: (504) 568-4734
Fax: (504) 568-6997
salaha@lsuhsc.edu
PhD - 1994
Drexel University, Philadelphia, PA
Dr. Alahari obtained his Bachelor of Science in Biology and Master of Science in Human Genetics from India in 1983 and 1986 respectively. His Ph.D. in Molecular Biology was awarded by Drexel University, Philadelphia in the year 1994. From 1994 to 1998, Dr. Alahari did a post-doctoral fellowship at the University of North Carolina at Chapel Hill. Since 1998, he has been a faculty member at the University of North Carolina and in 2004 joined the LSUHSC as Associate Professor of the Department of Biochemistry. During his tenure at the University of North Carolina, he discovered a novel protein that he termed, Nischarin. Dr. Alahari has published several papers describing the function of Nischarin. He has served on editorial review boards and study sections. In addition he availed visiting professorships at the University of Pennsylvania, Philadelphia and Rockefeller University, New York.
Biochemistry of cell adhesion
The mechanism of action of Nischarin in tumor cell migration and invasion
Kim, H., Abd Elmageed, Z.Y., Ju, J., Naura, A. S., Abdel-Mageed A.B., Varughese, S., Paul, D., Alahari, S.K., Catling, A., Kim, J.G., and Boulares, H. Pdzk1 is a novel factor in breast cancer that is regulated by IGF-1R and promotes estrogen-mediated growth (2013) Molecular Medicine, (EPub ahead of print)
Jain, P., Baranwal, S., Dong, S., Struckoff, A., Worthylake, R., and Alahari, S.K.,  Integrin-binding protein Nischarin interacts with tumor suppressor liver kinase B1 (LKB1) to regulate cell migration of breast epithelial cells (2013) Journal of Biological Chemistry, 31: 15495- 15509.
Kuijil, C*., Pilli, M*., Alahari, S.K.,*., (*equal contribution)., Janssen, H., Khoo, P., Ervin, K. E, Celero, M., Jonnalagadda, S., Scheller, RH., Neefjes, J., Junutula, J. Rac and Rab GTPases dual effector Nischarin facilitates survival of intracellular bacteria (2013) EMBO Journal , 32: 713-727.
Jin, L., Yu, Q., Wesseley, O., Marcusson, E., and Alahari, S.K., Her2 oncogene regulates the expression of miR-27b and 23b, which repress Nischarin to control tumor growth (2013) Cancer Research, 73: 2884-2896.
Alahari, S.K., Regulation of metastasis by microRNAs, a book chapter published in microRNA in cancer, Springer, 2012.
Jain, P., Worthylake, R. A., and Alahari, S.K.,. Quantitative analysis of random migration of cells using time-lapse video microscopy (2011). Journal of Visualized Experiments, 13: e3585.
Molecular Characterization of the Tumor-Suppressive Function of Nischarin in Breast Cancer. Somesh Baranwal, Yanfang Wang, Rajamani Rathinam, Jason Lee, Lianjin Jin, Robin McGoey, Yuliya Pylayeva, Filippo Giancotti, Gerard C. Blobe and Alahari SK.JNCI J Natl Cancer Inst (2011) doi: 10.1093/jnci/djr350 First published online: September 14, 2011
Role of Rho GTPases and their regulators in cancer progression.Rathinam R, Berrier A, Alahari SK. Front Biosci. 2011 Jun 1;17:2561-71.PMID:21622195 [PubMed - in process] Related citations
Rho GTPase Effector Functions in Tumor Cell Invasion and Metastasis.Baranwal S, Alahari SK.Curr Drug Targets. 2011 Jul 1;12(8):1194-201.PMID:21561416[PubMed - in process]Related citations
Integrin subunits alpha5 and alpha6 regulate cell cycle by modulating the chk1 and Rb/E2F pathways to affect breast cancer metastasis. Yanfang Wang, Sylvia Shenouda, Somesh Baranwal, Rajamani Rathinam, Prachi Jain, Lili Bao, Siddhartha Hazari, Srikanta Dash and Alahari SK. Molecular Cancer, 2011 (IN PRESS).
Breast cancer stem cells: A new challenge for breast cancer treatment Jain P, Alahari SK Frontiers in Bioscience 16, 1824-1832, (1 January, 2011)
Integrin mediated function of Rab GTPases in cancer progression Subramani D and Alahari SKMolecular Cancer 2010, 9:312 (9 December 2010)

miRNA control of tumor cell invasion and metastasis.Baranwal S, Alahari SK. Int J Cancer. Oct 29. (2010)
Important role of integrins in the cancer biology.Rathinam R, Alahari SK.Cancer Metastasis Rev. Jan 30 .(2010)
Stromal cells and integrins: conforming to the needs of the tumor microenvironment.Alphonso A, Alahari SK.Neoplasia.Dec;11(12):1264-71. (2009)
MicroRNA function in cancer; Oncogene or a tumor suppressor. Shenouda, S.K. and Alahari S KCancer and Metastasis reviews. (In Press) (2009)
ST14 (suppression of tumorigenicity 14) gene is a target for miR-27b, and the inhibitory effect of ST14 on cell growth is independent of miR-27b regulation. Wang Y, Rathinam R, Walch A, Alahari SK. J Biol Chem. (2009)
Molecular mechanisms controlling E-cadherin expression in breast cancer Baranwal, S and Alahari S KBiochemical and Biophysical Research Communications. 384: 6-11B 2009 Jun 19;384(1):6-11. (2009)
Ding Y, Milosavljevic T, Alahari S K. Nischarin inhibits LIM Kinase to regulate Cofilin phosphorylation and Cell Invasion. Mol Cell Biol. Mar 10 (2008)
Alahari S K, Reddig, P., Juliano, R.L. The integrin binding protein Nischarin regulates cell migration by inhibiting PAK. EMBO J, 23: 2777-2788 (2004)
Juliano, R.L., Reddig, P.J., Alahari S K, Edin, M.L., Howe, A.K., and Aplin, A.E., Integrin Regulation of Cell Signaling and Motility.Biochem., Society Transactions 32: 443-446 (2004)
Alahari S K and H. Nasrallah : A Membrane proximal region of alpha-5 integrin is essential for its interaction with Nischarin. Biochemical Journal 15: 449-457 (2004)
Alahari S K: Nischarin inhibits Rac induced migration and invasion of epithelial cells by affecting signaling cascades involving PAK. Exp. Cell Res. 288: 415-424 (2002)
Alahari SK, Reddig, P., Juliano, R.L. Biological aspects of signal transduction by cell adhesion receptors. Int. J. Cytology 220: 145-174 (2002)
Alahari S K,: Mapping of the gene for Nischarin, a novel integrin binding protein, to chromosome 3 by fluorescence in situ hybridization). Intl. J. Human Genetics 1: 271-274 (2001)
Alahari S K, Lee, J.L., and Juliano, R.L.: NISCHARIN, a novel protein that interacts with integrin alpha-5 subunit, and inhibits cell migration. J. Cell Biology 151: 1141-1154 (2000)
Methods for study of integrin regulation of receptor tyrosine kinase and G protein coupled receptor signaling to MAP kinases. Methods In Enzymology 333:151-163 (2001)
Shock, D.D., Naik, U.P., Brittain, J.E., Alahari, S K., Sondek, J., and Parise, L.V.: Calcium-dependent properties of CIB binding to the integrin alphaIIb cytoplasmic domain and translocation to the platelet cytoskeleton Biochemical Journal 342: 729-735 (1999)
DeLong, R.K., Hoon, Y., Alahari S K, Fisher, M., Short, S.M., Kole, R and Juliano, R. L.: Novel cationic amphiphiles as delivery reagents for antisense oligonucleotides. Nucleic Acids Research 27:3334-3341.(1999)
Hughes, J. A., Astriab,A., Yoo, H., Alahari S K, Liang, E., Sergueev, D., Shaw, B. and Juliano, R.L.: In Vitro Transport and delivery of oligonucleotides. Methods in Enzymology 313:343-359. (1999)
Juliano, R.L., Alahari S K, Yoo, H., Kole, R., and Cho, M. Antisense Pharmacodynamics: Critical issues in the transport & delivery of antisense oligonucleotides. Pharmaceutical Research 16: 494-502.(1999)
Alahari S K, Delong, R., Fisher, M.H., Dean, N. M. Viliet, P and Juliano, R.L. Novel chemically modified oligonucleotides provide potent inhibition of P-glycoprotein expression. J.Pharm.Exp. Therapeutics 286:419-428 (1998)
Howe.A., Aplin, A., Alahari S K, and Juliano, R.L.. Integrin signaling and cell growth Control.Current Opinion in Cell Biology 10: 220-231 (1998)
Aplin, A., Howe, A., Alahari, S K, and Juliano, R.L. Signal transduction and signal modulation by cell adhesion receptors: the role of integrins, cadherins, IG-CAMS and selectins. Pharmacological Reviews 50: 197-263 (1998)
To search for all of Dr. Alahari's publications click here.
To return to Dr. Alahari's biography page click here.
Newly Discovered Protein Discovered May Suppress Breast Cancer Growth Science Daily (Sep. 15, 2011) — Research led by Suresh Alahari, PhD, the Fred Brazda Professor of Biochemistry and Molecular Biology at LSU Health Sciences Center New Orleans and its Stanley S. Scott Cancer Center, has found that a protein discovered by his laboratory can inhibit the growth of breast cancer cells. The research is published September 14, 2011 online in the Journal of the National Cancer Institute.  Building upon Dr. Alahari's earlier discovery of nischarin, a novel protein that regulates breast cancer cell migration and movement, this current study examines the presence and levels of nischarin in breast cancer tumor tissue from 300 women as well as normal breast tissue samples. The researchers also generated derivatives of human metastatic breast cancer cells to test by manipulating the protein in a mouse model.  "We found that normal human breast tissue samples had statistically significantly higher levels of nischarin compared with tumor tissue samples," notes Dr. Alahari, "and tumors grew significantly faster in the cells where we blocked the production of nischarin. Tumor growth and metastasis were also reduced in the samples where we manipulated the overproduction of nischarin. Our research shows that nischarin can function as a tumor suppressor of breast cancer, inhibiting breast cancer progression. "The research team also describes the regulation of nischarin and reports the genetic mechanism by which this protein suppressed breast tumor growth, information that could be used to target new treatment approaches.  Excluding skin cancer, breast cancer is the most common type of cancer among women in the United States.  The National Cancer Institute estimates 230,480 new cases among American females this year, and 2,140 among men in the US, with 39,520 deaths in women and 450 deaths in men. Risk factors include aging, weight gain, combined hormone therapy, physical inactivity, and consumption of one or more alcoholic beverages per day.  A family history increases risk, as does never having had children or having a first child after age 30.  Mammography can often detect breast cancer at an early stage when treatment options are greatest and a cure is possible.  "Next steps include determining whether nischarin controls some of its tumor suppressor roles through regulation of the pathways we reported in this paper," concludes Dr. Alahari, "and these studies are already underway.  "The LSUHSC research team also included Dr. Robin McGoey, Associate Professor of Pathology, as well as postdoctoral fellows, Drs. Somesh Baranwal, Yanfang Wang, Rajamani Rathinam, and Lianjin Jin, Researchers from Duke University and Memorial Sloan Kettering Cancer Center also contributed.  The research was supported by grants from the National Institutes of Health, the Susan Komen Foundation, the Louisiana Board of Regents, and the Louisiana Cancer Research Consortium.
Suresh Alahari, PhD has been named the Brazda Professor of Biochemistry and Molecular Biology.  The named Professorship is in honor of Dr. Fred G. Brazda who was Head of Biochemistry for many years.
Dr. Suresh Alahari was interviewed by Louisiana Network about his research targeting new treatments for invasive breast cancer. Stories aired on LA Network affiliates, about 80 radio stations across Louisiana and Mississippi.