Administration and Staff
Department Newsletter
Make A Gift
Interested in donating to the Department of Radiology?  Please contact Winter Jeanfreau at (504) 568-4647.
Donate via The LSUHSC Foundation.
Donors 
Thank you to our donors for their generous contributions to the LSUHSC Foundation Radiology Resident Fund in 2021-2022. 
Up to $249
Dr. Bradley Spieler
Dr. Dane Mackey
Dr. Jane Clayton
$250 - $499
Dr. Eric Patrick
Dr. Lillian Murphy
Dr. Raman Danrad
Dr. Ricky Miller
$500 - $999
Dr. Booke Morrell
Dr. Eric Wallace
Dr. Joe Park
$1000 - $2499
Dr. Mark Froom
Dr. Mignonne Morrell
Dr. Richard Kuebler
$2500 - $4999
$5000+
Dr. Leonard & Mrs. Ruth Bok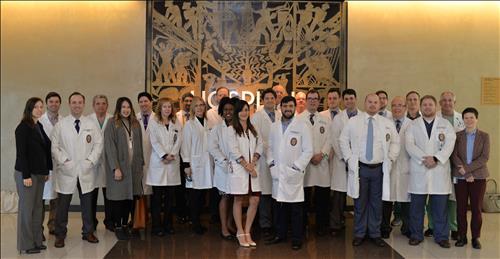 Welcome to the Department of Radiology at Louisiana State University Health Sciences Center (LSUHSC) in New Orleans, Louisiana. The mission of the LSUHSC Department of Radiology is to build and maintain an academic radiology program that encourages diversity and excellence in faculty, residents, and staff in order to provide state of the art radiologic care to patients, excellence in the education of students, residents, and fellows, and support for scholarly activity, including research. Our dedicated academic faculty members are committed to providing our Radiology Residents with the finest Radiology Education available. At LSU Department of Radiology we emphasize team-work in addition to individual excellence. Our department is our collaborative work of art.
The LSU Department of Radiology is an electronic film-less environment with RIS-PACS and voice recognition deployed throughout the enterprise. On August 1, 2015 the $1.1 billion, 2.3 million square foot, University Medical Center New Orleans (UMCNO) opened for patient care on a 34 acre site in New Orleans Medical Corridor across Tulane Avenue from the LSU Health Sciences Center. The hospital opened with approximately 250 beds and will scale up to approximately 446 beds over time. The new 200 bed Veterans Administration Hospital opened across the street from UMCNO in November 2016.
The individuals who train in the LSUHSC Radiology Residency will have the opportunity to be a part of the growth of this exciting, state of the art Academic Medical Center. Our residents also rotate at Children's Hospital in uptown New Orleans for an immersive Pediatric health care experience and they rotate in the Veterans Administration Radiology Department.  This combination of experiences provides excellent case material and a broad exposure to a variety of patient care environments. LSUHSC offers an ample supply of fascinating cases, teaching/learning opportunities, and scholarship, including but not limited to research.
Thank you for your interest in the exciting opportunities at LSU Radiology New Orleans.
Our LSU Radiology Department is Our Collaborative Work of Art
COVID -19 Resources for Radiology:
"Transform Your Life One Breath at a Time", presented by Al Lee on 2/25/2021
Online Medical Student Education Resources
ACR Educational Materials for Residents
APDR Educational Resources for Residents and Students