Assistant Dean for Medical Student Research

Associate Professor
533 Bolivar St., Room 658
New Orleans, LA 70112
Phone: (504) 568-2080
Fax: (504) 568-8500
fmille@lsuhsc.edu
BS Biology
Newcomb College at Tulane University
BA Studio Art
Newcomb College at Tulane University
PhD
Tulane University School of Medicine
Dr. Tsien obtained a Bachelor of Science in Biology and Bachelor of Arts specializing in Studio Art from Tulane University in New Orleans. She received her PhD degree from the Hayward Genetics Center, Human Genetics Program at the Tulane University School of Medicine.
At Tulane School of Medicine, she was the Supervisor of the Molecular Cytogenetics Laboratory in the Hayward Genetics Center, Human Genetics Program. During her post-doctoral training she was the recipient of a fellowship grant from the Fascioscapulohumeral Muscular Dystrophy (FSHD) Society. Dr. Tsien is board certified by the Louisiana State Board of Medical Examiners and by the National Certification Agency for Laboratory Personnel as a specialist in Cytogenetics. Dr. Tsien accepted a faculty position in the Department of Genetics at Louisiana State University Health Sciences Center in January of 2003. She is currently the Assistant Dean of Medical Student Research. 
Her current research focuses on chromatin and epigenetic instability and their relationship to cancer, genetic disease, and neuroscience on childhood cancers (e.g., rhabdomyosarcoma and leukemia) in collaboration with Children's Hospital of New Orleans, Louisiana (CHNOLA).  Her research also focuses on the genetics of congenital hearing loss in the Louisiana Acadian (Cajun) and Mexican Mayan populations in collaboration with the Department of Communication Disorders in the School of Allied Health Professions at LSUHSC, Children's Hospital of New Orleans, and the Genetics Division at the Universidad Juarez Autonoma de Tabasco in Villahermosa, Mexico. She has presented her research at local, national, and international conferences to the clinical and scientific community, and to the lay public.
She is involved in genetics education at a variety of levels, teaching residents, post-doctoral fellows, medical students, graduate students, undergraduates, elementary, middle, and high school (K-12) students, and teachers. The directs the Science Youth Initiative for K-12 students, which goals are to  make science topics more interesting and accessible in preparation for standardized testing, introduce students to diverse role models in the sciences, and to assist K-12 students to improve their grades as they consider careers in the health and basic sciences. Through at least 75 workshops, more than 2600 students from rural and urban K-12 schools from a variety of socioeconomic backgrounds have been introduced to science education. She is also the Executive Producer of K-12 educational videos for K-12 students. Dr. Tsien directs and organizes multiple community outreach projects at the Children's Museum, New Orleans Audubon Zoo in celebration of DNA Day, and the Que Pasa? Latino Festival.
Dr. Tsien also directs the NSF- funded Research Experiences for Undergraduates (REU) Program on Genomics, the NIH and Entergy Foundation funded-Summer Research Internship Program, the NIH-funded Neuroscience Diversity through Undergraduate Research Education (ENDURE) program, and the Southeast Partnership for Improving Research & Training in Cancer Center Health Disparities (SPIRIT-CHD). The main goal of her educational programs is to increase the number of individuals from racial and ethnic groups classically underrepresented in STEM, rural communities, non-traditional, or disadvantaged backgrounds, and those who are first in their generation to attend college, to health and basic science careers.
Dr. Tsien is a member of the LSUHSC Graduate School Multicultural and Diversity Committee, Association of Women in Science, American Association of Cancer Research, Society for Neuroscience, and the American Society of Human Genetics. She has won the 2011 LSU School of Medicine Faculty Assembly Award for Outstanding Service to the Community, the 2012 LSU School of Medicine Excellence award for Teaching and Service, the 2013 Jack Hines III Memorial Award for Outstanding Service, and was named one of New Orleans' Women Achievers in 2018.
Neurocognitive and audiological epigenetic changes due to pediatric chemotherapy
Chromosome abnormalities
Epigenetic disorders
Cancer genetics
Genetics of the Louisiana Acadian (Cajun) and the Mexican Mayan populations
Genetics of Hearing Disorders
Epigenetic mechanisms
Cancer genetics
Chromatin instability in disorders that affect the Louisiana Acadian (Cajun) and Mexican Mayan populations
Genetics of auditory and communication disorders
Genetics education, especially in the fields of Cytogenetics and Epigenetics
Science education to the New Orleans community
Mutlicultural affairs, specifically promoting research careers to trainees who are underrepresented in the sciences
Course Director, INTER 141, Introduction to Genetics, Interdisciplinary Program, LSUHSC School of Graduate Studies
Course Director, INTER 180, Science Teaching, Interdisciplinary Program, LSUHSC School of Graduate Studies
Course Director, GENET 234 Epigenetics, Department of Genetics, LSUHSC School of Graduate Studies
Course Director, GENET 292 Human Cytogenetics, Department of Genetics, LSUHSC School of Graduate Studies
Course Director, SPTHAUD 7225 Genetics, Department of Communication Disrders, LSUHSC School of Allied Health Professions
Course Co-director, Molecular Pathology, Department of Pathology Residency Program, LSUHSC School of Medicine
Lecturer, Medical Genetics, LSUHSC School of Medicine
Lecturer, INTER 122 Molecular Biology, "Chromosome structure", LSUHSC School of Graduate Studies
Lecturer, INTER 123 Control of Gene Expression, "Epigenetics", LSUHSC School of Graduate Studies
Lecturer, SPTHAUD 6220, Craniofacial anomalies, "Cytogenetics and dysmorphology", Department of Communication Disorders, LSUHSC School of Allied Health Professions
Lecturer, MTEC 5119, Introduction to Molecular Diagnostics, "Diagnostics and Genetics", Department of Clinical Laboratory Sciences, LSUHSC School of Allied Health Professions
Committees & Administrative Responsibilities
Director, Medical Student Honors Research Program
Director, Science Youth Initiative (SYI)
Director, Research Experiences for Undergraudates (REU)
Director, Summer Research Internship Program for high school, undergraduate, and medical students
Co-Director, Enhancing Neuroscience Diversity through Undergraduate Research Education (ENDURE) Program
Member, Stanley S. Scott Cancer Center
Member, LSUHSC-NO Graduate School Multicultural/Diversity Committee
Reviewer: International Journal of Audiology, PLOS ONE, National Science Foundation, Frontiers
Co-editor, Louisiana Genetics and Hereditary Health Care Education Center website
A COMPLETE LIST OF DR. TSIEN'S PEER-REVIEWED PUBLISHED WORK IN THE NIH NATIONAL LIBRARY OF MEDICINE: 
Selected publications (from 30):
Moore B, Sheets G, Doss J, Umrigar A, Norman M, Fang Z, Prasad P, Musso A, Clay S, Tsien F. Is Methotrexate Ototoxic? Investigating the Ototoxic Late Effects of Pediatric Cancer Treatment. Am J Audiol. 2023 Sep 6;32(3):657-664. doi: 10.1044/2023_AJA-22-00157. Epub 2023 Aug 2. PubMed PMID: 37532243.
Hess RA, er. al., Tsien F, Dolan EL. Virtually the Same? Evaluating the Effectiveness of Remote Undergraduate Research Experiences. CBE Life Sci Educ. 2023 Jun;22(2):ar25. doi: 10.1187/cbe.22-01-0001. PubMed PMID: 37058442; PubMed Central PMCID: PMC10228262.
Erickson OA, et. al., Tsien F, Dolan EL. "How Do We Do This at a Distance?!" A Descriptive Study of Remote Undergraduate Research Programs during COVID-19. CBE Life Science Education 2022 Mar;21(1):ar1. https://doi.org/10.1187/cbe.21-05-0125
Sims Z, Cousin L, Suppiah V, Stanley N, Li J, Quinn G, Martinez U, Zea A, Simmons V, Meade CD, Tsien F & Gwede CK. (2022). Improving Multi-site Interaction Through Remote Learning Technology: Report from a Training Program to Increase Underrepresented Undergraduate and Medical Students in Health Disparities Research. Journal of Cancer Education, 1-6. 2022 Oct;37(5):1466-1471. doi: 10.1007/s13187-021-01985-5
Gleditsch K, Peñas J, Mercer D, Umrigar A, Briscoe J, Stark M, Tsien F, Hollenbach A., Intratumoral Translocation Positive Heterogeneity in Pediatric Alveolar Rhabdomyosarcoma Tumors Correlates to Patient Survival Prognosis, Frontiers in Cell and Developmental Biology , (8) September 2020, p987 https://www.frontiersin.org/article/10.3389/fcell.2020.564136, DOI=10.3389/fcell.2020.564136   
Tsien F, Chapter 1, "Cytogenetics in precision medicine", Editor(s): Judy S. Crabtree, Clinical  Precision Medicine, Academic Press, 2020, Pages 1-10, ISBN 9780128198346, https://doi.org/10.1016/B978-0-12-819834-6.00001-X
Harrison-Bernard LM, Augustus-Wallace AC, Souza-Smith FM, Tsien F, Casey GP, Gunaldo TP. Knowledge gains in a professional development workshop on diversity, equity, inclusion, and implicit bias in academia. Advances in Physiology Education. 2020;44(3):286‐294. doi:10.1152/advan.00164.2019 https://journals.physiology.org/doi/full/10.1152/advan.00164.2019
Nicklow E, Mamidi TKK, Wu J, Tsien F, Hicks C. Transcriptome Analysis of Molecular Signatures and Pathways Modulating White Blood Cell Count in Childhood Acute Lymphoblastic Leukemia. Biomedical Journal of Scientific and Technical Research, 2019 July, 20(1)- 2019. BJSTR. MS.ID.003380. 
Elnaggar J, Tsien F,  Yates C, Davis M, Miele L, Hicks C. An Integrative Genomics Approach for Associating Genetic Susceptibility with the Tumor Immune Microenvironment in Triple Negative Breast Cancer. Biomedical Journal of Scientific and Technical Research2019 Feb, 15(1)-2019.
Moore M, Karpinski A, Tsien F, An Examination of an Interactive Substance Abuse Prevention Program for High School Students, Journal of Child & Adolescent Substance Abuse, Volume 27, Sep 28, 2018  Issue 5-6https://doi.org/10.1080/1067828X.2018.1481479
Umrigar A, Musso A, Mercer D, Hurley A, Glausier C, Bakeer M, Marble M, Hicks C, Tsien F. Delayed diagnosis of a patient with Usher syndrome 1C in a Louisiana Acadian family highlights the necessity of timely genetic testing for the diagnosis and management of congenital hearing loss. SAGE Open Medical Case Reports. 2017 Dec 11;5:2050313X17745904.
Mercer D, Hurley A, Tsien  F, Detailed Audiological Evaluation of a Patient with Xeroderma Pigmentosum with Neural Degeneration, Journal of the American Academy of Audiology, Volume 28, Number 1, January 2017, pp. 80-90(11)
Past and present lab members: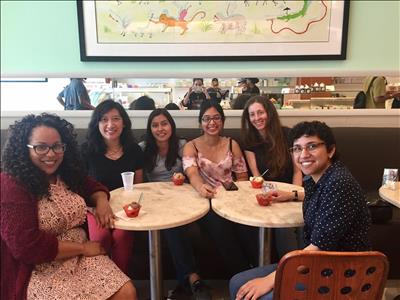 From left to right: Mary Moore, Dr. Fern Tsien, Alejandra Valdés Marín, Aminta Hernández Marín, Dr. Danielle Mercer, Ayesha Umrigar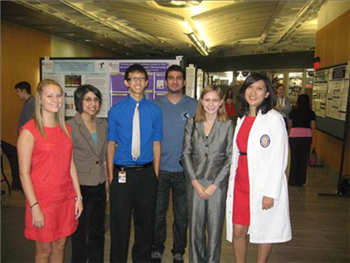 From left to right: Sharon Rainey, Ayesha Umrigar, Bradley Howe, Mohammad Abughazleh, Dr. Betsy Bateman, Dr. Fern Tsien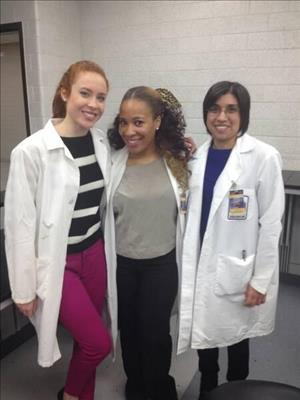 Dr. Amanda Musso, Kashanda Foley, and Ayesha Umrigar