Noteworthy Items
Clinical Services
Click here to view the clinical services provided by the Department of Family Medicine
Administration
Members of the department's administrative staff are listed here.
Welcome to the Department of Family Medicine
The LSU Department of Family Medicine is doing well. Our curriculum is stronger than ever, with the addition of dynamic physician teachers and hands-on workshops. Student interest in Family Medicine is on the rise. I am proud to say that 18 graduating LSU seniors chose Family Medicine for their residencies, and all but three of them chose to stay in Louisiana for their training. In addition all four of our residency programs in the state filled their available slots in the Match.
Speaking of our residency training programs, they continue to grow, as we add new faculty members and enhance training opportunities. We now have 80 residency positions among our programs in Bogalusa, Kenner, Lafayette, and Lake Charles, in addition to our Geriatric Medicine fellowship program in Lafayette.
This is a very exciting time for our department!
Mary Thoesen Coleman, MD, PhD
Bernard and Marie Lahasky Professor and Chairman
LSU Department of Family Medicine
Director of Rural Education, Community Health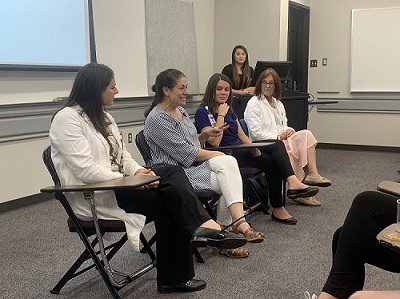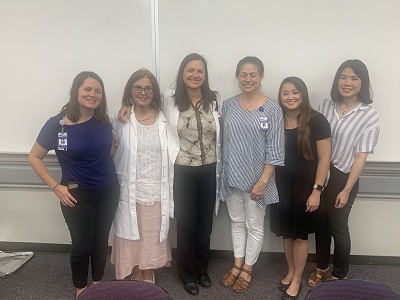 On Monday, September 16 approximately 40 first and second year medical students attended the first FMIG meeting at LSUHSC-New Orleans. See more here:
https://www.lafp.org/news-and-publications/lafp-weekly-family-medicine-update/latest-issues/641-september-17-2019/7865-lsuhsc-new-orleans-family-medicine-interest-group-hosts-the-first-meeting-of-the-academic-year
Family Medicine Departmental Mission Statement
The Department of Family Medicine aims to train family physicians to provide high quality, relationship-centered, comprehensive, and continuing healthcare for all the people of Louisiana. The Department of Family Medicine at LSU School of Medicine employs multiple sites at which faculty, residents, and students teach, learn and practice family medicine. The department seeks to enhance medical undergraduate and resident graduate education in family medicine, research and service through deliberate collaborative work with each other and with communities and community organizations to improve health care teaching and learning, practice, and delivery.