News & Events
Seminars
Other Information
Campus Maps
The Department of Pharmacology and Experimental Therapeutics plays an important role in the educational and research missions of the Louisiana State University Health Sciences Center. Our faculty provides professional instruction in the schools of Medicine, Dentistry, Nursing, Allied Health and Graduate Studies. The Department offers Ph.D. and M.D./Ph.D. degrees. We are deeply committed to graduate and post-doctoral training. Our trainees successfully compete for prestigious positions in academia, industry and the government.
In addition to teaching, our faculty conducts cutting edge research in such disciplines as cardiovascular, pulmonary, cancer, renal, central nervous system and behavioral pharmacology. Our faculty's research interests also include the areas of drug metabolism, genetics, molecular and cellular signaling, integrins and adhesion molecules and pain control. Since 2001, we have hired several new faculty, renovated all of our laboratories and administrative offices, expanded our graduate and post-doctoral training programs and significantly increased our extramural funding. The Department's research funding now ranks in the top 50 of medical school pharmacology departments. We were also awarded and renewed a COBRE grant from the National Institutes of Health, "Mentoring in Cardiovascular Biology."  The purpose of this grant is to train junior research faculty.  In conjunction with the COBRE grant, we have developed a number of state-of-the-art core facilities within the Department including, proteomics, cardiovascular function, cell culture, histology and imaging.  Additional core facilities are available within the Health Sciences Center.
Overall, we have made substantial progress toward our goal of establishing a program in "Integrative Pharmacological Sciences."  This program is unique in that it uses a combination of in vitro and in vivo model systems to understand the pathophysiology of disease and identify potential therapeutics.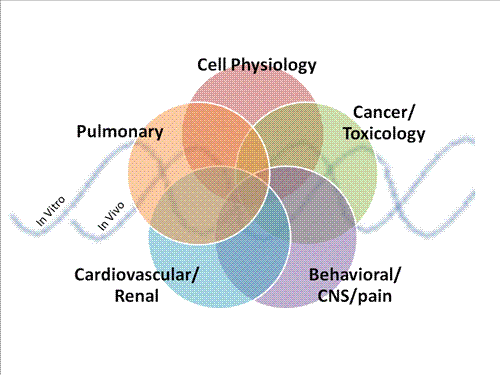 ---
 The Department of Pharmacology and Experimental Therapeutics would like to express our profound gratitude to the Pharmaceutical Research and Manufacturers of America (PhRMA) Foundation and the Astellas USA Foundation for their generous support in aiding our recovery in the aftermath of Hurricane Katrina.