MEDICAL STUDENT RESEARCH OPPORTUNITIES
LSUHSC Medical Student Summer Internship Program
Dr. Paula Gregory is the Assistant Dean of Medical Student Research and directs a summer internship program that is sponsored by the School of Medicine and grants from the NIH.  The program is designed to provide medical students with an experience in clinical and translational research during their summer break.  This program is critical to students who are considering careers in academic medicine, because it allows them to see first-hand what research entails. They are exposed to the excitement, rewards, trials and tribulations of biomedical research.  Approximately 30 medical students spend up to 8 weeks in this program each summer.
Students choose a mentor and research project based on their particular interestsand learn to conduct clinical or basic science research. The mentors conduct research in laboratories or clinics at LSUHSC, UMC, Pennington Biomedical Research Institute or Children's Hospital of New Orleans.  In addition, they receive training in the responsible conduct of research, oral and poster presentation skills that prepare them to attend scientific meetings.  All students present their research results at the Medical Student Research Day in the fall.   For information about the application process 
Contact Dr. Gregory (pgrego@lsushc.edu). 
    A. DURATION - The medical student must make a commitment to work in the lab of
         his/her mentor for 8 weeks.       
    B. QUALIFICATIONS - Applicants must be registered at LSU School of Medicine in New
        Orleans and be in goodstanding. Upperclassmen in good standing also qualified. Research
        experience is not required.
    C. APPLICATION - The application for a Summer Research Fellowship must be submitted on
        the application forms. Your completed application packet must include all of the following:
A cover letter describing your research interests and career goals
A completed application form
A curriculum vitae or resume describing schools attended, previous job experience, and relevant accomplishments
    D. DEADLINE FOR APPLICATION - Candidates can apply online. The deadline is February 1st
          each year.
    E. STIPENDS - The stipend for participants is $3,896.00 for the summer.
MD, PhD PROGRAM - There is also an MD/PhD training program at LSUHSC.  The tra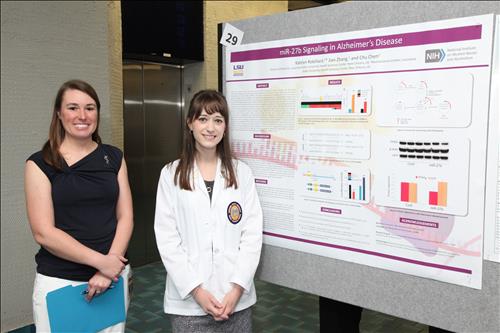 ditional course for the program is the first two years of medical school followed by 3-5 years in graduate school to complete the Ph.D.  Students then return to the 3rd and 4th years of medical school to complete the the MD degree.  Students are provided a tuition waiver for the first two years of medical school through the school of medicine.  During the graduate school portion of the program, students receive both a tuition waiver and a stipend, through the department in which they complete their dissertation research.  Information on the program:
http://graduatestudies.lsuhsc.edu/md_phd.aspx
http://www.medschool.lsuhsc.edu/admissions/Programs.aspx
HONORS PROGRAM – Students who have performed well academically during the 1st year of medical school and are interested in continuing their summer research, are invited to join the Honors Program.  Their research is performed during available time in the 2nd and 3rd years of medical school. In their 4th year, students write a research thesis and will graduate with Honors.
http://www.medschool.lsuhsc.edu/admissions/Programs.aspx