The LSU Health Sciences Center Department of Orthopaedic  Research has developed a comprehensive musculoskeletal research program post Katrina. Our broad expertise ranges from the cellular mechanisms of tissue regeneration to health economics of orthopaedic procedures.
The Departmental research goals cover several broad areas of focus. Resident and student research are the focus of our clinical research activities.
We have developed individualized research programs for residents and students including a unique summer research internship program for students between their 1st and 2nd years of medical school. Participation in these activities are a vital part of the educational experience and help the trainees understand the importance of research in their clinical practice.
Our Clinical Trials section has grown tremendously over the past few years. With the resources of the LSU Health Sciences Center, our partnership with Ochsner, and Children's Hospital, the Department has the ability to participate in trials across the entire spectrum of musculoskeletal medicine.
We have also created the LSU Musculoskeletal Research Consortium, a comprehensive group of musculoskeletal researchers based across the LSU system focusing on translational musculoskeletal research. Our group is a strong interdisciplinary collaboration of basic scientists, clinicians, and allied health professionals looking to advance musculoskeletal medicine.
Please click on the links on this website for more information about specific areas or feel free to contact us with any questions.
Vinod Dasa, MD
Vice Chairman of Academic Affairs
Irv Cahen Chair of Orthopaedic Surgery and Research
Director of Research
Co-Director LSU Musculoskeletal Research Consortium
---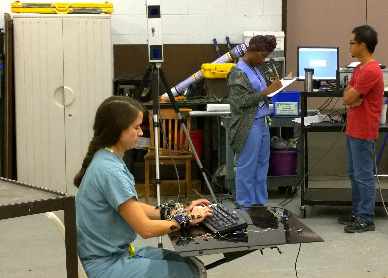 LSU Orthopedic Surgery Resident Mary Fox
    participates in her study on wrist range of motion.
                       Medical Student Linus Igbokwe transporting tissue for the only 
                                musculoskeletal health disparities tissue repository in the 
                                                                                          country, at LSUHSC.
LSU Medical Students presenting their Orthopaedic Research at LSU Medical Student Research Day
First Row (Left to Right):   (4th Place) Using a Modern Day Rapid Recovery Protocol, When Does Pre-op Range of Motion Return Following Total Knee Arthroplasty? - Brett Salomon & Adam Haydel (pictured), Daniel Plessl, Vinod Dasa. Time to Surgery Analysis for Rotator Cuff Surgery Dependent on Insurance - Jacob Neary & Todd Lambert & Edward Alpaugh & Ryan Wolfe (pictured), Neuyen McLean, Claudia Leonardi, Michael Hartman.
Second Row:  The Effect of Metabolic Disease on Total Knee Replacement Recovery - Michael Artigue, William Waddell (pictured), Claudia Leonardi, Vinod Dasa. Does Type of Insurance Impact Outcomes Following Total Knee Arthroplasty? - Hunter Starring & William Steward & William Waddell (pictured), Stuart Schexnayder, Jack McKay, Claudia Leonardi, Vinod Dasa.
Third Row:  Are Patients with Valgus Alignment the Same as Varus Alginment Prior to TKA? - Stuart Schexnayder, Ethan Arnaud & Lindsey Schexnayder (pictured), Vikas Patel, Claudia Leonardi, Vinod Dasa. The Formation of a Medical Student Research Committee and Its Impact on Involvement in Orthopaedic Departmental Research- Stuart Schexnayder, Hunter Starring (pictured), Matt Fury, Arthur Mora, Claudia Leonardi, Vinod Dasa.
Fourth Row: Titanium Elastic Nailing of Preschool Femur Fractures: Is it even Anatomically Feasible? - Justin Yan (pictured), Thomas Lucak, Sivashanmugam Raju, Akhil Andrews, Thomas Royals, Michael Heffernan.