LECTURE SCHEDULE (2015)

<![if !vml]>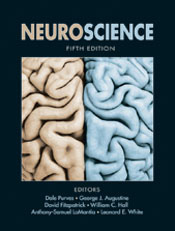 <![endif]>

Required textbook: Purves, D., Augustine, G.J., Hall, W.C., LaMantia, A.S., McNamara, J.O., Williams, S. M. (2007). Neuroscience. Fifth edition. Sinauer, Sunderland, Mass. Referred to as Purves.

Links to slides are restricted to lsuhsc users. Enter your email id and password. If using microsoft explorer you may need to enter lsumc-master\ before the email id.
#

Day

Date

Topic

Room

Lecturer

Reading

Slides

Links Notes

1

W

1/7

Introduction: Neurons and Behavior

S4 MEB

Farris

Ch. 1

2

F

1/9

Electrical Signaling; Action Potentials

S4 MEB

Gasparini

Ch. 2, 3

3

M

1/12

Ion Channel Structure, Function, Diversity

S4 MEB

Wu

Ch. 4

4

W

1/14

Neurotransmitters; Synapses

S4 MEB

Erickson

Ch. 5; 6

5

F

1/16

Synaptic Plasticity; 2nd Messenger Signals

S4 MEB

Farris

Ch. 7; 8

6

M

1/19

MLK Day Holiday

-

-

-

-

-

7

W

1/21

Drugs and the Brain

S4 MEB

Farris

8

F

1/23

Neural Repair & Regeneration

S4 MEB

Farris

Ch.25

9

M

1/26

Synthesis: Attention

S4 MEB

Farris

P. 591-596

10

W

1/28

Neural Circuit Modification

S4 MEB

Li

Ch. 23; 24

11

W

1/30

Exam

S4 &10

MEB

none

5/1

 Paper Due

-

-

-

-