RURAL SCHOLARS TRACK
Louisiana is largely a rural state, with 57 of the state's 64 parishes and 32 percent of its population classified as rural. Rural areas do not have enough physicians, resulting in inadequate access to medical care for residents. In addition, the number of physicians across the state nearing retirement age is growing significantly, while the number of students choosing primary-care careers is declining. Our state needs more rural primary-care physicians to care for its citizens.
The Rural Scholars Track at LSUHSC School of Medicine—New Orleans was created to directly address this dire physician shortage. The RST is designed to recruit highly motivated students who are committed to practicing primary-care medicine in rural areas of Louisiana.
Research has shown that physicians who practice in rural areas were more than likely raised there and physicians from rural areas or who received part of the education or training in rural areas have a substantially greater than average propensity to set up practices in rural areas. Using this information as a foundation, the LSUHSC Rural Scholars Track was created.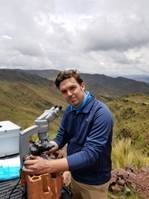 LSU Faculty, Emilio A Russo, utilizing primitive lab at 15,000 feet in the rural Andes.
Adaptability and an attitude of abundance in the face of scarcity and limits are important domains of competence in RURAL EDUCATION AND PRACTICE .
Rural Scholars News